RTC set to spend nearly $1B for 2017-18
Updated April 14, 2017 - 6:55 pm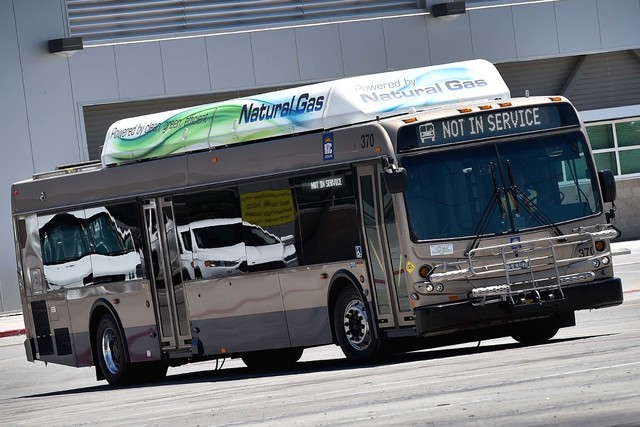 The Regional Transportation Commission of Southern Nevada plans to expand transit service by 60,000 hours, purchase new buses and complete several road improvement projects as part of a $900.5 million spending plan for 2017-18 fiscal year.
The RTC's budget, set to start July 1, represents a 10 percent spending increase over the past year, RTC Finance Director Marc Traasdahl said.
"Due to continued economic growth in Clark County, the RTC has a positive outlook for funding our transit system and roadway infrastructure," Traasdahl said. "Thanks in part to voters who approved the continuation of the Fuel Revenue Indexing program, we also have a robust road maintenance and construction program."
About $533.3 million — accounting for 59.2 percent of expenditures — will go toward capital projects including road work, bus operations and building bus shelters.
Plans also call for buying about 35 new 40-foot buses for $20.8 million, roughly 20 new 60-foot buses for $18.1 million and 120 new paratransit buses used by disabled riders for $14.4 million, Traasdahl said.
The RTC is projected to generate $724.4 million in revenue, with 28 percent of the funds generated by the local sales tax, 21.2 percent from bond proceeds, 15 percent from grants and 12.2 percent from fuel revenue indexing, according to a report presented this week to the RTC's board of directors.
The transit agency's budget will be balanced with a $242 million carryover of fuel tax and sales tax from the current fiscal year to the next year, Traasdahl said.
The RTC board is scheduled to discuss the 2017-18 budget further, with possible adoption during a meeting set for 8:45 a.m. May 18 at the Clark County Commission chambers, 500 S. Grand Central Parkway in Las Vegas.
Contact Art Marroquin at amarroquin@reviewjournal.com or 702-383-0336. Follow @AMarroquin_LV on Twitter.
RTC $900.5 spending plan for 2017-18
Capital Projects: $533.3 million
Contracted Services: $236.9 million
Debt Service: $91.8 million
Salaries and Benefits: $38.5 million
Source: Regional Transportation Commission of Southern Nevada