Sex still sells inside newly installed Strip newsracks
November 2, 2015 - 2:07 pm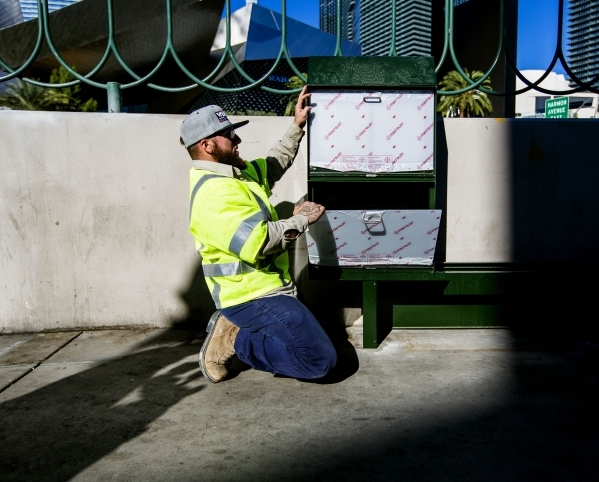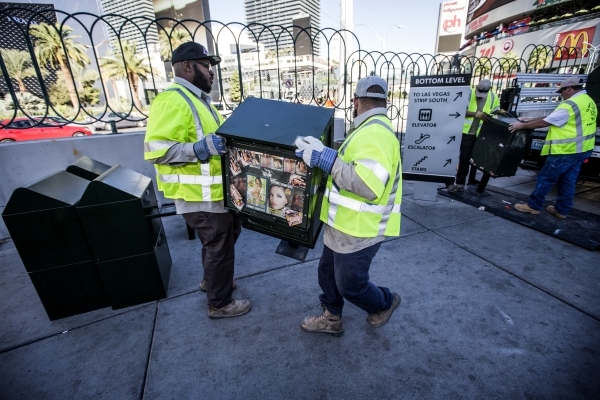 The newsracks that line the Las Vegas Strip are starting to look a little more presentable.
But not to worry: Much of the "news" inside will be the same thinly disguised ads for strip clubs and escort services.
This is still Vegas, after all.
Clark County installed its first bank of six new "fir green" newsracks Monday morning in front of Harley-Davidson Cafe on the south Strip. By spring, there should be 56 new banks — 336 racks in all — along Las Vegas Boulevard and surrounding streets.
The previous news racks were all different shapes, colors and sizes, and their tops also were popular places to leave empty beer bottles, a combination that led some to consider them eyesores.
The new ones are all the same size, and they're sloped to prevent leaving anything on them.
Two years ago, the county considered banning newsracks as an impediment to pedestrians, a move that would have faced a near-certain challenge on First Amendment grounds. Though many of the racks are filled with sex-themed ads, there also are publications including the Italian-American newspaper La Voce, whose publisher said he and his advertisers rely on Strip racks to reach readers.
So the county decided to replace private racks with county-owned ones. The cost, about $300,000, comes out of hotel taxes.
Publishers can apply for permits to put their publications inside.
Contact Eric Hartley at ehartley@reviewjournal.com or 702-550-9229. Find him on Twitter: @ethartley.