Sky Combat Ace pilots, aircraft had history of problems before fatal flight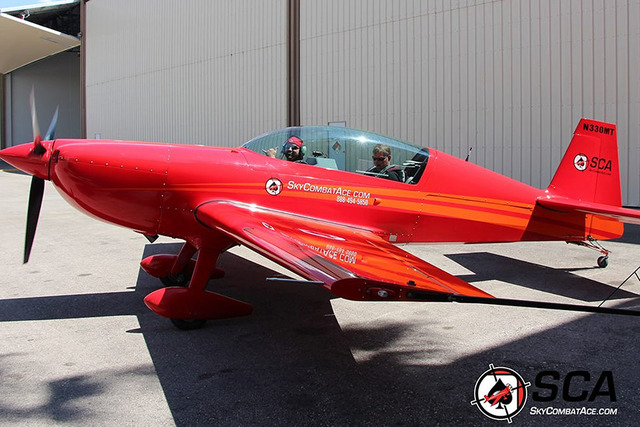 The same stunt plane that crashed Saturday, killing a Sky Combat Ace pilot and his passenger, had been involved in a dangerous, low-flying maneuver in 2015 over the Colorado River south of Hoover Dam, according to Federal Aviation Administration officials.
A pending enforcement action letter, obtained by the Las Vegas Review-Journal through a Freedom of Information Act request, proposes to suspend the commercial pilot and flight instructor certificates of Denis Richard Boissonneault of Las Vegas for 135 days for violating FAA regulations during a March 16, 2015, flight from Henderson Executive Airport.
"On takeoff … you abruptly pitched up the aircraft in a manner not normal for takeoff of an Extra," the letter reads, referring to the Extra EA300 aircraft with tail No. N330MT.
The letter also states Boissonneault executed "an aileron roll," commonly known as a barrel roll, "below 1,500 feet above the surface over the Colorado River."
An FAA official familiar with the incident said Thursday the FAA was alerted to the low, aerobatic flight by Bureau of Reclamation police at Hoover Dam who saw the plane flying south of the dam.
The FAA official said Boissonneault had a passenger in the plane and that such maneuvers below 1,500 feet above the surface are prohibited by FAA regulations.
"Your operation of N330MT, in the manner and circumstances … was careless or reckless so as to endanger the life or property of another," reads the Sept. 9, 2015, letter to Boissonneault.
Attempts to reach Boissonneault on Thursday were unsuccessful.
Messages seeking comment from Sky Combat Ace President Richard "Tex" Coe left on the company's answering machine also were not returned.
A profile of Denis "Smokey" Boissonneault on Sky Combat Ace's website says, "His favorite thing to do is to share his passion with anyone who wants to learn about the joy of flight, particularly advanced aerobatics!"
FAA officials confirmed that the two-seat, single-engine aircraft Boissonneault flew south of Hoover Dam on March 16, 2015, is the same one that crashed Saturday near Jean killing a passenger, Steve Peterson, 32, of Rohnert Park, California, and Sky Combat Ace instructor pilot Ben Soyars, 37, of Las Vegas.
BACHELOR PARTY DEATHS
Peterson and his twin brother, Chris Peterson, were among 12 friends who had traveled to Las Vegas for a bachelor party. Nine from the group were supposed to fly in at least three Sky Combat Ace stunt planes as part of a simulated air-combat and bombing run experience they had planned months in advance through Vegas Extreme Adventures.
With thunderstorms in the area, some members of the group declined to go on the flights. But Steve Peterson and two others decided to go to avoid forfeiting the more than $8,000 in fares in keeping with the company's non-refund policy, one member of the group has said.
The FAA and the National Transportation Safety Board are investigating Saturday's fatal stunt plane accident near Jean. The FAA is also investigating Sky Combat Ace on legal grounds to see if the company was in compliance with its regulations at the time of Saturday's accident.
Vegas Extreme Adventures, which does business as Sky Combat Ace, had issued a statement after Saturday's plane crash saying the company has provided "instructional aerobatic airplane rides to the general public since 2011 and has conducted over 15,000 incident-free flights over the last 5 years."
When asked about its "incident-free" claim Tuesday, Vegas Extreme Adventures publicist Megan Fazio released a revised statement that reads, "Up until this tragic accident on April 30th, 2016, there have been exactly zero injuries to customers at Sky Combat Ace. That is 5 years and 15,000 flights."
Records obtained by the Review-Journal, however, show there have been two close-call incidents in which pilots and passengers narrowly escaped injuries. And, there have been numerous complaints about Sky Combat Ace's flights over Henderson neighborhoods and elsewhere in Southern Nevada filed with local authorities and the FAA.
RECORD OF PROBLEMS
On Oct. 26, 2014, a Sky Combat Ace stunt plane made an emergency landing at McCarran International Airport with a passenger on board after performing an aerobatic spin maneuver. National Transportation Safety Board investigators determined that the pilot's control problem stemmed from a rudder cable that had failed.
The next month, a Sky Combat Ace aircraft was forced to land on a street near the Henderson airport after the pilot experienced a partial loss of engine power. The accident caused substantial damage to the plane's right wing.
FAA spokesman Ian Gregor said Sky Combat Ace had been granted a waiver in 2011 to carry passengers for hire while flying in formation but the waiver was suspended for a month in 2012 after the agency investigated a complaint that the company's aircraft flew in formation at 500 feet above ground level contrary to provisions of the waiver.
The waiver was revoked Aug. 30, 2012, "based on a second complaint involving low-flying aircraft near the Hoover Dam," Gregor said.
Las Vegas trial lawyer Robert W. Cottle said Thursday he is representing a mechanic in a claim against Sky Combat Ace. He said his client was run over in January by a Sky Combat Ace plane that was taxiing at the south end of the Henderson Airport.
"Fortunately he's alive," Cottle said about the mechanic who works for an air service company at the airport.
"He turned around to catch the red plane in the corner of his eye. That's when the plane ran over the top of him and his foot was struck by the wheel," he said, adding that the mechanic remained flat on the tarmac to avoid being struck by the propeller.
Review-Journal Database Editor Adelaide Chen contributed to this report. Contact Keith Rogers at krogers@reviewjournal.com or 702-383-0308. Find @KeithRogers2 on Twitter.
RELATED ITEMS
Bachelor party turns tragic after guys fly in stunt planes to avoid forfeiting fares