Stray cat rescued from flood channel needs a home — VIDEO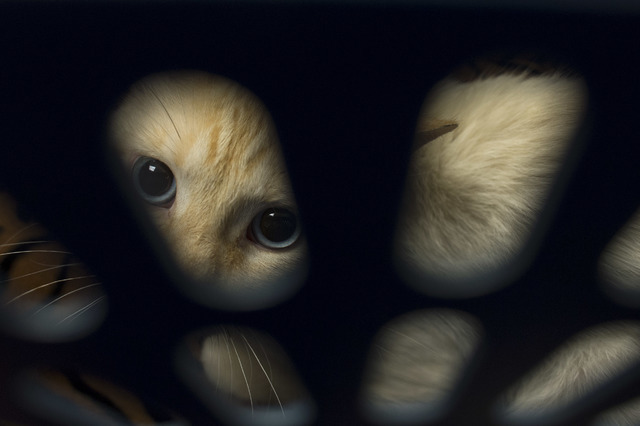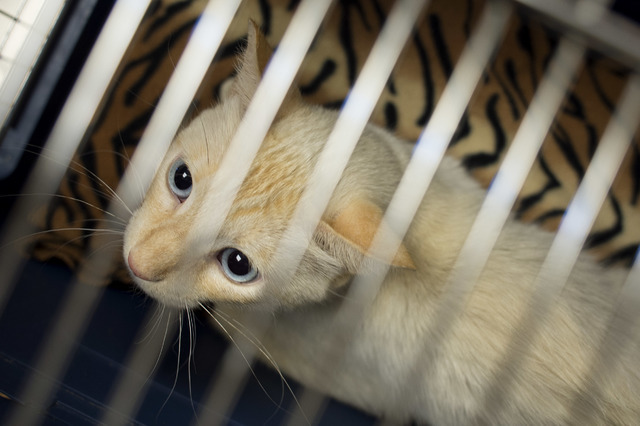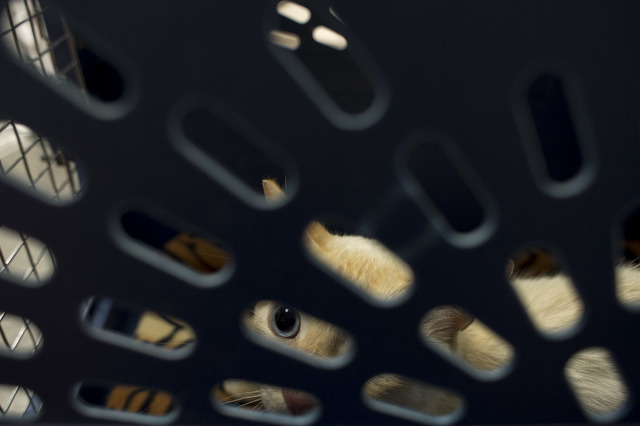 Remember the cat the Clark County Fire Department rescued from a flood channel last week, the one in the picture looking waterlogged and miserable?
Well, thanks to the caring staff at a local veterinarian's office, the cream-colored kitty is feeling well enough again to scratch your eyes out.
"The cat is very fractious and feral," said veterinarian Carolyn Garcia, who helped nurse the furry flood victim back to health.
A Clark County fire captain wearing protective gloves carried the cat into the Pebble Maryland Animal Hospital, on Pebble Road and South Maryland Parkway, not far from the wash where the animal was rescued June 30.
Garcia said the feline was drenched, cold and in shock. His paws were bloody and missing claws from his panicked fight to escape the flash flood.
"He was so hypothermic, his temperature wouldn't even register the first few times we tried to take it," she said.
The department sent out a picture of the sad, soaked cat that quickly went viral. At the time, a department spokesman identified the animal as the beloved pet of a homeless man rescued from the same wash that day.
Now it appears the proximity of the man and the cat was pure coincidence. Garcia said this cat shows no interest in human companionship.
Apparently he has his reasons. The cat is missing the tip of one ear, a sure sign that he once was captured as part of a feral cat program to be neutered, vaccinated and returned to the streets.
Citing patient privacy laws, the Clark County Fire Department could not provide an update on the condition of the homeless man, who was transported to the hospital with "unknown injuries" after being pulled from the wash.
Garcia said the cat is doing much better. It was touch and go for a few days, but he is eating again and seems to have regained his strength.
"He looks like a completely different cat," albeit an angry one prone to both fight and flight, she said.
He is being kept alone in a cage in the clinic's isolation ward to try to keep him calm and stress-free, but when staff members try to examine him or fill his food bowl, he hisses, growls and charges them.
None of those aggressive tendencies was on display Thursday, when Garcia brought him out in a carrier to have his picture taken for the newspaper. He mostly looked terrified as he crouched trembling at the back of the carrier, his blue eyes wide and dilated.
Garcia said the clinic plans to update his shots and hang onto him for another week or so to see if anyone wants to adopt him. Ideally, the 2- to 3-year-old cat will end up in a quiet home with no other pets around and an owner who is willing to take on a project.
"He would need a lot of work and a lot of patience from whoever takes him," Garcia said. "It's worth a shot trying to find a home for him, but I don't know if it's going to work out."
Anyone interested in adopting the cat can call Pebble Maryland Animal Hospital at 702-407-8311.
If a suitable home cannot be found, Garcia said the internet-famous cat with the bad attitude will most likely be turned loose back on the streets in the same area where he was rescued.
"It's a beautiful cat, but I don't know if he's adoptable," she said. "He might have to go back outside where he's used to being."
Contact Henry Brean at hbrean@reviewjournal.com or 702-383-0350. Find @RefriedBrean on Twitter.