Street performer sweats it out for tips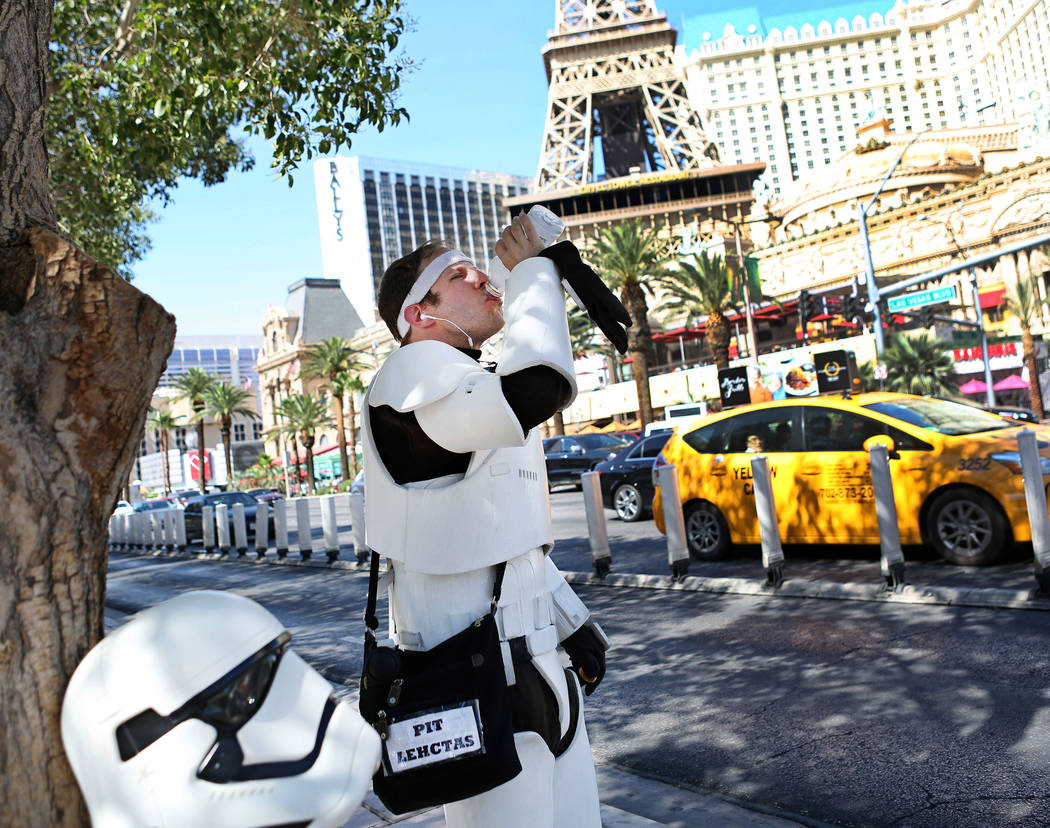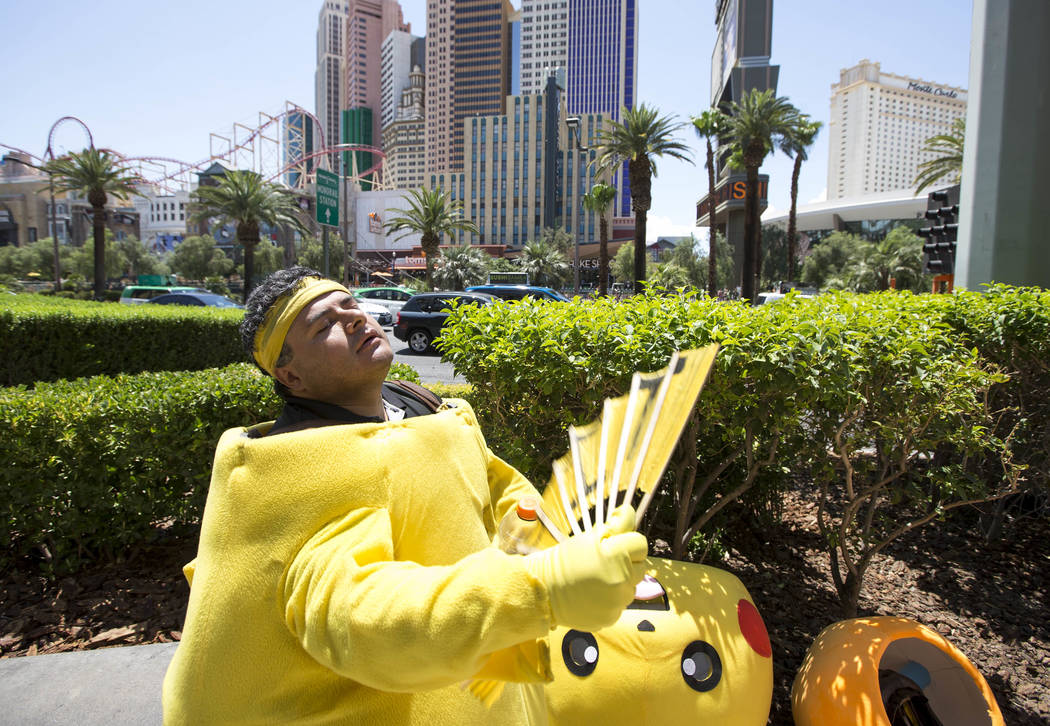 Walking down the Strip during a sweltering weekday afternoon, you"ll find packs of tourists, but probably few of Las Vegas' famous street performers.
The minions of "Despicable Me" and superheroes would rather skip the thin crowds and extreme heat.
But you will likely see Adam Reynolds, who paces the sidewalk in front of the Bellagio dressed as a "Star Wars" stormtrooper. Like most Strip performers, Reynolds makes money by posing for pictures with tourists and collecting tips.
"Overall, it's not as bad as most people say it is once you get used to it," he said. "Just know how to manage it."
Reynolds was part of a collection of performers spread Stripwide on Monday, when the temperature topped out at 113 degrees. Some were probably hot, but couldn't be bothered to talk to a reporter. Performers dressed as Mario from the Nintendo video games, Chewbacca of "Star Wars" and Master Chiefs from the "Halo" video games refused to be interviewed unless they were tipped.
Reynolds has advice for performers who brave the desert sun to make some summer cash. It starts, unsurprisingly, with water.
Hydration is key for anyone dealing with heat, but it is even more important when sporting a large Mickey Mouse head or stormtrooper helmet all day.
To keep cool, Reynolds carries in his bag five bottles of water he freezes the night before. He stays hydrated as the ice melts throughout the day.
He also wears a fan around his neck that he keeps humming with rechargeable batteries.
"Although sometimes I have to hit it a few times because sometimes it breaks down," he said.
During the day, said he takes breaks in the shade when he gets too hot, and it is crucial to not move too quickly to avoid warming your body up more than it already is.
But the thing everyone forgets, Reynolds said, is to consume sodium. Before he hits the Strip, he eats veggie straws with extra salt.
To give himself a little break from the heat, Reynolds starts his day at 3:30 p.m. — about two hours later than the rest of the year.
"I figured, you know, why sweat it out with not a lot of people out here as usual?" he said.
But he still likes to get a couple of hours of a head start on other performers, who usually start showing up about 6 p.m. Right now is the best time of year for him to make money, but most of the business is at night.
Although they aren't performers and aren't in costume, Jaiden Williams and Tony Banks, both 16, use the summer heat as a business opportunity. They set up on a pedestrian bridge on the Strip and sell water for a dollar a bottle.
They said they rake in up to $300 per day selling water to thirsty tourists. They keep multiple cases of water on the bridge and make several trips a day to refill their cooler with ice.
"Just make sure that you're under the shade and you eat some ice every once in a while," Banks said, "because it gets kind of hot."
The forecast for Tuesday shows a high of 117 degrees, with a morning low of 90 degrees, according to the National Weather Service. If the temperature rises to the high, it would tie the all-time record, which has been reached three times in the past, most recently on June 30, 2013.