Strip nuisance ordinance forces rocker to unplug
August 4, 2013 - 10:32 pm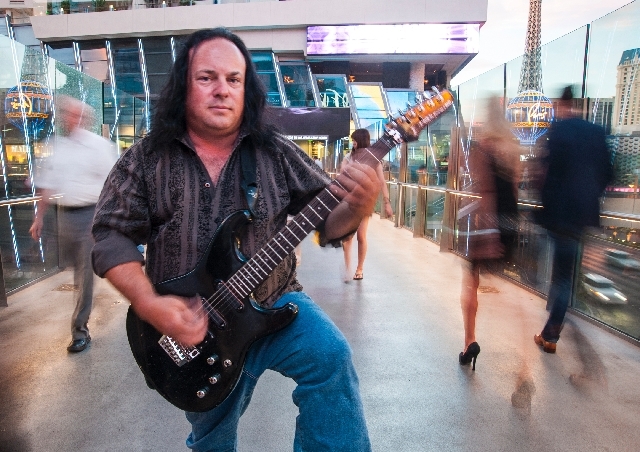 Unable to find a job in Las Vegas, former union organizer Michael T. Moore stumbled into his best gig yet, playing heavy metal guitar riffs on the Strip for cash.
Performing, which Moore turned to in January out of desperation, wound up being a great career move.
Not only did it allow him to play music he loved but it also paid as much as $150 per night.
"It is a lot better than working 90 hours a week for a law firm or a union and being on the verge of a heart attack," said Moore. "If I would have known street performing paid like this I would have done it 20 years ago."
Unfortunately the good times didn't last. In June, after he spent several months perfecting his act, Las Vegas police cited Moore twice and took away his amplifiers.
But Moore, who in his spare time printed and distributed fliers about the rights of street performers, isn't giving up.
He's challenging the citations in court and has already celebrated one small victory when a judge overruled a prosecutor's objection and ordered his amplifier returned.
EQUIPMENT NOT RETURNED YET
Even the victories are tempered by setback, however. A week after the judge's order Moore still hasn't recovered the equipment.
He compares the confiscation to taking a hammer and saw from a carpenter.
"There was no need to take the tools of my trade," Moore said. "I have been unable to work for seven or eight weeks, I can't even work away from the Strip."
Moore's dispute with authorities comes in the wake of a crackdown on performers, unlicensed vendors and myriad other characters along the Strip.
Concern over everything from water vendors to panhandlers to handbillers and street performers prompted the Clark County commission to approve a series of ordinances aimed at eliminating nuisances.
The ordinances included bans on dangerous objects such as blades, skateboards, electrical generators and cords.
Other perceived nuisances, such as handbillers who distribute advertisements for adult businesses, were left alone because the commission doesn't have the authority to regulate free speech.
Street performers, provided they avoided banned objects, were free to continue as well.
IT ALL STARTED IN JUNE
Moore said that until June he had few problems playing on a pedestrian bridge near Harmon Avenue and Las Vegas Boulevard.
An experienced musician, Moore said it didn't take long to adjust to performing on the Strip. Once he realized passersby don't have time for entire songs, let alone a set, he whittled his act down to guitar riffs made famous by bands like Black Sabbath and Dio.
"I've been making a fair living at it and never had any complaints from tourists," Moore said.
But after awhile Moore, who in California had a career as a labor organizer, noticed what he believed to be the harassment of street performers by authorities. He said they would use mistaken or distorted interpretations of the law to push musicians off the sidewalk.
He printed fliers attributed to the Sonic Laborers and Visual Entertainers Union for distribution to other musicians.
The fliers highlight everything from the U.S. Constitution to the United Nations International Declaration of Human Rights Act of 1948 and urge performers to demand to see Metropolitan Police Department supervisors in the event they're confronted.
"I'm out there multitasking, organizing, helping, spreading the word about musicians' rights, trying to make a living," Moore said.
POLICE POINT OF VIEW
Police saw it differently.
Moore was cited for one violation of county code on June 8 and two more on June 23. The June 8 violation as originally written referred to a traffic code, but was later amended to a violation of creating a public disturbance with an audio device that could be heard from 75 feet or beyond.
He was cited again on June 23 for the portable audio with another violation for obstructing the public sidewalk with amps, a microphone stand and guitar case.
"The balance is keeping the Strip safe for visitors yet maintaining a fun environment for people who go there," said Christopher Lalli, an assistant district attorney, of the line police walk in attempting to enforce laws on the Strip.
But rather than pay fines for the citations, Moore is challenging them.
Allen Lichtenstein, general counsel for the American Civil Liberties Union of Nevada, said he wasn't familiar with Moore's case but said if the sound charge goes to court it would be left to police to prove they heard music from the amplifier from 75 feet away.
"When you have all the sound coming out of the casinos and volcanoes and music going along with the dancing water, it is kind of difficult," Lichtenstein said.
Other communities, including the city of Las Vegas, reference decibel levels in noise ordinances, which makes it easier to measure whether something is loud enough to be in violation.
Also, the county code that prohibits storing items on the sidewalk makes an exception for street performers to keep instrument cases and backpacks nearby so long as they don't block anyone's path.
Moore said his two small amplifiers, microphone stand, guitar case and small chair, all of which he can carry at once, fall within legitimate use of the sidewalk for performers. Prohibiting his specific setup unfairly infringes on his right to perform using an electric guitar, he said.
"This is the way I've chosen to exercise my First Amendment right," he said. "What I play does not translate onto acoustic. It is a different style of music."
Lalli said the setup goes well beyond the "musical instrument case or backpack" exception in the obstruction code.
"That is not what the county had in mind when they passed an exception to this statute," Lalli said.
No matter what happens, though, Moore said he's already struggling to keep up with his bills because he can't work anywhere without his equipment.
He's also still angry that he even received citations in the first place and maintains his presence was a positive for the Strip, not something to be drummed out.
"It is frustrating, you have guys out there dealing drugs, they rob people, you have drunks throwing up," Moore said. "I'm a guy playing a guitar in the corner and I'm the criminal."
Contact reporter Benjamin Spillman at bspillman@reviewjournal.com or 702-383-0285 .