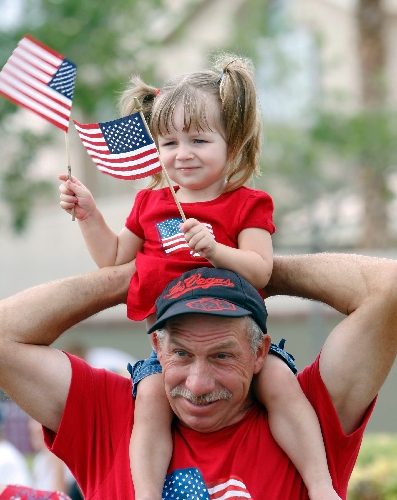 If you say you love a parade, chances are you've never had to organize one.
Hundreds of volunteer participants and wranglers battled heat and stress to put on the 18th annual Summerlin Council Patriotic Parade, which marched though the heart of Nevada's largest master-planned community Wednesday morning.
The event was expected to draw about 40,000 spectators.
"Organizing this thing must have been horrendous," said Sun City Summerlin resident Joanna Kruleski, who stopped to snap some pictures of the parade set up during her morning walk. "But I'm glad they do it. It's a great event."
Nick Deluca was in charge of balloons for the parade. His Oceanside, Calif., company supplied all of the inflatable entries, so he spent his morning rushing around checking tow lines and training the people recruited to hold them.
His pointers included how to walk with a 35-foot-tall cowboy boot without scuffing its toe on the pavement and how to partially deflate a 20-foot-tall shark so its fin would fit under a traffic light.
"It's just always a crash course," he said. "That being said, we've never had an accident."
One of the balloons – a 20-foot-tall version of Dr. Seuss' Lorax – was said to be making its national debut. The inflatable orange environmental crusader glared out at the crowd with its arms crossed, looking a little peeved to see so many houses where the Mojave Desert's version of truffula trees used to be.
Participants started lining up along Hillpointe Road and Hills Center Drive hours before the parade's 9 a.m. start time, but a few stragglers showed up just minutes before the procession got under way where the two streets meet.
Organizers at the intersection used headsets, handheld radios and clipboards to juggle entries coming at them from two directions at once.
There was no sign of the controlled chaos along the one-mile parade route itself.
Thousands of people packed both sides of Hills Center Drive and Village Center Circle, cheering and waving flags and fanning the muggy air in front of their faces.
Families huddled under umbrellas and cooled themselves – and the occasional parade participant – with spray bottles.
As the first part of the parade began, Oscar and Carolyn Goodman still stood in the middle of the Hillpointe Road, looking lost. The former mayor and the current one couldn't seem to figure out where they were supposed to be or whether they would be walking or riding the parade route.
"We always walk. Every single parade we've been in we've walked," Carolyn said after one organizer directed her to the back of a white convertible waiting nearby.
But the mayors Goodman won out in the end. They were allowed to walk as long as they promised not to stop and shake any hands along the way.
Carolyn admitted that she and her husband really slowed things down by doing that at the last parade they took part in.
"We destroyed that parade single-handedly," Oscar said with a grin.
This year's parade was Summerlin's largest yet, with more than 60 entries and roughly 1,000 participants and workers.
That's quite a change for an event launched in 1994 by some kids who decorated their bicycles with red, white and blue streamers and rode between the library and the park while their mom kept watch for cars.
Las Vegas resident Shaun Shuey dressed as a stormtrooper and marched in the parade with other costumed "Star Wars" enthusiasts. This was the group's sixth year as one of the parade's most popular entries, and this time they towed along a surprise: a 15-foot, helium-filled Death Star approved for public display by Lucasfilm itself.
Shuey said a standard set of white stormtrooper armor runs between $900 and $1,000, but he has sunk roughly $3,000 into his upgraded outfit.
Before he started dressing up as a member of the fictional imperial army, he served in the U.S. Army in Iraq.
There are a few similarities, he said with a smile. "Actually it's about the same: hot uniforms and heavy weapons."
His advice to anyone planning to march around in stormtrooper garb on a hot July morning: "Keep hydrated."
Of course, it could have been worse. At least Shuey wasn't dressed in a jet black Darth Vader costume or draped in Chewbacca fur.
Roger Taylor had to line his back with ice packs to keep cool while playing Chewie.
The tall man from Washington City, Utah, said he bought the costume as a joke six years ago and has since poured almost $2,000 into it. He gets his Wookiee hair from a beauty supply store.
"It's all little weaves," he said, showing off the insides of his furry mask as he waited for the parade to begin.
Back at the balloon staging area at Trails Center Park, a man with clipboard and a radio watched as the last few inflatable entries headed off down the street with their handlers to line up for the procession. He was happy to see them go. It meant the end of the busiest part of his day.
"It's Miller time for me," the man joked before declining to give his name. "Some drinks will be drunk."
Contact reporter Henry Brean at hbrean@reviewjournal .com or 702-383-0350.