'Suspicious' Sunday death ruled suicide
November 23, 2015 - 6:38 pm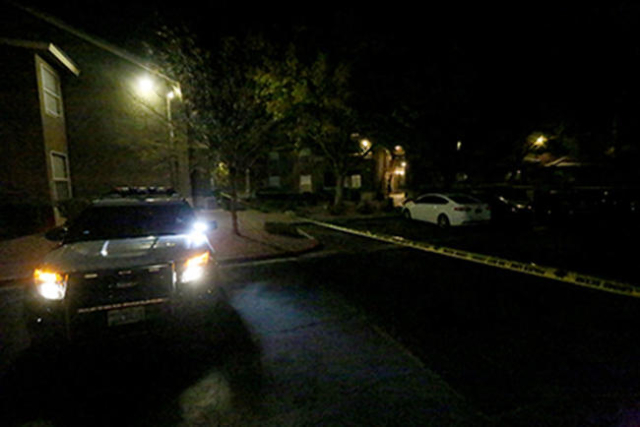 A woman's Sunday death deemed "suspicious" by Metro was ruled a suicide by the Clark County coroner's office.
Keandra Atkins, a 31-year-old Las Vegas woman, was found about 4:30 p.m. Sunday at SkyPointe Landing Apartment Homes in the 5900 block of Sky Pointe Drive, near U.S Highway 95 and West Azure Drive, police said.
Atkins died of a gunshot wound to the chest. Her death was a suicide, the coroner's office said Monday.
Metro Lt. Dan McGrath said Atkins was seen by a witness sitting on the ground in an open area between two buildings. Police found her face down in a pool of blood, he said.
Officers Sunday were trying to determine if a trail of blood coming from near a black SUV parked in the complex was connected to the death, McGrath said. Police did not find a weapon at the scene, they said Sunday.
The department didn't have further information about the weapon or circumstances of Atkins' death Monday, said Metro Officer Larry Hadfield.
"It's just not making sense right now," said 31-year-old Justina Dickison, who said she became friends with Atkins when they went to Chaparral High School. The two remained close after they graduated together in 2002.
Atkins, whose friends knew her as "Kiki," reached out to Dickison Nov. 15 to catch up. Atkins had gone through hard times in the weeks before her death, but never showed signs of depression or expressed thoughts of suicide, Dickison said.
"I've seen her go through so many struggles in life," Dickison said, "but every time it got hard for me, she was the one who pulled me up."
Warning signs of suicide can include increased drug or alcohol abuse and dramatic mood changes, according to the American Association of Suicidology. For more information visit http://www.suicidology.org/resources/warning-signs.
Contact Ricardo Torres at rtorres@reviewjournal.com and 702-383-0381. Find him on Twitter: @rickytwrites. Contact Kimber Laux at klaux@reviewjournal.com or 702-383-0381. Find her on Twitter: @lauxkimber