Tariffs drive up cost of building Centennial Bowl in Las Vegas
August 13, 2018 - 6:08 pm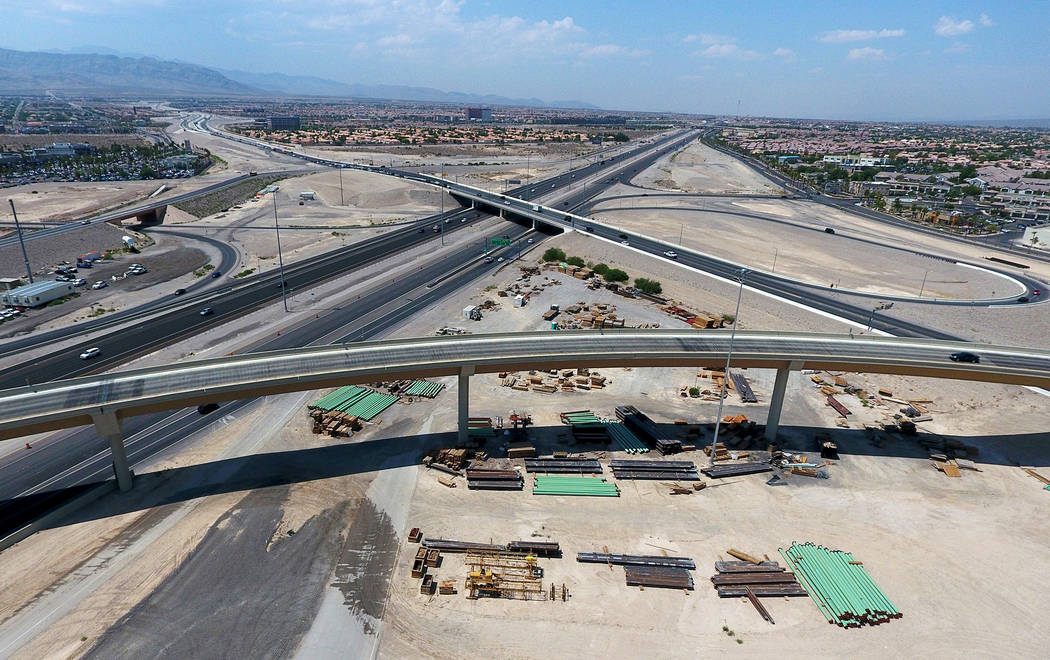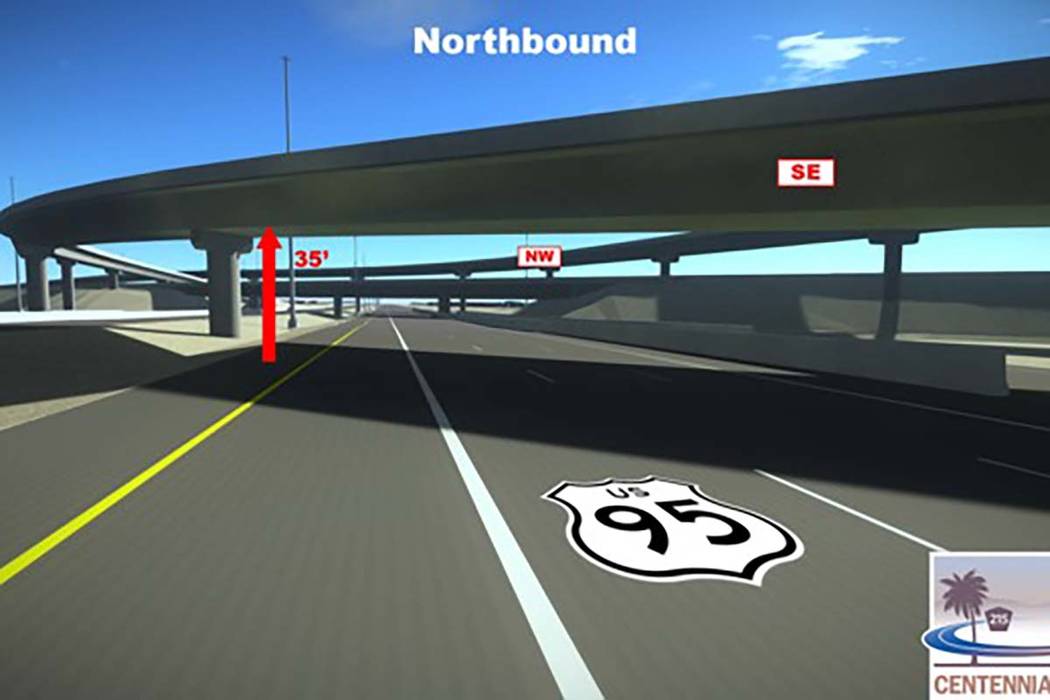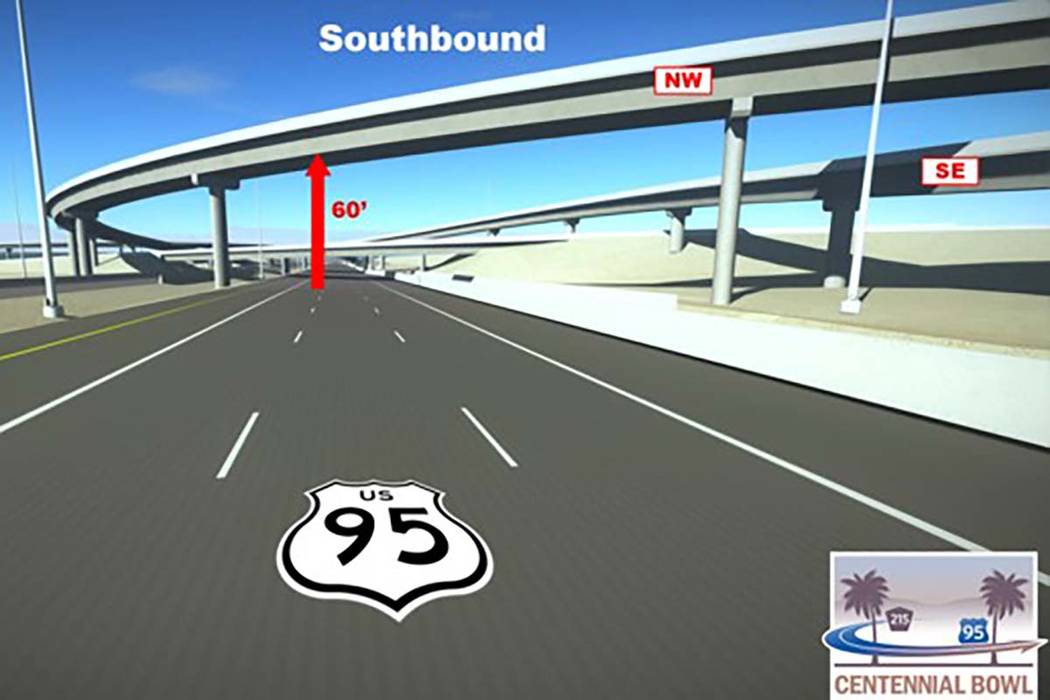 The cost of building the next phase of the Centennial Bowl in northwest Las Vegas skyrocketed by nearly $12 million from original estimates, primarily driven by President Donald Trump's steel tariffs, the Nevada Department of Transportation said Monday.
The department's board of directors awarded a $61.5 million contract to Las Vegas Paving, a significant leap from the agency's original estimate of $49 million to $59 million for a project that calls for building the next three freeway ramps linking U.S. Highway 95 and the 215 Beltway.
Construction could start as soon as late December for the next phase of the Centennial Bowl, which will rely on 5.2 million pounds of structural and reinforcing steel, accounting for roughly $5.3 million of the project's total, NDOT officials said.
"As you can imagine, ending up with a bid on a project like this that was 25 percent higher than what our engineers estimated can cause quite a bit of excitement," Cole Mortensen, NDOT's assistant director of engineering, told the board on Monday.
The bridges are "packed full of reinforcing steel as well as prestressing steel, and the falsework is steel, too," Mortensen said. "All those things tend to add to an increase in cost for the project."
Other factors help drive up the construction costs, Mortensen said.
In order to meet a compressed construction deadline of spring 2020, work will need to be completed simultaneously on a pair of flyover bridges planned for the Centennial Bowl, Mortensen said. As a result, Las Vegas Paving will need to double the amount of steel supports — known as falsework — to frame the construction project.
"It's important to make a record as to why we're taking the action that we're taking so that anyone who looks back on this can understand why the contract amount was $12 million more than what the estimate was," said Gov. Brian Sandoval, who serves as chairman of the NDOT board.
Additionally, a gas line runs near the freeway interchange, which Mortensen said may have caused some construction contractors to "shy away" from bidding on the massive project.
Las Vegas Paving submitted the sole bid, NDOT spokesman Tony Illia said. Aggregate Industries, Fisher Sand &Gravel, Meadow Valley Contractors and Security Paving Co. all showed interest in the project but did not place bids.
"It doesn't do anybody any good to rebid a job because all the numbers are exposed," NDOT board member Len Savage said just before voting in favor of the construction contract.
Construction of the Centennial Bowl began in August 2015, and the initial phase was completed in 2016 with the opening of a ramp linking northbound U.S. 95 to the eastbound Beltway. A half-mile span connecting the westbound Beltway and southbound U.S. 95 opened in July 2017.
Work will resume by the end of this year for the next phase of the Centennial Bowl, which calls for building a flyover ramp carrying vehicles from northbound U.S. 95 to the westbound Beltway, a second flyover ramp connecting the southbound U.S. 95 to the eastbound Beltway and a surface-level ramp linking the eastbound Beltway to southbound U.S. 95.
Contact Art Marroquin at amarroquin@reviewjournal.com or 702-383-0336. Find @AMarroquin_LV on Twitter.
Estimate vs. bid
The Nevada Department of Transportation attributed the higher cost of construction of the Centennial Bowl freeway interchange to President Donald Trump's order to impose a tariff — or tax on imported goods — of 25 percent for steel and 10 percent for aluminum.
Structural steel was listed at $3.25 a pound, while reinforcing steel was 80 cents a pound in NDOT's original estimate to build the next phase of the Centennial Bowl, agency spokesman Tony Illia said.
Las Vegas Paving submitted a sole bid that estimated structural steel at $9 a pound, while reinforcing steel was 94 cents a pound, Illia said.