Tearful ex-official pleads guilty to theft from Clark County School District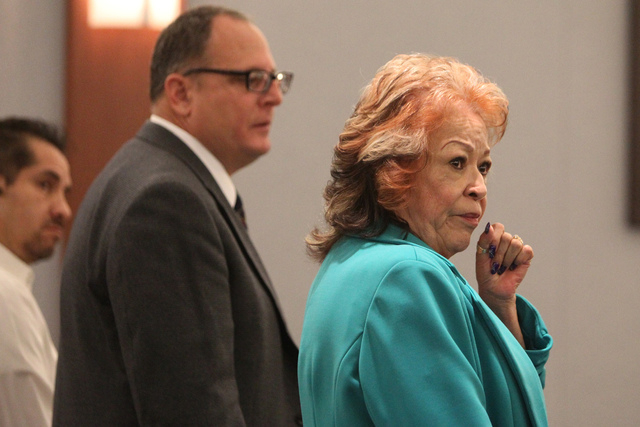 A former Clark County School District official and three of her co-defendants on Thursday pleaded guilty to charges they stole tens of thousands of dollars from the district.
Priscilla Rocha, 67, former director of the district's Adult English Language Acquisition Services program, pleaded guilty to theft and unlawful use of public money, both felonies.
Rocha was originally charged with 52 felony counts in the theft of $289,000 from the program she supervised. As part of a plea deal, 50 counts were dropped and Rocha said she stole $132,000.
Holding back tears, Rocha said her declining health was part of the reason she was pleading guilty. "It's in my best interest because of my health. And so I decided to come to terms with so I can concentrate on getting better," said Rocha, who said she received her doctorate in education from the University of Phoenix.
During the hearing Rocha said she "misappropriated funds for a tutoring service," among other wrongdoings.
A restitution hearing was set for June 16, when prosecutor J.P. Raman said he will ask a judge to order Rocha to pay the full amount — $289,000 — authorities believe was stolen from the district.
A sentencing hearing was set for June 30 before District Judge Susan Johnson.
Rocha faces probation or one to 14 years in prison. Raman said he plans on seek a prison term of four to 10 years for Rocha, who retired from the district while under investigation.
Co-defendant Jerome Rocha, 45, — Priscilla Rocha's son — pleaded guilty to felony theft and faces probation or one to 10 years in prison.
Donnie Placencia, 51, of New Mexico, and Andres Mendoza, 46, of Las Vegas, pleaded guilty to one count of theft. As part of their plea deal, they agreed to a sentence of probation and if they pay back the money taken they could have the felony charge reduced to a gross misdemeanor. Mendoza pleaded guilty via an Alford plea, meaning he did not admit guilt but agreed prosecutors had enough evidence to convict him.
Placencia must pay back $4,000 and Mendoza must pay back about $2,100.
A fifth defendant, Jaime Espitia, 41, of Las Vegas, still faces two felony theft counts. He declined to take a plea deal and has a May trial date.
A School District lawyer who attended the hearing declined to comment.
According to authorities, Rocha, a former elected member of the Nevada Board of Education, in 2011 stole 25 district computers and other electronic equipment, valued at $13,600, and took the items to Ensenada, Mexico, to donate them to schools there.
The items were taken from the language acquisition program.
Rocha also used $5,000 from the program in May 2013 to help herself buy a local beauty salon and later had one of her program employees work at the salon on district time. A salon employee also was paid $2,483 for work she never performed as a tutor for the program.
Prosecutors said Rocha as far back as 2007 was paying ghost employees, including Placencia, tens of thousands of dollars in program funds for work they never did in a scheme to enrich herself, her son and friends. At Thursday's hearing, Placencia admitted to being paid for tutoring work he never performed.
Mendoza said he used $2,099 in district funds to buy a computer and other equipment.
Rocha is alleged to have pocketed nearly $35,000 in cash she collected for dictionaries from students of the language program.
She also diverted tens of thousands of dollars in program funds to the bank account of a California business she owned. Jerome Rocha also had access to the account, he told Judge Johnson Thursday.
Contact Francis McCabe at fmccabe@reviewjournal.com or 702-224-5512. Find him on Twitter: @fjmccabe