Time short as Blue Ribbon panel considers child welfare fixes
December 14, 2014 - 4:39 pm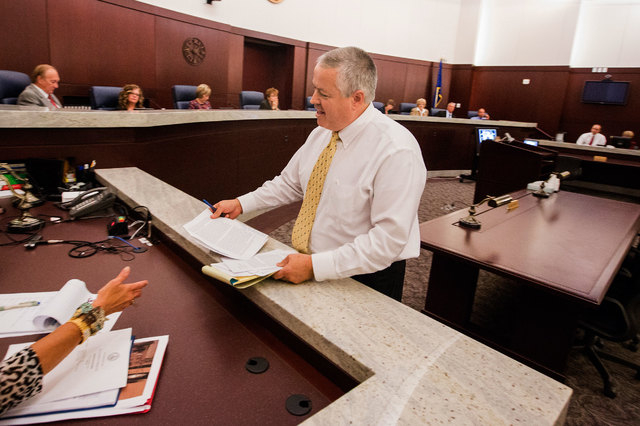 Child advocates want to see long-overdue change come out of the blue ribbon committee that is examining Clark County's child welfare system and courts.
But the committee may need more time to accomplish that. By the time Nevada lawmakers convene for the 2015 session, the panel will have met just three times.
"I think it's a very ambitious timeline," Denise Tanata Ashby, executive director for the Children's Advocacy Alliance, said last week.
The committee will meet for the second time at 9 a.m. today at the Regional Justice Center. Expert presentations and a review of requested reform measures are on the agenda.
The committee was appointed by state Supreme Court Justice Nancy Saitta to look into problems including capacity issues at Child Haven, the county's emergency shelter for abused and neglected children. The shelter recently had its second significant population spike this year, exceeding its licensed capacity of 70 with 97 children living on campus.
The group also is examining the shortage of foster homes, lengthy court delays for child welfare cases and why children are not being released to relatives in a timely manner.
The committee will hold its third meeting Jan. 15, before the state Legislature convenes on Feb. 2.
"I'm definitely hopeful that there will be some good reforms that come out of the Blue Ribbon (committee)," Ashby said. "Are you going to accomplish everything and be able to implement all the recommendations? That's probably not likely."
Ashby recognized the need to act quickly so recommendations can be made to the Legislature. But she is also concerned that some of those recommendations may need funding, which could be tough given that lawmakers will have various competing priorities.
Ashby hopes that the committee will see more needs to be done outside the legislative process and will continue its work.
Committee member District Judge Deborah Schumacher said she believes Saitta would not be opposed to expanding the committee time frame.
"That's my feeling," she said Friday.
Clark County has made progress in services to abused and neglected children over the years, but more work remains to be done, she said.
"It will take political will and local entities" to make those improvements, she said.
The committee has a good combination of "outsiders and insiders" and will examine practices in Washoe County and national best practices as it seeks ways to improve services in Clark County.
"That certainly is the intention," Schumacher said. "I would like to go where the evidence takes us."
Donna Coleman, a longtime child advocate, said Family Services has struggled since it separated from the state in 2004. "I would like to see positive change," she said.
Coleman also hopes the committee will receive the results of the child death and near fatality reviews being conducted by Mike Capello, an independent child welfare expert recently hired by the state.
Ashby would like to see an audit of the Clark County Department of Family Services' policies and procedures, not only to make sure they align with state and federals laws, but also to gauge how measures are implemented and followed.
There's "been examples of where policy or procedure exist and haven't been followed," she said. One example is medical consent. In June, a 7-month-old foster girl died after her health deteriorated. Initially, Family Services' officials couldn't locate the biological parents to get consent for medical care.
"There's a policy in place and somewhere along in that process, something broke down," she said. "A lot of it has to do with the larger issue of communication. How does the agency share information not only internally, but externally so that their partners know what's going on?"
Family Services also should have an independent body that can hear complaints and grievances, Ashby said.
Ashby said it will be interesting to hear what the future plans for the committee will be.
"I think there are things that we definitely need to continue to push for," she said.
Contact Yesenia Amaro at yamaro@reviewjournal.com or 702-383-0440. Find her on Twitter: @YeseniaAmaro.