Troubled Family Services workers 'Ask Lisa Why'
August 11, 2014 - 9:27 pm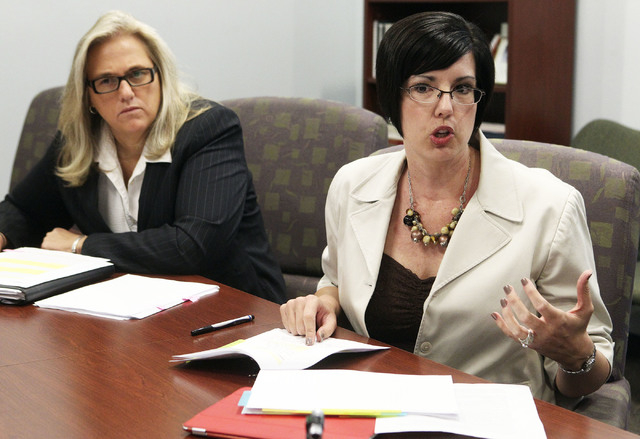 The latest bid by Clark County Family Services employees to draw attention to safety concerns and problems in the agency was a flier aimed at the department director called "Ask Lisa Why…"
But efforts to get Lisa Ruiz-Lee's attention go back to at least December, according to an employee and union officials.
The flier, circulated throughout the summer, posed questions about workers being treated with a lack of dignity and respect, being assigned unreasonable caseloads and being left out of developing and implementing safety policies.
"BOTTOM LINE: Why aren't we making SAFETY FIRST?" reads the flier from the Service Employees International Union.
"Things have escalated over the last two years," said Sharon Kisling, a Child Protective Services supervisor for Family Services.
Last week, almost half of Family Services' employees signed a petition calling for improvements they contend are necessary because of large caseloads and allegations of unsafe conditions for workers and children. The SEIU, which represents eligible Family Services workers, on Tuesday presented the petition to Clark County commissioners and sought their support.
At the time, Clark County Manager Don Burnette said none of the Family Services employees who spoke at the commission meeting had reached out to Ruiz-Lee.
Family Services spokeswoman Kristi Jourdan last week in an email also said, "Lisa was perplexed the conversation (with commissioners) took place prior to meeting with her with specific suggestions for improvements," she wrote. "Management has always had an open-door policy, and no one has met with her directly to share their concerns."
But union officials and one employee argue that it's hard to believe that Ruiz-Lee was unaware of the issues faced by her staff.
There were labor management meetings, and minutes show employees had raised their concerns, Kisling said. In a December Wish List campaign, a list of problems identified by workers was attached to candy canes delivered to every Family Services office site. Then came the "Ask Lisa Why…" flier.
The flier campaign started in June, Kisling said. Union officials sent an email blast to employees. Copies of the fliers were also left at employee desks, passed out during meetings, posted in Family Services lunch and break rooms and put up in other conspicuous areas.
"We flood(ed) our department," Kisling said of the fliers that heralded the petition.
During an interview with the Review-Journal last week, Ruiz-Lee said she saw one of the fliers after someone scanned it and sent it to her before an Aug. 4 meeting.
When asked how she responded to the flier, she said at that point, Burnette and Clark County Assistant Manager Jeff Wells were already in conversations with union officials.
"At that point, I was waiting for them (Burnette and Wells) to gather information based on their conversations," she said Thursday.
Union members also posted stickers that were part of the Wish List campaign around Ruiz-Lee's office and left problem lists attached to candy canes with Family Services management, Kisling said.
"We asked for commitment that every time we met in the new year, we were going to try to work on the list," she said.
However, Ruiz-Lee said she doesn't recall seeing the candy canes in her office or elsewhere.
But Family Services' employees and union officials contend that workers expressed many of their concerns directly to Ruiz-Lee during supervisors' meetings and town hall meetings hosted by the Family Services administration.
"Employees have communicated their concerns to management directly," Kisling said. "I think she's lying. That concerns employees, when their leadership is lying."
Any of the union stewards could have presented the issues outlined in the petition to her directly, Ruiz-Lee said. But, "I haven't yet had that conversation with them. That dialogue didn't occur."
Employees also reacted negatively to Ruiz-Lee's decision in September to stop attending labor management committee meetings.
Family Services issues had been raised during the meetings and minutes are available for review.
Ruiz-Lee said the committee had grown too large and sometimes had more than 30 people in a room. "We struggled with the group size and finding a way to be effective," she said.
She decided that committee representation should consist of three union representatives, two Family Services assistant directors and a Family Services human resources representative.
"I made a commitment to the union that I would review those (meeting) minutes with frequency," she added.
Ruiz-Lee said she became aware of the caseload concerns through the committee meeting minutes. Management's response was to request the additional 47 positions.
Ruiz-Lee also said she does quarterly site visits, routinely attends business meetings and connects with employees.
"I'm very aware about what our employees are talking about," she said.
However, in a department of more than 900 full-time and part time employees, it can be challenging to know what's happening to all of them at all times, she said.
A working group that includes commissioners and Family Services' employees met Monday afternoon to identify the specific issues that need to be addressed. The group discussed several problems, but concluded that the priorities are staffing, safety and legislation that would improve agency services.
Clark County Commissioner Chris Giunchigliani said she met with about four employees in December. She helped guide them to get their concerns across to management, but employees never got a response.
"I think their frustration kind of hit the peak," she said Monday.
Contact Yesenia Amaro at yamaro@reviewjournal.com or 702-383-0440. Follow @YeseniaAmaro on Twitter.