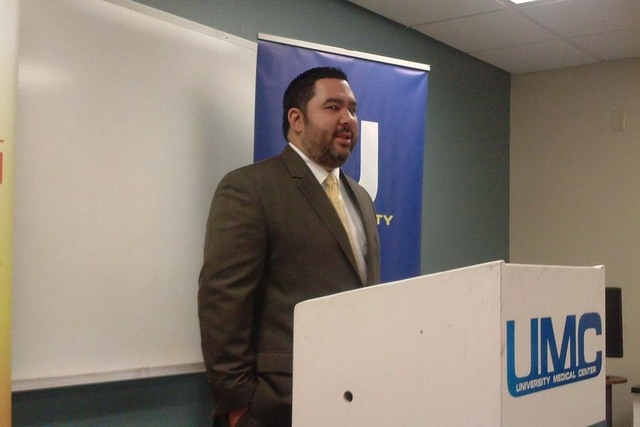 University Medical Center is slashing nearly 300 jobs from its workforce, a retrenching prompted by heightened financial pressures and a desire to avoid future layoffs in the years ahead.
It was the second round of layoffs to hit the public hospital this year. The Clark County-run hospital also shed 105 positions in April.
Officials said Thursday that they want what remains of UMC to be a hospital that can financially survive and preserve essential services such as the trauma center, burn care center, organ transplants and the Children's Hospital of Nevada.
The goal is to prevent a third round of layoffs and reduce the hospital's reliance on county funding, saving taxpayers $21.5 million in the first nine months alone.
"What we're trying to avoid is to do further cuts; that's why we're doing it now and we're doing it the way we are to avoid any further cuts," UMC Chief Executive Officer Lawrence Barnard said at a press conference.
The hospital is eliminating outpatient oncology, its outpatient pharmacy and Lied Clinics, signaling that UMC cannot be all things to all patients. Those services will shutter by the end of September.
Hospital officials say patients who previously had relied exclusively on UMC now have other options for medical care because of the federal Affordable Care Act and Medicaid changes.
The $21.5 million in savings comes at a time when the county increased UMC's subsidy from $41 million to $71 million. The hospital also has received $45 million in loans from the county this year.
It's not a blank check, however. County officials have pushed for reducing the $71 million subsidy in taxpayer money back down to $41 million.
Bailouts from Clark County aren't the long-term answer, Barnard said.
"I think the difference this time is the expectation is not for me to come back and hope for money," Barnard said "Hope is not an option for us."
The latest move, announced Wednesday will trim 8.4 percent of the public hospital's 3,400-employee workforce. The hospital is eliminating 285 positions throughout its system. Of those, 224 are employees who will receive layoff notices by the end of the month and 61 vacant positions will remain unfilled.
"The goal is to get us some breathing room for the next year to two years through this," Barnard said.
For a full fiscal year, it's about $28 million in savings, coming close to the $30 million figure the hospital needs to reach in reducing its reliance on the county subsidy, County Commission Chairman Steve Sisolak said.
"It's unfortunate but I think it's something that had to be done in order for the hospital to survive long-term," Sisolak said. "We have to do something to reduce the $71 million subsidy."
Sisolak added: "UMC has to change the way way it's been doing business. It can't be everything to everybody."
Barnard said layoffs aren't something he wants to do, but added that it's necessary for the long-term financial health of the hospital.
"I don't like doing this and I would rather get this done now and do it the most strategic way we can than to have to do it again down the road," Barnard said.
The hospital also is relocating its outpatient rehabilitation to the hospital's main campus and reorganizing the Family Resource Center. Patients who are affected by the changes will get help from hospital case managers in finding other options for medical care.
Contact Ben Botkin at bbotkin@reviewjournal.com or 702-405-9781. Find him on Twitter: @BenBotkin1.