Veterans say marijuana helps ease PTSD, pain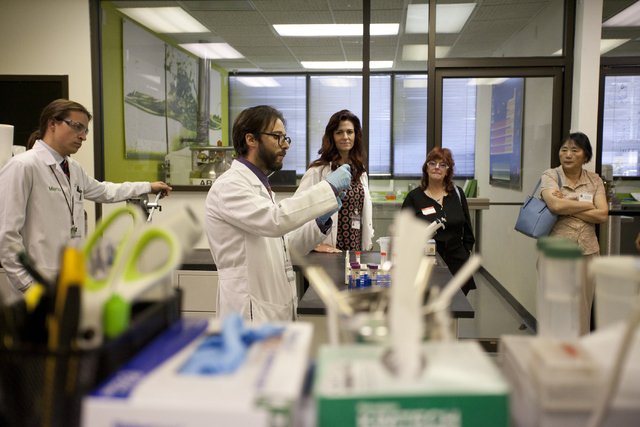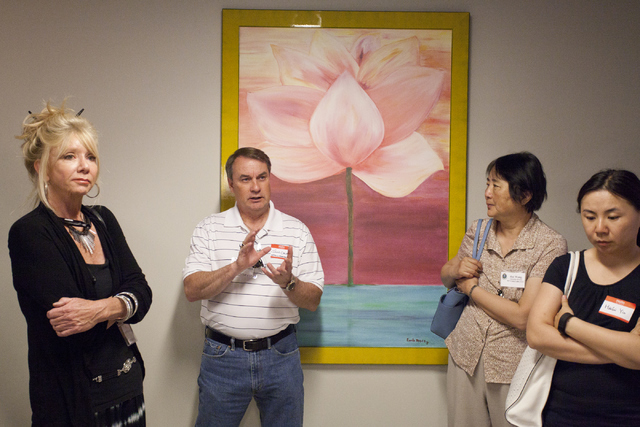 Veterans recently joined a tour of a local dispensary and testing lab to tell their stories of how medical marijuana has improved their lives since they left the military.
The tour was hosted by the Las Vegas Medical Marijuana Association, which was formed to promote the medical marijuana industry in Nevada. The association recognizes the use of cannabis to treat veterans with post-traumatic stress disorder and other ailments.
"Marijuana changed my whole life," said Cristina Alfonso-Zea, an Army veteran who uses medical marijuana to treat PTSD. "From the time I left the military, I attempted suicide every year."
She said she first turned to alcohol, synthetic marijuana and other drugs to cope.
"After a while, opiates don't work," she said.
Now Alfonso-Zea holds a weekly group discussion for veterans at Oasis Medical clinic to educate them about the benefits of medical marijuana.
Pot offers Alfonso-Zea and other veterans, like Top Gun Commander Shane Terry, the relief they need.
Terry is a medical marijuana patient who uses the substance to help with chronic pain caused by an injury he suffered in combat.
While some veterans try multiple pharmaceutical drugs such as anti-depressants, anti-anxiety medication, mood stabilizers and narcotics before turning to cannabis, Terry avoids all pharmaceutical drugs, even Tylenol.
He uses marijuana at bedtime to relieve his neck pain and help him sleep.
"Twenty-two veterans a day commit suicide," Terry said. "And about 10 percent of your veteran community suffers from substance abuse."
The owners of Silver Sage Wellness, the dispensary explored on the tour, pride themselves on offering relief for patients such as Alfonso-Zea and Terry. Owners Pam and Jim Blasco got into the business to help their two disabled sons.
"There's the special-needs community and the PTSD with the vets who are sitting there suffering through, and we as a society have just kind of gone by it," Jim Blasco said. "It's time to start addressing it."
Seth Holycross, an Army veteran, helps grow marijuana for the Silver Sage dispensary. He also is a patient who uses the plant to treat his PTSD.
Holycross tried therapy, sleeping pills, anti-depressants and anti-anxiety medication before turning to cannabis.
"They would make me sick," he said of the drugs. "I couldn't get out of bed at times. I would miss work because of it. I just had to get away from that stuff."
Holycross said he prefers a more natural treatment.
Nevada has some of the strictest testing laws of any state, according to Savino Sguera, director of DB Labs, the first lab certified by the state to test marijuana.
Contact Lawren Linehan at llinehan@reviewjournal.com or at 702-383-0381. Find @lawrenlinehan on Twitter.