Voluntary evacuation notice issued for Kyle and Lee canyons due to avalanche danger
January 24, 2017 - 7:58 pm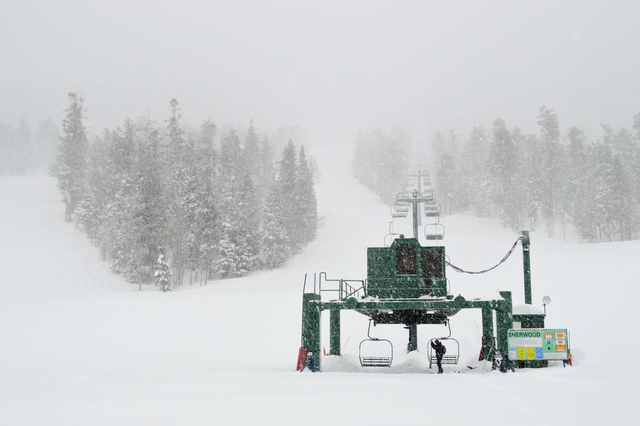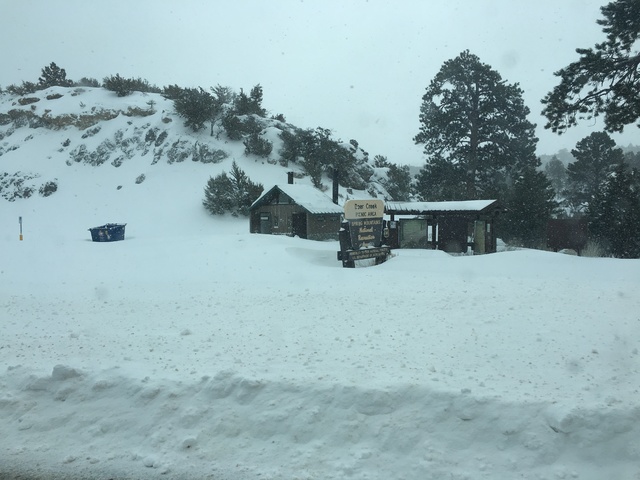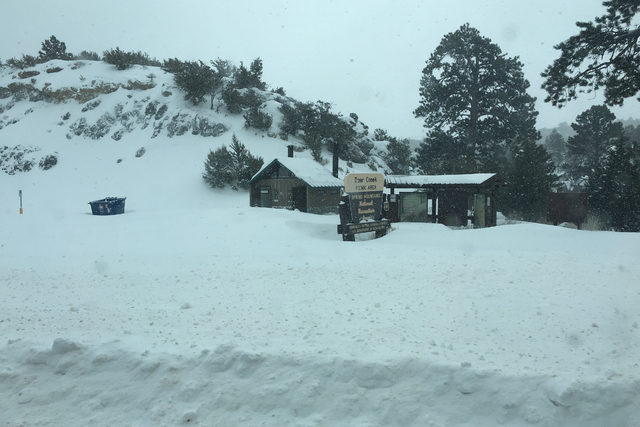 A voluntary evacuation notice for Mount Charleston's Kyle and Lee Canyon areas was announced Tuesday because of high avalanche danger.
Since Jan. 18, the Spring Mountains National Recreation Area has seen a reported 58 inches of snowfall, creating a total depth of about 94 inches of snow as of Monday.
The weight of the fresh powder, coupled with the area's steep terrain, "could create spontaneous avalanches," the U.S. Forest Service said Tuesday.
Clark County officials announced late Tuesday that, as of 10:15 p.m., the Southern Nevada chapter of the American Red Cross opened a shelter for Mount Charleston residents who choose to self-evacuate. The shelter is at the Centennial Hills Community Center YMCA, 6601 N. Buffalo Drive.
On Wednesday morning, Metropolitan Police Department officers and Clark County firefighters will go door-to-door, alerting mountain residents about the voluntary evacuation notice, Clark County spokeswoman Stacey Welling said.
Meteorologist Andy Gorelow said the National Weather Service is also concerned about the possibility of an avalanche.
Local, state and federal officials are monitoring conditions to determine whether additional precautions will be necessary.
In 2005, an avalanche on Mount Charleston killed a teenage boy who was snowboarding with his mother and 15-year-old sister. Allen Brett Hutchison, 13, was swept off a ski lift by a 10- to 20-foot wave of snow on Jan. 9, 2005. He was buried under 2 to 4 feet of snow for more than six hours before rescue crews recovered his body.
Voluntary Evacuation Notice announced for #MtCharleston due to #AvalancheRisk https://t.co/QFhJ4aatLX @GoMtCharleston @LeeCanyonLV @LVMPD pic.twitter.com/8vCev4zbJK

— Clark County Nevada (@ClarkCountyNV) January 25, 2017
"The key to avoiding avalanches is to avoid terrain where avalanches can occur," Spring Mountains recreation staff officer Chris Linehan said. "Avalanche terrain is any slope steeper than 30 degrees."
Visitors should watch for warning signs of an avalanche and unstable snow. Those signs include cracks forming in the snow and rapidly increasing temperatures, according to the Forest Service. If the ground feels hollow underfoot, the snow may be settling and a slab of snow might release.
Safety tips for an avalanche advisory also include having a disaster supply kit on hand with food, water and first aid supplies.
Visitors are urged to plan ahead and check driving conditions, road closures and chain requirements by visiting www.gomtcharleston.com before traveling to the Spring Mountains.
For more information on the temporary shelter at the YMCA, residents are asked to call Frank Rutkowski with Red Cross at 702-232-6604.
Review-Journal reporter Rachel Crosby contributed. Contact Rio Lacanlale at rlacanlale@reviewjournal.com or at 702-383-0381. Follow @riolacanlale on Twitter.