Waiter sues upscale Strip steakhouse over tip sharing
September 25, 2014 - 3:50 pm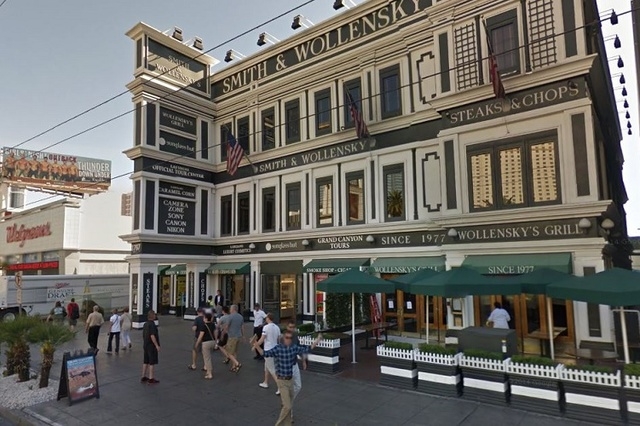 A Smith & Wollensky waiter filed a class-action lawsuit Thursday that claims he was forced to pay managers a portion of his tips.
Mario Viggiani filed the complaint in Clark County District Court against The Smith & Wollensky Group, which operates a chain of steakhouses, including one on the Strip at 3767 Las Vegas Blvd. South. Viggiani, who is represented by Andrew Rempfer and Jason Barron of Cogburn Law Offices, has worked at that location since 2005.
Viggiani is paid $8.25 an hour, not including tips. According to the lawsuit, he has been required to pay the "door," or managers, part of his tips since he was hired.
"This meant Viggiani was forced to pay assistant and general manager(s) for preferential customers, tables or shifts," the complaint alleges.
"Viggiani was also forced to pay a portion of his tips to managers for time off. If Viggiani asked for time off his manager would ask, for example, 'What's it worth to you?'"
Viggiani estimates he was forced to pay managers $65 on average nights and "upwards of $200 a night in tips on busy nights."
According to the lawsuit, Viggiani "is aware of tipped employees" at the chain's Miami location who were subjected to the same policy.
No one could be reached for immediate comment Thursday at Smith & Wollensky's corporate headquarters in Boston.
The lawsuit claims Smith & Wollenksy is violating a Nevada law that makes it unlawful for employers "to require an employee to rebate, refund or return any part of the wage, salary or compensation earned and paid to the employee."
In addition, the lawsuit claims Smith & Wollensky is violating a state law that makes it unlawful "for any person to take all or part of any tips or gratuities bestowed upon the employees of that person."
Viggiani "and all others similarly situated" have been damaged by the defendant's actions, according to the lawsuit.
Contact reporter Carri Geer Thevenot at cgeer@reviewjournal.com or 702-384-8710. Find her on Twitter: @CarriGeer.