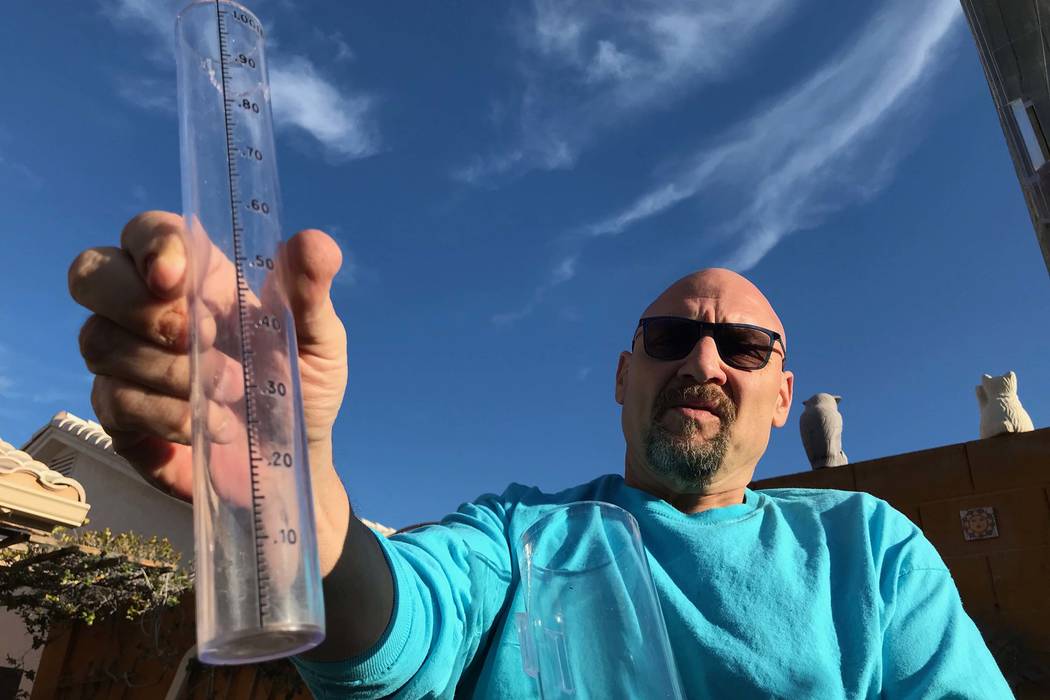 An international network of amateur weather trackers is looking for observant — and patient — local residents to measure rainfall in America's driest city.
A representative from the Colorado-based Community Collaborative Rain, Hail and Snow Network was in Las Vegas on Wednesday to meet with National Weather Service officials and recruit new rain spotters.
The 21-year-old organization, known as CoCoRaHS, already has a dozen or so valley residents who gather precipitation data for the effort, but organizers are seeking more people willing to install backyard rain gauges and report whatever collects in them.
"It would be great to have 50 regular observers in the area," said meteorologist Henry Reges, U.S. coordinator for the network. "We always find the more data, the better. It's like the pixels in your camera. The more pixels you have, the better your picture."
Meteorologist Daniel Berc from the National Weather Service in Las Vegas said he would like to see more spotters in rural parts of Southern Nevada, eastern California and northwestern Arizona, including a few dedicated volunteers willing to brave the cold on Mount Charleston.
"We have people who live up there, and we would love to get their snow reports," Berc said.
CoCoRaHS was established by Colorado State University after a 1997 storm struck without warning at the campus in Fort Collins, triggering deadly flash floods.
The citizen-science rainfall network expanded into Nevada in 2007. It now collects precipitation data from about 20,000 weather observers across the U.S., Canada and the Caribbean.
For the moment, Las Vegas has far fewer rain spotters than smaller communities, but it's not as if the valley is flying blind. The Clark County Regional Flood Control District operates 200 electronic gauges that provide real-time rainfall and storm flow readings from Mesquite to Laughlin.
Reges said human data collectors can serve as a "good check and balance" on such automated systems. And along with their daily reports, CoCoRaHS spotters can submit "significant weather reports" to alert their local weather service office about particularly heavy downpours.
"It's an extra set of eyes and ears," Reges said.
Henderson resident Scott Cerecke has submitted more than 3,000 daily reports since he started volunteering as a rain spotter in 2009.
"It's something to do if you're retired," he said. "And how easy is it to just have to report the precipitation when you live in Southern Nevada?"
The plastic gauge mounted to a wooden post in his backyard just south of Lake Las Vegas can measure rain down to a hundredth of an inch. The container can hold up to 11 inches, though it would probably be washed away if a single storm ever produced that much rain.
Cerecke can submit his daily observations using a computer or an app on his phone.
Mostly what he reports are zeroes. For a record 116 days from Sept. 13 through Jan. 7, the valley's official weather station at McCarran International Airport didn't record any measurable rain, and neither did Cerecke.
He said his neighborhood seems to have its own "microclimate" that's drier and 5-10 degrees hotter than what gets logged at McCarran.
He's only recorded snow once as a spotter, and that's the way he likes it.
Cerecke used to live in Illinois. "I don't care if I never see snow again," he said.
Contact Henry Brean at hbrean@reviewjournal.com or 702-383-0350. Follow @RefriedBrean on Twitter.
Gauging interest
Anyone interested in becoming a volunteer spotter for the Community Collaborative Rain, Hail and Snow Network can sign up online at https://cocorahs.org.
A standard rain gauge generally costs around $30 plus shipping. Volunteers in rural parts of the state may qualify for a free gauge courtesy of the University of Nevada Cooperative Extension. To find out more, call the extension office in Lyon County at 775-463-6540 or connect with the rain spotting program in Nevada on Facebook at http://www.facebook.com/nvcocorahs.