Wife of convicted lawyer avoids prison time in courthouse counseling scheme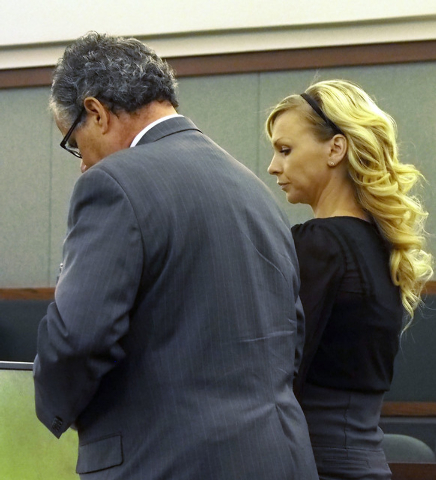 Amber McDearmon, the wife of convicted defense lawyer Brian Bloomfield, escaped prison time Wednesday after she pleaded guilty in a high-profile courthouse counseling scheme.
McDearmon, 30, a felon, pleaded guilty before Senior District Judge Lee Gates to one gross misdemeanor charge of destruction of evidence. She was immediately sentenced to credit for time served — one day she spent at the Clark County Detention Center after her original arrest in 2012.
Other felony and gross misdemeanor charges against her in the scheme were dismissed, and she was not placed on probation, leaving her free of the court's jurisdiction.
Her plea agreement, however, calls for her to cooperate with prosecutors against two of the remaining defendants in the long-running criminal case.
The case dates to December 2011, when Bloomfield, former counseling service owner Steven Brox and juvenile probation officer Robert Chiodini were charged in a 52-count indictment.
They were accused of providing prostitutes and other defendants with phony certificates of completion for court-ordered counseling and community service to resolve misdemeanor cases in Las Vegas Justice Court. The scheme is alleged to have occurred between February 2008 and May 2010.
Weeks later, McDearmon and former bail bondsman Thomas Jaskol were charged in a super­seding indictment that included new allegations they conspired with Bloomfield to destroy evidence.
She has a gross misdemeanor conviction for conspiracy to commit burglary, and her case is one of those identified in the superseding indictment as including phony certificates of completion.
McDearmon, who also has an unrelated felony identity theft conviction in federal court, was living with Bloomfield during the counseling scheme in 2010 and later married him in January 2012.
Bloomfield represented McDearmon, who never showed up for dozens of hours of court-ordered community service, but ended up getting certificates of completion for the hours, according to court documents.
In December, following months of negotiations, Bloomfield pleaded guilty to two felony charges of forgery and offering a false instrument for filing or record, and two gross misdemeanors, conspiring to commit a crime and destruction of evidence.
But he still hasn't been sentenced and continues to go about his regular business defending clients in criminal cases at the Regional Justice Center.
His plea agreement also calls for him to cooperate with prosecutors against the other defendants charged in the counseling scheme. Prosecutors have to be satisfied with the extent of his cooperation against the other defendants, who have yet to go to trial, before he can be sentenced.
The sentencing delay has prompted the State Bar of Nevada to seek Bloomfield's temporary suspension pending disciplinary proceedings that could result in his disbarment. The decision is now in the hands of the Nevada Supreme Court.
Contact Jeff German at jgerman@reviewjournal.com or 702-380-8135. Find him on Twitter: @JGermanRJ.