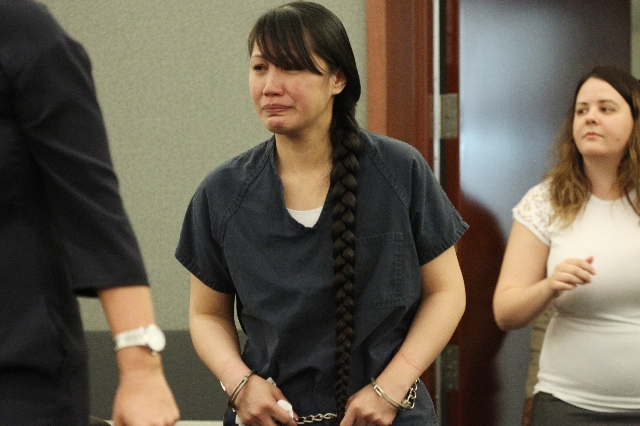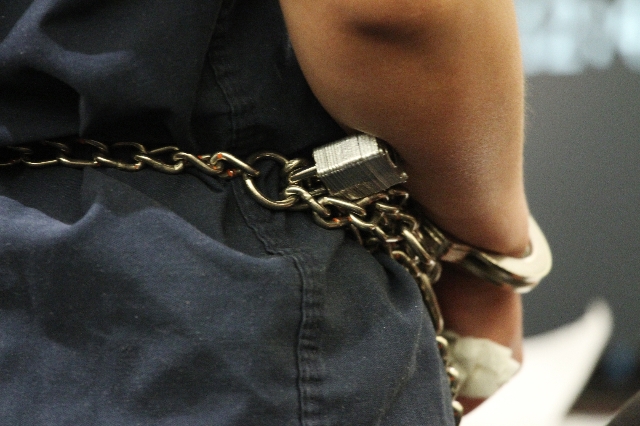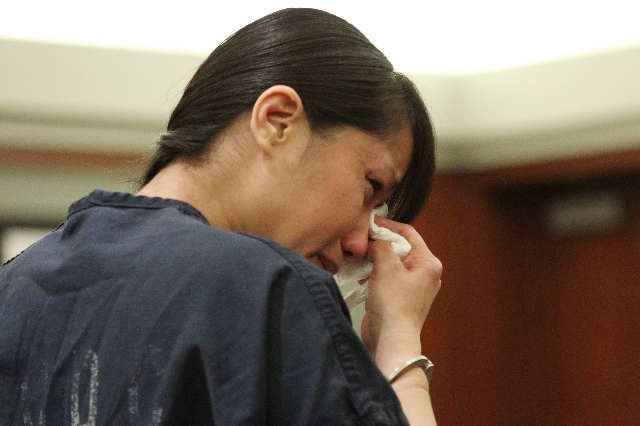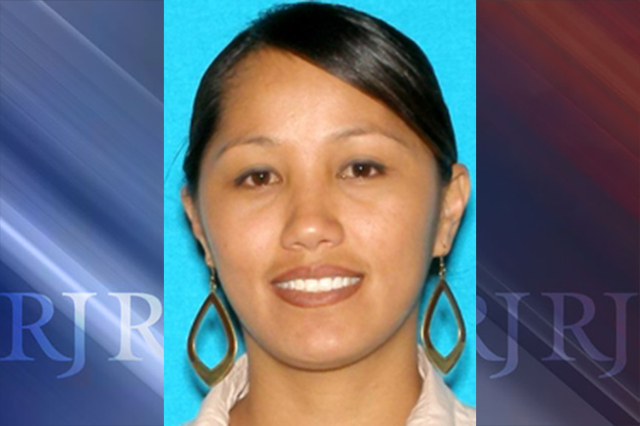 Michelle Paet stood sobbing in a Las Vegas courtroom Thursday and admitted to orchestrating a plot that left her husband dying in his blood-soaked Air Force fatigues in front of their four children. Then she turned to her in-laws, seated in the back row.
Nathan Paet's mother nodded, indicating she was willing to hear what the defendant had to say.
"I'm sorry," Michelle Paet said on Thursday, after avoiding the death penalty and pleading guilty to conspiracy to commit murder and first-degree murder with use of a deadly weapon. "I love you guys, and I love my kids, and I hope that this is closure for you guys."
Prosecutors say Paet wanted her husband out of the picture and planned the murder over the course of six months with Michael Rodriguez, a man with whom she worked and had a fleeting sexual relationship.
On Tuesday, after being convicted by a jury last week for his part in the slaying, Rodriguez agreed to waive future appeals and accept a sentence of life in prison without the possibility of parole to avoid a possible death sentence.
Nathan Paet, 28, was the assistant non-commissioned officer-in-charge for the Strike Aircraft Maintenance Supply section of the 757th Aircraft Maintenance Squadron at Nellis Air Force Base. He was born in 1982 in Tamuning, Guam, where he and Michelle were high school sweethearts.
He was unaware of his wife's infidelity and never spoke of any suspicions with his relatives.
On the night of Dec. 1, 2010, Rodriguez waited outside the Paets' far southwest valley home in his black Cadillac CTS with the alleged gunman, Corry Hawkins, prosecutors said.
Nathan Paet was gunned down in the garage as he left for work.
Michelle Paet faces life in prison without the possibility of parole at a December sentencing. As the 33-year-old wept on Thursday, her lawyer, Kristina Wildeveld, laid a hand on her shoulder.
Carmenita Paet, Nathan Paet's mother, said afterward that she was uncomfortable with the death penalty.
"We did not want that because Guam doesn't have it," Carmenita Paet said. "It's never been an option back home, so we're not used to that idea. And honestly right now, I feel that killing another person would not bring my son back. It's not going to do anybody any good. It just breaks my heart, really, to think of killing another person. It doesn't matter what they've done. I can't handle that idea."
Contact David Ferrara at dferrara@reviewjournal.com or 702-380-1039. Find him on Twitter: @randompoker