Woman shot and killed by police in northeast valley barricade
December 14, 2015 - 6:01 pm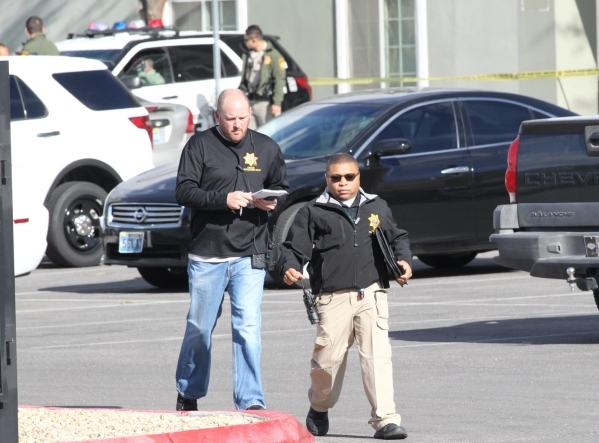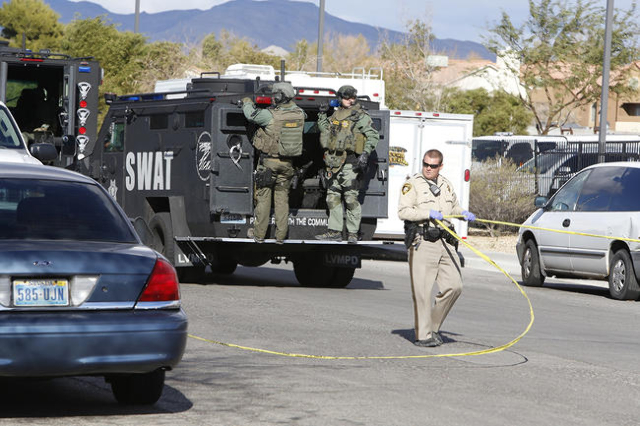 Two SWAT snipers shot and killed a woman Monday afternoon after an hours-long barricade in the northeast valley, Las Vegas police said.
Before the barricade began, the woman tried to overdose on pills, Metro spokesman Sgt. Jeff Clark said Monday night at the scene of the shooting. Someone the woman knew in Ohio watched her attempt on video about 5:50 a.m. local time and called police, so officers went to check on her.
But when police got to her house at 4564 Aviation Street, about a half mile from Nellis Air Force Base near the intersection of Craig Road and Nellis Boulevard, they tried to make contact with her but were unsuccessful, Clark said. So they left.
Five hours later the woman was reported to police again. This time a local "psychiatric group" also saw a video of the woman taking too many pills, Clark said. The group told police the woman had a gun and mentioned "suicide by cop," he said.
So officers went to her house a second time, and like the group told police, she was armed. She confronted the initial officers about 10:40 a.m. while holding a handgun outside her home, then retreated inside — the start of a long back-and-forth between the woman and police.
Authorities tried to coax her out of the home with a megaphone for three hours, a neighbor said. By then SWAT had showed up, and a voice on the speaker repeatedly said the woman would not be hurt if she came outside unarmed with her hands raised, the neighbor said.
But surrounded by authorities some time later, the woman came out of the house a second time holding a handgun and pointed it at a SWAT BearCat before retreating inside again. While talking to police negotiators, she said she "wanted to get in a gun fight with the officers," Clark said.
After 2 p.m., she came out a third time — this time with a shotgun. She immediately turned it on herself, put it underneath her chin and tried to shoot "but was having a hard time manipulating the trigger," Clark said.
"At that time she raised the shotgun and pointed it at SWAT officers that were nearby," he said. And the snipers fired.
Though medics were there, Clark said the woman died on scene. The officers who fired will be named after 48 hours, per Metro policy.
The woman who was shot had three adult children and a husband, the neighbor said. Her children did not live with her and her husband was rarely home because he was a truck driver, the neighbor said.
The Clark County coroner's office will name her after the woman's family has been notified.
This was the 13th officer-involved shooting in Las Vegas this year, Metro said. Last year, there were 16.
Contact Rachel Crosby at rcrosby@reviewjournal.com or 702-387-5290. Find her on Twitter: @rachelacrosby. Contact Kimber Laux at klaux@reviewjournal.com or 702-383-0381. Find her on Twitter: @lauxkimber. Contact Ricardo Torres at rtorres@reviewjournal.com and 702-383-0381. Find him on Twitter: @rickytwrites