Wrongful death lawsuit filed by family of Alpine Motel fire victim
Updated January 8, 2020 - 5:16 pm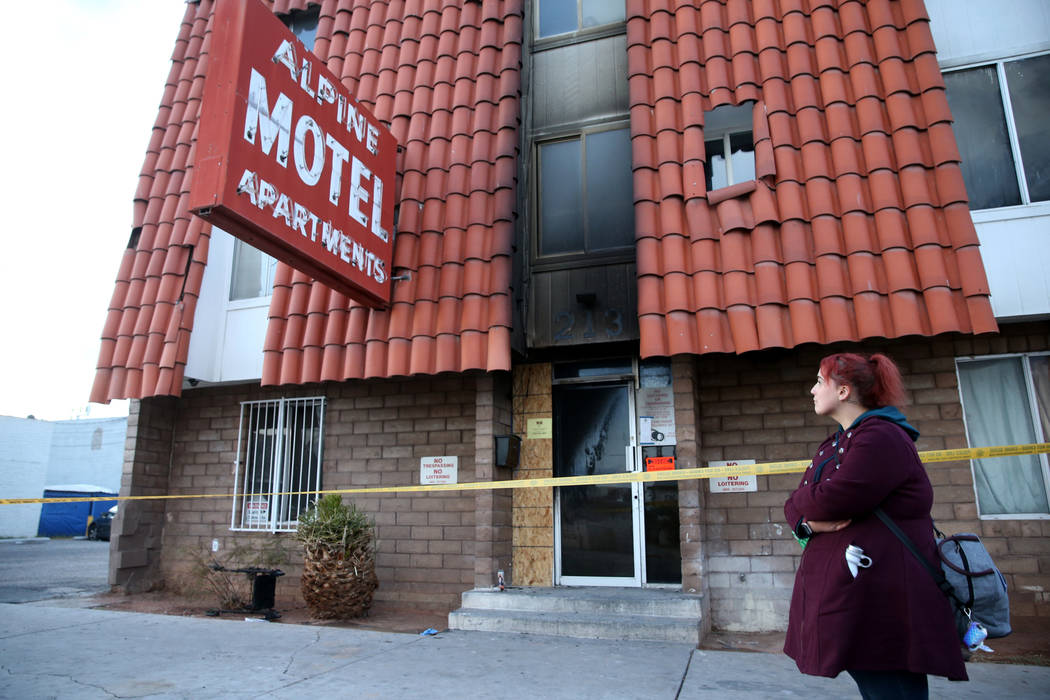 A wrongful death lawsuit filed Wednesday against the owner of the Alpine Motel Apartments — the site of the deadliest residential fire in Las Vegas history — echoes mounting safety concerns from residents about the property that have surfaced since the Dec. 21 fire.
Court records show that the lawsuit, filed in Clark County District Court on behalf of the family of Tracy Ann Cihal, is the first filed in connection with the blaze, which killed six people and left 13 more injured and nearly 60 without a home.
---
---
The 15-page lawsuit describes the Alpine, at 213 N. Ninth St., as uninhabitable and "unreasonably dangerous." It has been owned by Adolfo Orozco under Las Vegas Dragon Hotel LLC since 2013.
Both Orozco and the limited liability company are named as defendants in the suit, which is seeking upward of $15,000 in damages. A request for comment from Orozco's attorney, Dominic Gentile, was not returned Wednesday.
Cihal, a 57-year-old widow who lived on the ground floor and used a walker to get around, died while trying to escape the fire, which city fire investigators believe was caused by a stove being used for heat. Her body later was found in the hallway on the ground floor, near a bolted rear door.
According to the lawsuit, Cihal's death was the "direct and proximate result of defendants' failure to provide its tenants with safe and habitable living conditions," such as a fire suppression system, a fire alarm system, smoke detectors, working fire extinguishers, heating, ventilation and adequate emergency exits.
Trapped by the barricaded rear door and smoke-filled hallways and stairwells, residents that morning resorted to jumping from second- and third-story windows. Some were found hanging from their windows when the Las Vegas Fire Department arrived at the apartments.
Attorneys Ben Wilson and Rahul Ravipudi, who are representing Cihal's family, said Wednesday in a statement: "The injuries and death of our client and the other victims of this fire are inexcusable — and we believe, preventable. The owners and managers of the Alpine – and other properties around Las Vegas – appear to have been far more concerned about taking money from their tenants than they were about their safety. It is inconceivable that residents of the Alpine were forced to endure the conditions of this complex."
The week before the fire, after ongoing issues with a bathroom leak and poor ventilation in her unit, Cihal had sought legal help to withhold her rent from Orozco, according to Scotti Hughes, who had been with Cihal about four hours before she died and considered her a "second mom."
Cihal came home with instructional paperwork and intended to submit a formal complaint to management on the day of the fire, which erupted before dawn.
According to Hughes, Cihal — known as "mama bear" around the building — had asked management to address the leak more than once, but her requests were ignored.
On Tuesday, the Las Vegas Review-Journal obtained documents from city officials that revealed the Alpine was not inspected by the Las Vegas Fire Department for nearly three years, between April 2013 and March 2016.
The documents also detailed a history of fire code violations at the Alpine dating to 2006. The violations included fire doors not closing properly, security bars in sleeping areas not equipped with emergency release and daisy-chaining extension cords and surge protectors, according to the documents.
Contact Rio Lacanlale at rlacanlale@reviewjournal.com or 702-383-0381. Follow @riolacanlale on Twitter.