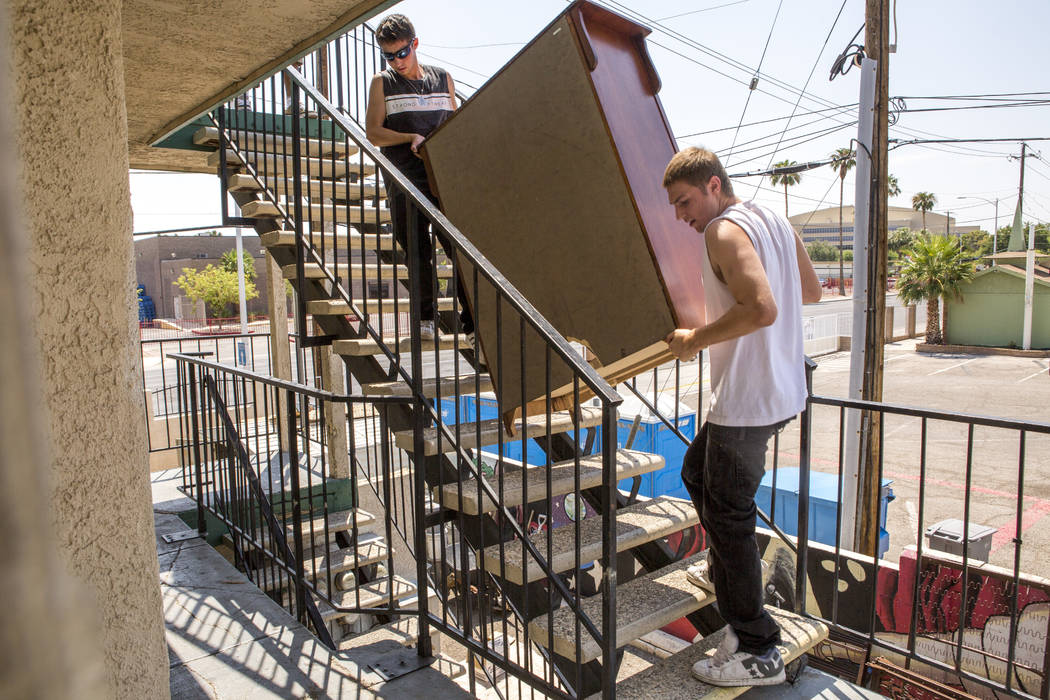 In a matter of months, Michael Callaghan's life has taken a striking turn from fresh out of jail to pursuing a GED certificate and dreaming about a career as an underwater welder.
The 18-year-old Las Vegas native credits the Shannon West Homeless Youth Center, where he has stayed since mid-May, for the dramatic reshaping.
"Two months ago, I was a wreck. I really was," Callaghan said. "Without this place, I don't know where I'd be."
Callaghan was addicted to methamphetamine, which fueled the fight with his father that landed him in jail for a few days, he said.
The youth center offers emergency shelter and transitional housing, addiction and behavioral health services, career coaching and money management.
This weekend, Callaghan and the other residents of the Shannon West center will move roughly six miles south into a significantly larger building on East Flamingo Road.
"It's just a better neighborhood and environment for the youth," Help of Southern Nevada president and CEO Fuilala Riley said.
Help of Southern Nevada operates the center. A grand opening event is Friday morning at the new location on the nonprofit group's campus.
Center residents, who range in age from 16 to 24, on Wednesday lugged bureaus out of their rooms and down a set of stairs at the center they are leaving. The facility, at the corner of Las Vegas Boulevard North and Foremaster Lane, houses 65.
A 2016 homeless count showed Nevada had 1,672 unsheltered, unaccompanied youth. The rate is higher than any other state, according to the United States Department of Housing and Urban Development's annual homeless assessment report.
The 37,000-square-foot building on Flamingo has been in the works for years and can house up to 166 people. Bunk beds will house four people per room, and a handful of single rooms allow for more independent living. It also includes a computer lab and multipurpose rooms on each of the three floors.
Clark County and the cities of Las Vegas, North Las Vegas and Henderson contributed funds to the roughly $10 million project, Riley said.
The new building is closer to the Strip, where some of the center's residents work. It's also close to UNLV, where Riley hopes some of the young residents can enroll once they finish earning their high school diplomas and GED certificates.
Callaghan is eager for the move to the new center, which is entwined with his new path.
"Being here has opened my eyes to what there really is and what we have to offer," Callaghan said. "I've never been this way before. I've always been oblivious because the only thing I knew was pain and struggling. There's a lot more to life, and this place has unlocked that for me."
Contact Jamie Munks at jmunks@reviewjournal.com or 702-383-0340. Follow @JamieMunksRJ on Twitter.