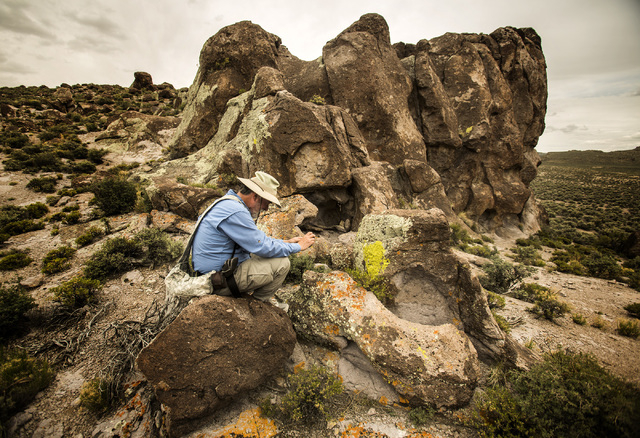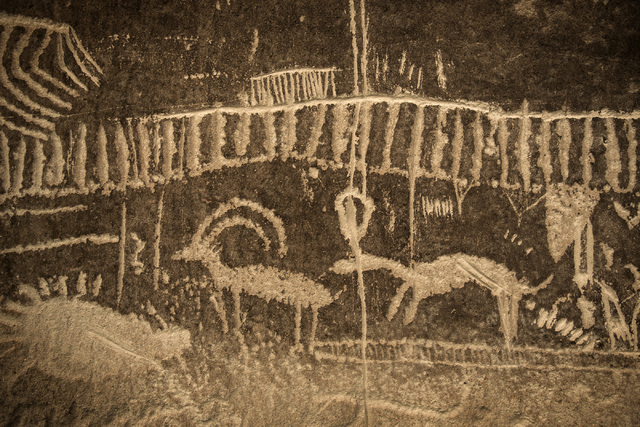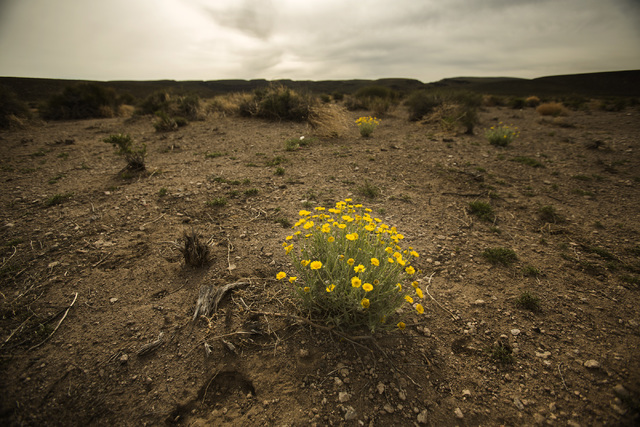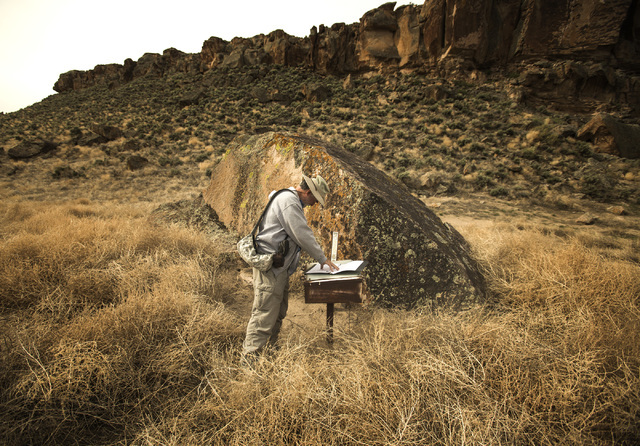 WASHINGTON — A vast sweep of rural Nevada marked by lonely desert valleys, craggy mountain ranges and both ancient and modern art will become the newest addition to the nation's inventory of protected landscapes today.
President Barack Obama will sign a proclamation designating the Basin and Range National Monument on 704,000 acres — 1,100 square miles — of Lincoln and Nye counties, the White House announced Thursday night.
It will be the second monument created in Nevada within eight months and will join 21 others in the West and more than 100 around the country.
Using his authority under the Antiquities Act of 1906, Obama today also will sign proclamations creating the Berryessa Snow Mountain National Monument in Northern California and the Waco Mammoth National Monument in a fossil-rich area of central Texas.
Obama is scheduled to sign the monument proclamations at a White House ceremony set to include Sen. Harry Reid, D-Nev., and Rep. Dina Titus, D-Nev., the sponsors of failed legislation to set aside the Basin and Range area.
Also expected to attend is artist Michael Heizer, who has spent decades creating a massive earthen sculpture called "City" in the midst of the newly protected area.
The "City" project provided some of the impetus for Reid to step up a public preservation campaign in recent years, and to lobby Obama to act on it after it became clear Congress was not going to do so. Both the president and the Nevada senator are leaving office at the end of next year.
The White House described the monument area as "an iconic American landscape that includes rock art dating back 4,000 years and serves as an irreplaceable resource for archaeologists, historians, and ecologists."
The Basin and Range National Monument will consist of Garden Valley and Coal Valley, separated by the Golden Gate Range and including the Mount Irish Range, the Seaman Range and the Worthington Mountains.
The preserved area would be withdrawn from most economic activity including mining and energy leasing, though some grazing would be allowed to continue by a handful of ranches that dot the landscape. The designation would also block a possible future rail corridor for nuclear waste shipments to the proposed Yucca Mountain repository.
The "Basin and Range" refers generally to the area linking the Sierra Nevada in eastern California and the region where the Rocky Mountains plateau is in eastern Utah and western Colorado. Its topo­graphy, built by shifts in the Earth over eons, is characterized by narrow mountain chains alternating with flat arid basins. Such landscape ribbons north and south across Nevada.
"This is representative of what desert is all about in Nevada," Reid said Thursday. "It is these beautiful mountains and all this lovely desert — sparsely vegetated, but it is vegetated.
"And to make it extra special you have this work of art that he's been working on for 48 years," Reid said of Heizer. "You've got petroglyphs all over the area. I think it is very important this not be ruined. "
"The Basin and Range National Monument stands as a showcase of Nevada's wondrous desert habitat," Titus said in a statement. "Home to flora and fauna native only to our state, this monument preserves and protects the unique natural, cultural, and historical resources of this significant region for generations to come."
In December, after extensive talks among a range of local interests, Congress passed a law creating the Tule Springs Fossil Beds National Monument on 22,650 acres at the northern edge of the Las Vegas Valley. Basin and Range is being established in a much different way cheered by conservationists and jeered by Republicans and some local leaders in rural Nevada.
The Antiquities Act allows the president to set aside areas "of historic or scientific interest," but the practice has proved controversial before. President Bill Clinton set off a firestorm in 1996 when he designated the 1.8 million acre Grand Staircase Escalante National Monument — the largest to date — over opposition in Utah.
Now Obama is creating a new monument over strong objections from the two counties where it is found.
In Lincoln County, which contains the bulk of Basin and Range and has fought the proposal for years, Commissioner Kevin Phillips could barely contain his rage Thursday.
"It's disgusting. It's loathsome. It's illegal. It's unfair," he said. "We feel like we're not citizens."
The Lincoln County native and former mayor of Caliente contends the designation adds another layer of government restriction to a county where more than 97 percent of the land is already — and he believes wrongly — under federal control.
Phillips said this action by "an imperial president and some imperial senator" will forever close the area to oil, gas and mineral exploration that might have given the struggling county a much needed boost.
He said it's only a matter of time before federal authorities also move to regulate ranching out of existence within the new monument, regardless of their claims to the contrary.
"A monument to what for criminy's sake?" Phillips said.
Nye County Commissioner Lorinda Wichman said she was "extremely disappointed" by the move but not the least bit surprised. She said Reid has spent his career locking land away from Nevada residents.
"What does he want? Does he want to throw us all out? He doesn't want people here anymore?" Wichman said.
Reid said he had a message for critics: The monument will be beneficial in the long run, just like the wilderness areas he championed earlier in his career that were vilified but turned out to help local economies.
"What I say to people in Nye and Lincoln counties is, don't worry about this," Reid said. "This is going to be great for you. This is going to be an attraction. It is going to be world famous. World famous!"
Rep. Cresent Hardy, R-Nev., who represents the two counties and who attempted to challenge the designation in House amendments, said he finds that hard to believe.
"Tourists are not going to run out to this basin and range. Maybe a few but not an amount that will be economically viable," he said. "This, in my opinion, is not about preserving land for the future. This is locking people out of the land."
Art lovers argue that Heizer's masterwork could become a World Heritage site one day. "City" has been described as one of the largest and most ambitious pieces of art ever, a network of sculpted berms, plazas and geometric shapes a mile-and-a-half long and 900 feet wide inspired by ancient cities of South and Central America.
"Heizer is among the greatest living American artists, and he has worked, ostensibly alone in the desert, for more than four decades realizing this monumental achievement," said Michael Govan, director and CEO of the Los Angeles County Museum of Art, in a statement Thursday. "President Obama's action (will) cement 'City's' place in the history of art and American culture."
Reid said art is not the only reason the monument stretches across two valleys.
"That's only one of the things that makes it nice," he said. "I'm protecting the desert. I don't want railroads going through this. I don't want highways going through this. Here is something unique."
Contact Review-Journal Washington Bureau Chief Steve Tetreault at stetreault@reviewjournal.com or 202-783-1760. Find him on Twitter: @STetreaultDC. Contact Henry Brean at hbrean@reviewjournal.com or 702-383-0350. Find him on Twitter: @RefriedBrean.
See a map of the area proposed for protection as a national monument.