Beatty's burros both an Old West symbol and a problem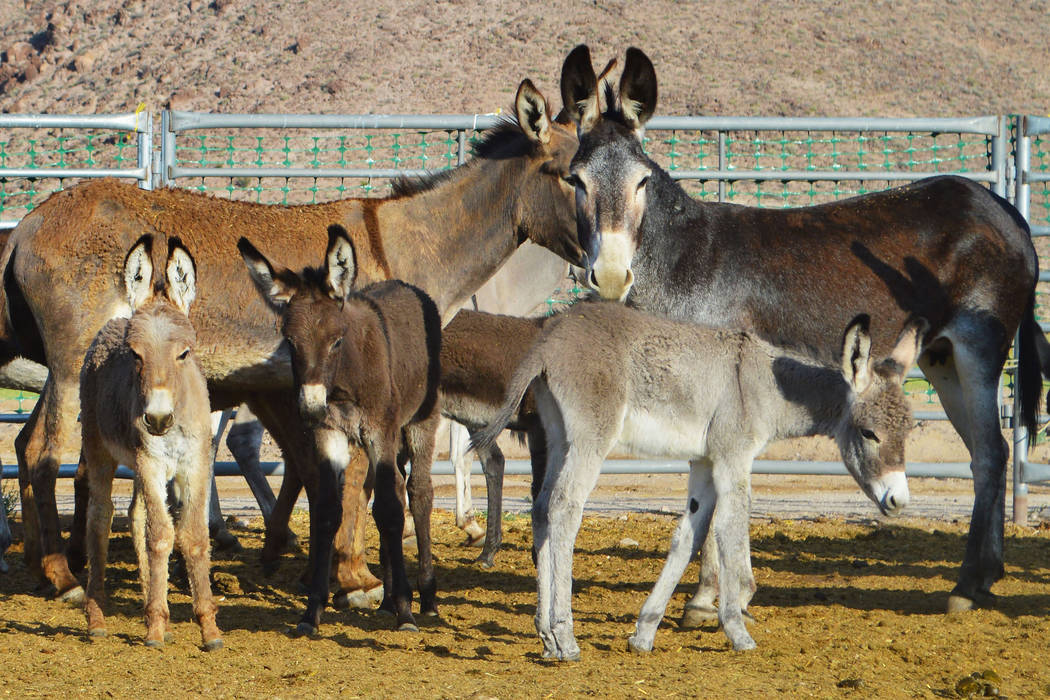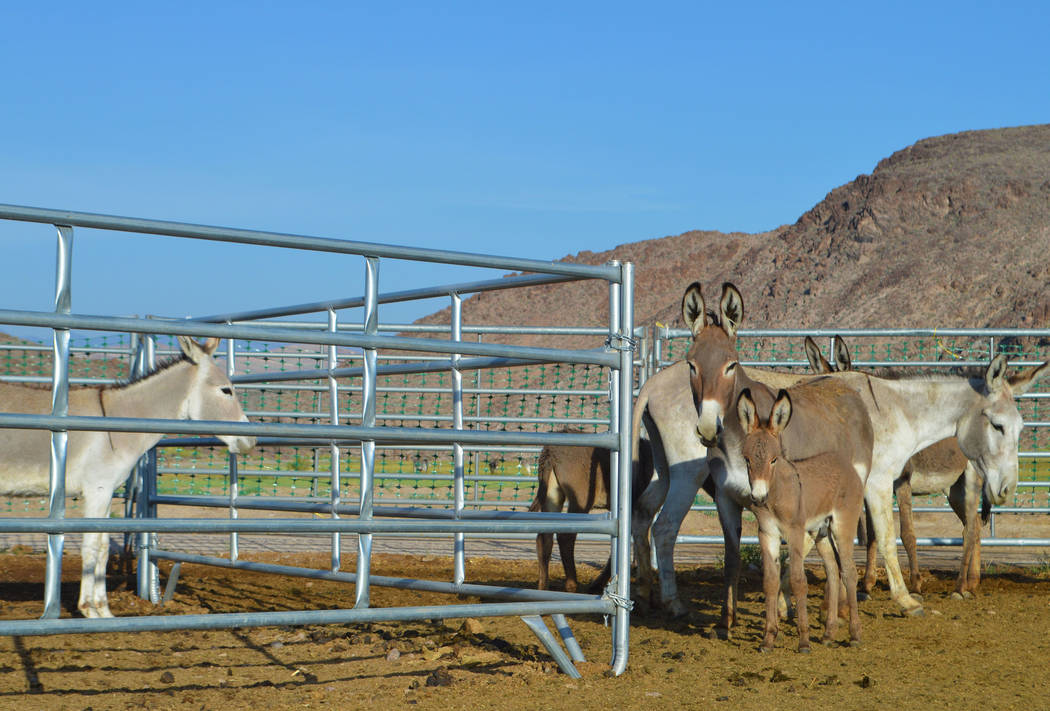 Beatty is known for its burros, and a recent roundup by the Bureau of Land Management isn't likely to change that.
In fact, some residents wish the federal government would do more to control the population of wild donkeys in and around the Nye County town 120 miles northwest of Las Vegas.
The BLM just wrapped up a two-week operation that removed 404 burros from the area, but Laura Cunningham can't see much difference from her ranch house about 5 miles north of Beatty.
"We have a huge number of burros just outside our fence," she said. "Right now, they're braying out there and eating down the vegetation."
Beatty has long embraced its resident donkeys, which serve as living symbols of the community's roots as an early 20th-century mining camp.
The town used to hold annual "burros races," in which competitors would lead the uncooperative animals to make-shift campsites and cook them flapjacks. Beatty's official website features three donkeys looking quizzically at the camera from a forest of Joshua trees.
But longtime resident Richard Stephens said most locals have mixed feelings about the burros.
"They are an element of local color and history, somewhat entertaining and fun to show to visitors. They are also a nuisance," he said.
They push down fences, knock over trash cans, damage cars and get into noisy fights in the town's few alleyways. Outside the town limits, they eat and stomp the fragile native habitat of the Amargosa toad and create a safety hazard on U.S. Highway 95, despite efforts to fence them away from trouble.
In May, 13 wild burros were found shot to death in the desert around Beatty.
Free to reproduce
The BLM's last roundup in Beatty came in 2015, when 44 "nuisance" animals were collected. In 2012, it used helicopters to herd and capture 77 burros in the area.
Cunningham said she watched the most recent roundup and was glad to see it conducted in gentle, humane fashion. She just wishes the BLM had removed many more than it did.
"Don't get me wrong: I actually like the burros, but they're getting kind of overpopulated," she said. "They're definitely impacting the range out here."
Kyle Hendrix, spokesman for the BLM's vast Battle Mountain District, said the agency originally planned to collect 300 animals but requested permission to gather an additional 100 because the operation was going so smoothly.
But Hendrix acknowledged that the BLM-designated Bullfrog Herd Management Area still has about three times as many burros living in it as it should, even after the roundup was completed.
Between July 10 and July 24, BLM contractors used food and water to lure 207 males, 138 females and 59 foals off the open range. Two animals — a 5-year-old male and a 15-year-old male, both with serious existing medical conditions — were euthanized after being captured.
That left an estimated 268 burros in the herd area, which covers 245 square miles surrounding Beatty.
The BLM believes the range can reasonably sustain no more than 91 of the animals, but burros pay no attention to such "appropriate management levels."
"They have no natural predators, and they reproduce at a rate of about 20 percent a year," Hendrix said.
The size of the herd also poses problems for the National Park Service, which recently announced a five-year operation to round up and remove all non-native burros from nearby Death Valley National Park. Beatty's burros only have to wander about 10 miles west to begin repopulating the 3.4-million-acre park.
A stubborn problem
The situation is a microcosm of an endless and expensive problem facing federal land managers: Across the West, protected herds of wild horses and burros continue to grow, and the only way the BLM has found to control their numbers is by rounding them up and warehousing them in off-range pastures.
"It is taxing on us in terms of time and staffing and money," Hendrix said. "Each year we submit requests for gathers. It's all dependent on the national budget."
Not everyone in Beatty supports the BLM's efforts at herd control.
Fred and Patti Summers own The Happy Burro, a restaurant and "four-stool bar" along Beatty's main drag. Patti Summers said she and her husband "absolutely love" the burros and would hate to see more of them rounded up.
When the animals wander by the Summers' business, they're often rewarded with a pat on the head and a treat.
"We're not supposed to feed them, and I know that. But we give them only healthy food," Patti Summers said. "They're quite comfortable here in town. I don't see a problem with them being here at all."
Sure, they'll eat all the flowers in your garden if you let them, she said, but they also attract tourists and help curb speeding through Beatty.
"The more they're in town, the slower people drive. That's a plus," Summers said. "It's 25 mph through town anyway."
Contact Henry Brean at hbrean@reviewjournal.com or 702-383-0350. Follow @RefriedBrean on Twitter.
Get your own burro
Wild burros rounded up from the Beatty area will eventually be offered for adoption to suitable homes.
A total of 404 burros, including 59 foals, were collected during the two-week operation conducted earlier this month by a contractor for the Bureau of Land Management. Those animals have since been moved to an off-range wild horse and burro facility in Axtell, Utah, to be readied for adoption.
Information on how to adopt a wild burro is available on the BLM's website.
Any burros that aren't adopted will live out their lives in long-term off-range pastures paid for by the federal government.