Big voter turnout expected for primaries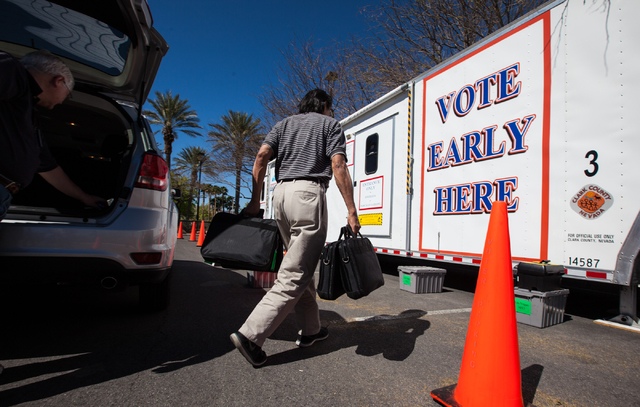 If early voting turnout is any indication, Tuesday's primary election day could be one of the busiest in recent memory, Clark County Registrar of Voters Joe Gloria said.
About 76,500 out of nearly 890,000 registered Clark County voters have already cast their ballots during the two-week early voting period compared with about 61,000 in 2014 and 56,000 in 2012.
Gloria said he doesn't think that the higher turnout in early voting means fewer people will be out on Election Day. Instead, Gloria expects to see a similar increase — about 20 percent — in Election Day turnout.
"It's just one of those years where there's a lot of interest in the election, so we're getting a little higher turnout than normal," Gloria said.
Democrats saw a more than 50 percent increase in early voting turnout, to the tune of over 14,000 voters. That equated to about 10,000 more Democrats than Republicans participating in the early vote period. That is a stark contrast to 2014, when Republicans outpaced Democrats by about 4,000 voters.
Although Democrats have turned out at a higher clip than their GOP rivals, the biggest fights this primary season have mostly come from within the GOP.
The chasm that formed during the 2015 Legislature fight over Gov. Brian Sandoval's $1.5 billion tax bill only widened as incumbents who voted in favor it have been called traitors to the GOP, and have become targeted from within their own party.
Although most of the primary races are to determine which candidate will go on to represent the party in the general election, new laws passed in 2015 mean some races might carry a more permanent result.
In Nevada Senate District 4, the winner of the Democratic primary between incumbent Kelvin Atkinson and Stephen Munford will effectively also win the general. Under the law passed during the 2015 Legislature, if a race draws candidates from only one party, the winner of the primary is sent on to the general election where he or she needs only a single vote to become elected. The same rules apply for the Nevada Assembly District 19 GOP primary between incumbent Chris Edwards and opponent Connie Foust.
The new laws also apply to the nonpartisan races, which include State Board of Education, Board of Regents, Clark County School Board and all judicial elections.
Excluding the judicial races, if any candidate receives more than 50 percent of the vote in a nonpartisan race, that person is considered elected and won't even appear on the general election.
In the judicial races, if a candidate receives more than half the primary votes, his or her name alone will appear on the general election ballot and he or she will need just one vote to win.
The busiest times to vote tend to be right after the polls open at 7 a.m., around noon, and after 5 p.m., Gloria said.
Not sure who to vote for or what districts you live in? Check out the Las Vegas Review-Journal's voting guide online at www.reviewjournal.com/voter-guide. Just don't expect to see names like Donald Trump or Hillary Clinton on the primary ballot, as Nevada is a caucus state.
Contact reporter Colton Lochhead at clochhead@reviewjournal.com or 702-383-4638. Follow @ColtonLochhead on Twitter.