Democratic candidate called upon to exit 4th Congressional District race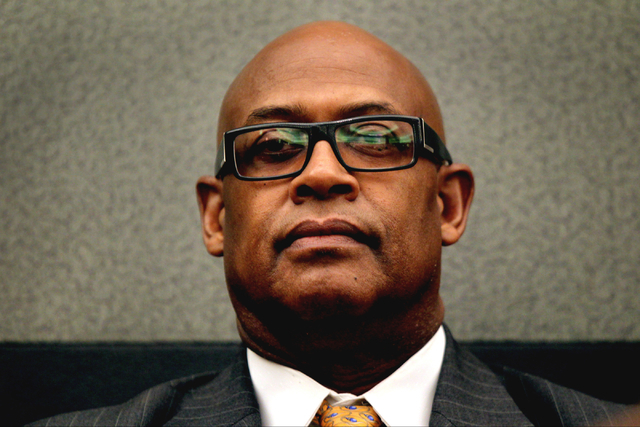 Democratic congressional candidate Dan Rolle is calling on fellow Democratic candidate Morse Arberry Jr. to drop out of the race for the 4th Congressional District.
In a statement Wednesday, Rolle said Arberry's past campaign finance problems are overshadowing other more important issues and damaging the Nevada State Democratic Party's brand.
The Las Vegas Review-Journal reported last week that Arberry, a former assemblyman, still owes the state nearly all of the $121,545 in campaign funds he had illegally diverted to a personal bank account while in the Assembly. Arberry had pleaded guilty in 2011 to a misdemeanor charge of fraudulent appropriation of property in connection with the case, and six felony charges were dropped. He left the Assembly in 2010. After agreeing to pay restitution and giving just $1,200 toward the debt, Arberry hasn't paid anything more.
He still owes $120,345, plus a $2,406.90 fee because the debt is past due. The Nevada controller's office has been unable to collect the debt after putting two collection agencies on the case.
Rolle, a small-business consultant in his first run for office, said voters deserve better.
"They don't understand how someone who has paid back less than 2 percent of the total funds misappropriated has the audacity to seek national political office," Rolle said.
Democrats consider the race to be an opportunity where they could pick up a seat. U.S. Rep. Cresent Hardy, R-Nev., is running for a second two-year term in the district, which includes North Las Vegas and six rural counties.
Arberry didn't respond to a request for comment.
Rolle said he is asking his fellow Democratic candidates to join him in asking Arberry to stop campaigning. Rolle has contacted the campaigns of state Sen. Ruben Kihuen, philanthropist Susie Lee and former Assemblywoman Lucy Flores.
Rolle also sent a letter to the Nevada State Democratic Party, asking the party to renounce Arberry's run for Congress. Rolle said it will be "harmful to the brand we are trying to build, especially with disenfranchised voters." A state party spokesman couldn't be reached late Wednesday.
The campaigns of Kihuen and Lee declined to comment.
In a statement, Flores said: "Nevadans are smart and I believe they can make informed decisions about all of the candidates. It's up to Mr. Arberry and then for the voters to decide, not for the other candidates in the race."
That decision, if Arberry stays in the race, will come during the June 14 primaries.
Contact Ben Botkin at bbotkin@reviewjournal.com or 702-387-2904. Find him on Twitter: @BenBotkin1