Domestic well owners turn out in droves to protest water-restriction proposals in Nevada
August 27, 2016 - 9:07 am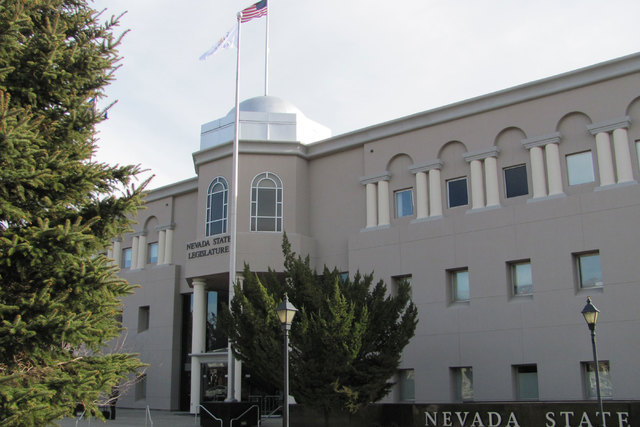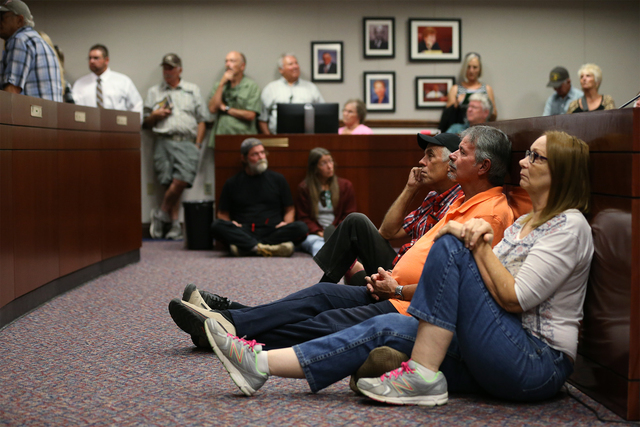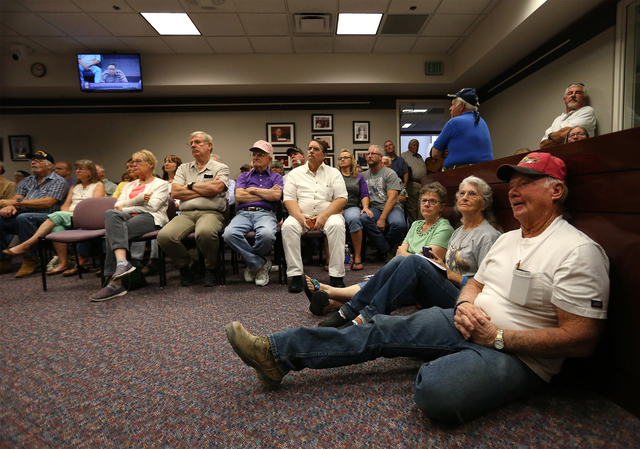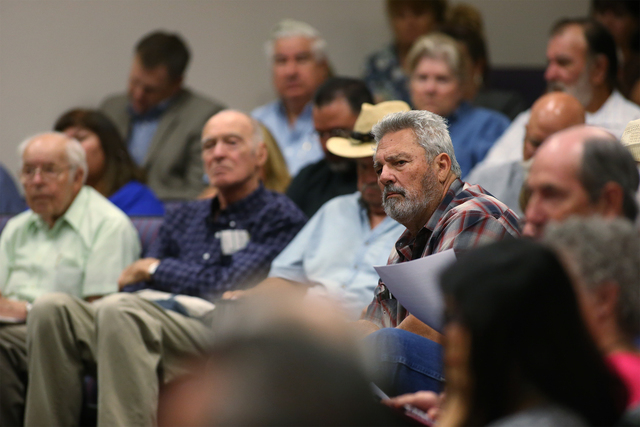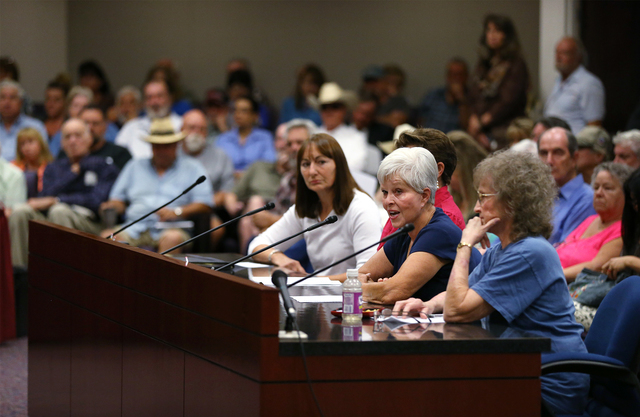 CARSON CITY — A legislative subcommittee Friday declined to request a bill draft to mandate meters on all domestic wells in Nevada but agreed to seek authorization for the state engineer to restrict domestic well use when groundwater curtailments are ordered.
State Engineer Jason King stressed that curtailment has never been used in Nevada and the changes he is seeking are intended to protect well owners.
Nevada water law is grounded on the doctrine of "first in line, first in right," meaning senior water right owners get their allotments first before junior right holders. Domestic well owners do not have a permitted water right. Instead, they have a right to "use" 2 acre-feet per year and are essentially last in line.
If curtailments are ordered because of water shortages, they could be cut off completely under existing law.
"The fact of the matter is, the law as it reads today, is if we have to curtail in a groundwater basin, we do it by priority," King said, adding there is no exception for indoor or outdoor use. "Our intent is to do something for the domestic well users that's not in the law right now. If we have to curtail, they don't lose indoor water use."
Friday's hearing drew hundreds of angry well owners who crammed four overflow rooms in the Legislature building to testify and listen to the discussion.
Speaker after speaker during more than three hours of public comment fumed over the proposals. They blamed casinos, developers, golf courses, government and businesses being granted tax breaks to locate in Nevada for exacerbating the state's water woes.
Assemblyman Ira Hansen, R-Sparks, whose district includes five rural counties and portions of two others, opened the public period.
"The clear concern is somewhere in all of this there is a recommendation to cut use back to a half-acre foot and limit it only to interior home usage," he said. For homeowners, he said, that would mean "their landscape dies, their trees die."
The Legislature's Subcommittee to Study Water agreed to sponsor a bill during the 2017 session that would protect a well owner's right to water for indoor use only, with exceptions for outdoor watering of pets and livestock.
The committee also agreed to recommend that new wells in severely over-tapped groundwater basins be limited to a half-acre foot per year.
That change was put forth by the Nye County Water District as a response to groundwater concerns in Pahrump Valley, where there are some 11,000 domestic wells.
Oz Wickman with the water district said internal calculations by the district project 2,000 wells could go dry in the next 20 years unless steps are taken to bring the basin back into balance between recharge and use.
The half-acre foot wells would pertain to new wells only in severely over-appropriated basins and designated critical management areas.
Water has been the focus of numerous hearings and forums for the past year. Besides the legislative committee, Gov. Brian Sandoval convened a Nevada Drought Forum to make recommendations on how the driest state in the nation can better manage the resource.
State Sen. Pete Goicoechea, R-Eureka, tried to defuse anger percolating from the crowd estimated at 700.
"A lot of this may be just a little bit ahead of the horse," the Eureka rancher and committee chairman said. He urged attendees to focus on the bigger issue and work toward solutions.
"Do you think we can continue the way we're going?" Goicoechea asked. He said 20 percent of Nevada's water basins are over-appropriated, meaning there is more water appropriated on paper than sources to supply it. Statewide, there are 55,000 domestic wells, and 56 of 256 basins are overtaxed.
The water subcommittee also issued statements recommending that local land-use decisions be tied to sustainable water supplies and that water management recognize the connection between surface and groundwater sources.
The subcommittee will support a bill authorizing the state engineer to suspend cancellation and forfeiture of water rights under the "use it or lose it" doctrine during times of water shortages.
Existing law requires water right holders to put their water to beneficial use or risk losing it to someone else. Critics argue that the mandate encourages waste and that conservation, especially during a drought, should be encouraged.
Contact Sandra Chereb at schereb@reviewjournal.com or 775-461-3821. Follow @SandraChereb on Twitter.
RELATED
Drought talks could bring legislative showdown in Nevada