Environmentalists: Bunkerville rancher Bundy is freeloading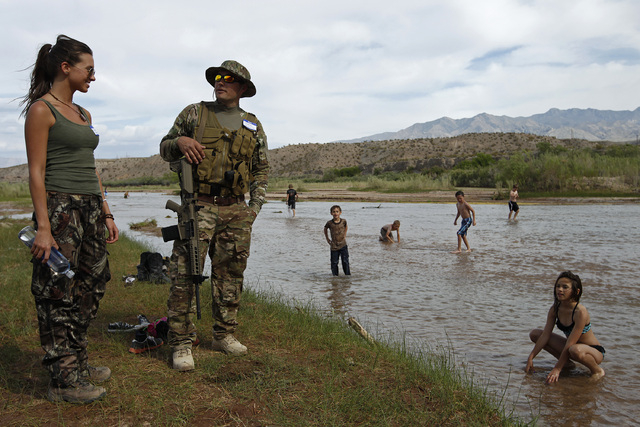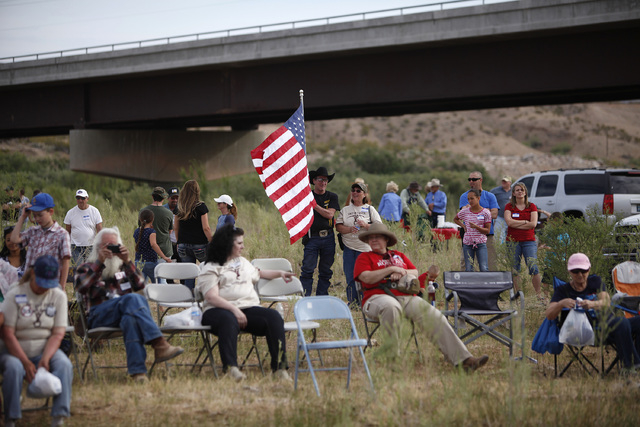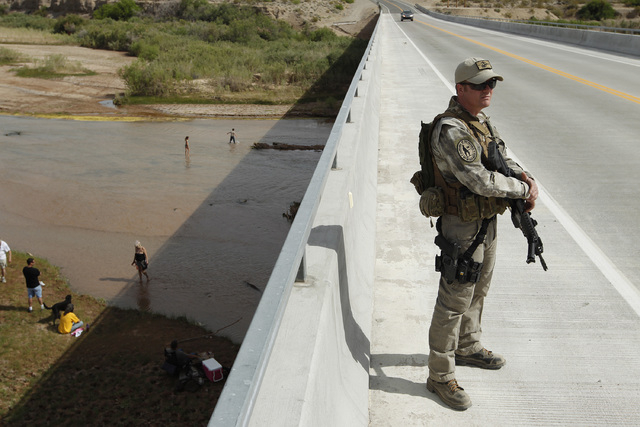 Environmentalists say Bunkerville rancher Cliven Bundy, whose skirmish with the federal government has gained him icon status with states' rights and free speech advocates as well as other disgruntled ranchers, doesn't "own" the public land where hundreds of his cattle roam in the Gold Butte area nor does he have the "right" to let them graze there.
"He needs to abide by the law," said Ken Cole, National Environmental Policy Act coordinator for the Western Watersheds Project.
The project is a nonprofit organization that advocates protection of wildlife and watersheds through education, public policy initiatives and litigation.
"Clearly the (Bureau of Land Management) owns this land. The federal government has never doled it out to him or his predecessors and has maintained authority over it since it was Mexican land. Before that, it was Native American land," he said.
Bundy shrugged off the criticism, saying he has just as much right to graze his cattle on multiple-use public lands as anyone else who wants to hike, camp or advocate protecting the threatened desert tortoise and other wildlife.
And while Bundy admits he doesn't "own" the land, he maintains that his family's longtime use of it and stewardship, though controversial, doesn't erase what he considers his "right" to graze cattle there.
Cole talked about Bundy in a telephone interview two days after the armed standoff near Mesquite on April 12 between Bundy's militia supporters and government agents led to the release of more than 300 cattle from a corral where BLM staff and contractors had impounded them following a weeklong, helicopter-driven roundup in the Gold Butte range.
'WELFARE RANCHER'
Cole co-authored an April 14 article about Bundy with Western Watersheds Project director Ralph Maughan for The Wildlife News, the project's publication. Titled "Cliven Bundy Has No Claim to Federal Land and Grazing," the article notes that when Nevada became a state in 1864, "its citizens gave up all claims to unappropriated federal land."
"It's not his land," Cole and Maughan conclude. "The simple truth of the matter is that Bundy is a freeloading, welfare rancher who has an inflated sense of entitlement."
The article doesn't mention historical footnotes to the state constitution that document the repeal of the so-called "disclaimer clause" in 1996, when 56 percent of Nevada voters ratified striking the part that gave dominion over the lands to the federal government. But the Legislature's calling for federal consent of the amendment has not been recognized by Congress or the courts.
Forty years before that, in 1956, Nevada voters amended the state constitution to allow taxation of federal lands if Congress ever consents to it.
Cole and Maughan go on to cite the 1934 Taylor Grazing Act, "the granddaddy of the U.S. laws governing grazing on federal land," that was authored by Edward T. Taylor, a rancher and congressman from Colorado.
"The issuance of a grazing permit does not confer any right to graze or right to own the land," they wrote. "The Secretary (of the Interior) is free reasonably to determine just how, and the extent to which, 'grazing privileges' shall be safeguarded in light of the Act's basic purposes.
"Of course, those purposes include 'stabiliz(ing) the livestock industry,' but they also include 'stop(ping) injury to the public grazing lands by preventing overgrazing and soil deterioration' and 'provid(ing) for … orderly use, improvement, and development' of the public range. He has no 'right' to graze it."
BUNDY: RIGHTS TO GRAZE
Bundy, who was born 18 days before President Harry Truman established the BLM in 1946, holds steadfast to his much-publicized position on his "rights" and public lands.
In an interview with the Review-Journal on Friday as he walked from a makeshift stage atop a flatbed truck surrounded by supporters wearing "domestic terrorist" name tags, the 67-year-old rancher agreed with one point Cole and Maughan made.
"I don't own the land," he said. "But they don't own the land. The environmentalists don't own the land either.
"They don't have an 'invested' interest here. So the environmentalists don't own the land, and they do not have an invested interest in this land at all," Bundy said.
In fact, he said, the federally protected desert tortoise, which caused the BLM to restrict his grazing permit 21 years ago, has coexisted with cattle on the open range for at least a century, and he fails to see proof that tortoise numbers have declined.
He said a similar situation looms in Northern Nevada, where ranchers are bracing for grazing restrictions caused by dwindling numbers of protected sage grouse. With more than 85 percent of Nevada controlled by federal land managers, ranchers have little room to graze their livestock elsewhere.
As for his "rights" to graze cattle on public land, "I own those," Bundy said, making it clear that he doesn't view them as privileges.
"No. They're rights, and I own those rights," he said.
Cole said that "the whole thing about rights" really predates Bundy or his ancestors coming to the territory that became Southern Nevada and the Arizona strip.
"If there were rights, they would go to the original inhabitants. The Anasazi are extinct so nobody has a right to graze livestock on this land," Cole said.
MEANWHILE, ON THE RANCH
Regardless of rights or privileges on public land, the release of his cattle was a victory for Bundy and his backers. Their weekend celebration began after his news conference Friday when a couple hundred supporters held a "Patriot Party" that featured a band and an appearance by former Black Sabbath singer Ron Keel.
The atmosphere smacked of a peaceful, Woodstock-with-weapons outing. Couples wearing camouflage clothes and packing side arms and assault rifles stood by the flowing Virgin River while children and partygoers waded in, rolled up their blue jeans and frolicked in the muddy water.
Business on top of the bridge that spans the river was more serious.
Dozens of armed militias who had traveled from as far away as Alaska and Alabama conducted foot and motorized patrols — sometimes standing three abreast while gripping a roll bar in the back of a four-wheel drive vehicle — traversing the bridge from the north bank protest site to a flag-flown outpost camp at the south end. The camp is a short distance from an operating base at Bundy's ranch house.
One radio communication among the militias advised, "Don't talk to the media."
Cole said the specter of a military-type operation with people pointing rifles at each other over cattle in a corral is "a little bit extreme."
"I worry that this whole situation could unravel and get out of control," he said. "I really hope that doesn't happen. (Bundy) needs to abide by the law. The fact of the matter is the federal government does exist.
"It's not worth anybody dying over," Cole said. "I really do think the law needs to be enforced. At the same time, it would set an awful precedent if they would not enforce this law, this court order. I really truly hope it is resolved peacefully."
Contact Keith Rogers at krogers@reviewjournal.com or 702-383-0308. Find him on Twitter: @KeithRogers2.