Florida investors buy Las Vegas shopping center for $20 million
January 11, 2016 - 4:51 pm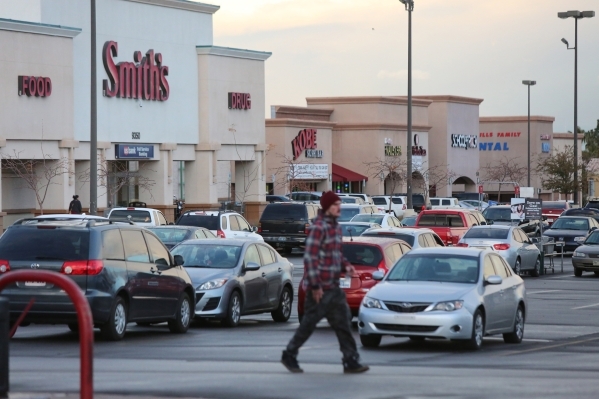 In a sign of growing investment opportunities for well-positioned properties within the Las Vegas retail market, a Florida investment firm has entered the market for the first time and acquired a shopping center south of Summerlin.
The Sterling Organization, a private equity real estate investment firm based in Palm Beach, said it paid $20 million for Smith's Shopping Center, a 108,000-square-foot center anchored by Smith's Food & Drug at the northwest corner of South Fort Apache Road and West Flamingo Road. Kirkorian Enterprises previously owned the center.
"The fact that groups like ours are willing to invest in Las Vegas in 2015-2016 speaks volumes about how far the city has come over the past five years," said Brian Kosoy, managing principal and CEO of the Sterling Organization.
In this particular purchase, Kosoy added, however, the acquisition of Smith's Shopping Center wasn't necessarily about Las Vegas as much as the property itself.
"While Las Vegas does have many attributes we target for investment — such as being a major market that is growing and has significant population density — we were primarily attracted to the asset's real estate fundamentals and our strong belief that its future performance will meet our investment goals," Kosoy said.
John Restrepo, an RCG Economics LLC principal who tracks the retail market, said there have been growing acquisitions in the retail sector over the last two to three years, and it's stronger than the office market where investors have swooped in and bought underperforming properties instead. While the economy and real estate market are stabilizing, one purchase by an outside investor doesn't mean the retail market has completely rebounded, he said.
"I think it's a center-by-center thing," Restrepo said. "I get more excited when a company like that from out of town buys two or three centers or four centers. I think it was a unique opportunity for them. It was the right place at the right location and right tenant mix that met their needs. If they bought four centers, then you have a trend here."
Brian Gordon, a principal with Applied Analysis, a consulting firm, said many retail deals today are about individual assets and expectations of buyer and selling being aligned. Master-planned communities with superior demographics will command higher prices in the investment market in good and bad times. Many "bargain basement steals" have likely passed, and there is more interest in investments that are less speculative and offer sound fundamentals for long-term growth potential, he said. It's about cash flow, he said.
"When we think about the vacancy rate in the retail sector hovering around 9 percent and remember those rates were a one third of that during the height of the economic boom," Gordon said. "In 2004 through 2006, retail vacancies were in the 3 to 3½ percent range. When a number of national retailers closed their doors, we saw vacancy rates spike. We are returning to those peak performance levels, but it's still a ways off. The sector has adjusted to the new market realities."
Sterling officials say the center is 100 percent occupied by a mix of national, regional and locally owned businesses. Besides Smith's, it includes Subway, a UPS store, Verizon and H&R Block. It was developed in 2002 and has more than 140,000 people within a 3-mile radius where the average income is more than $80,000. The company prefers centers anchored by market-leader grocers such as Smith's in major metropolitan areas, executives say.
"The properties must be anchored by market leading grocery stores with strong sales and reasonable occupancy costs," Kosoy said. "Smith's is clearly the No. 1 grocer in the Las Vegas market and performs well at this location. We are retail fundamentalists at heart and thus were also attracted to the very strong retail real estate fundamentals of the property."
Kosoy said access to the property south of Summerlin is excellent, and there are high traffic counts. He called the surrounding area demographics stellar with both solid household incomes and strong population density.
"We feel the rents at the property are generally below market, which provides our investment partners with downside protection and potential to experience solid income growth over the long run," Kosoy said.
Sterling said this is its second acquisition in the Western U.S. in the last three months — the other was in Oceanside, Calif., in October. It also recently opened an office in Los Angeles, and Kosoy said the company may not be done with acquisitions in Las Vegas as there are growing select opportunities in the community.
"As a firm with a national footprint we are constantly scouring major markets across the entire country for ideal investment opportunities. Las Vegas is definitely one of the markets we expect to be actively combing in search of solid investment opportunities in 2016 and beyond," Kosoy said.
Kosoy noted that the company's capital is "both defensive and institutional." During the Great Recession and for several years after, most defensive and institutional capital would have been reticent to invest in Las Vegas, he added.
"We think in today's market — as long as you pick your spots carefully, maintain investment discipline and focus on the real estate fundamentals — there are compelling reasons to invest in several Las Vegas submarkets for the long term," he said.
As for center improvement, Kosoy said, the firm will spend money over time "around the edges to improve product offering" for the patrons and tenants. He said the property is in excellent shape, functional and successful, but that there's always room for improvement with any property.
Sterling owns more than 7 million square feet of retail and other commercial properties exceeding $1 billion.