Income goes up, poverty goes down in Nevada and US
September 13, 2017 - 9:33 pm
Updated September 13, 2017 - 9:41 pm
Nevada's economy is getting healthier, according to 2016 U.S. Census Bureau data released Wednesday.
The state's median household income and poverty level are inching back to pre-recession levels, a five-year trend that mirrors national economic growth.
"That's good news for Nevada," said Jeff Hardcastle, the state demographer. "It sounds like overall, the wages in Nevada are starting to move up."
The median household income was $55,180 in 2016, up from $53,320 in 2015 and $51,000 in 2010, after the 2008 stock market crash.
Meanwhile, about 13.8 percent of Nevadans live below the poverty level. Though the change wasn't statistically significant from 14.7 percent in 2015, the poverty level fell 1.4 percentage points in 2016 from 2014.
Compared with the rest of the United States, Nevada is about average.
"It's very much the same story of more people working … and more people working full-time, year-round," said Trudi Renwick, assistant chief of the Census Bureau's social, economic and housing statistics division.
On the ground, a higher income will mean more spending money for Nevadans, Hardcastle said.
Still, the state's median household income falls about $2,500 below the national average. Seven years ago, Nevadans earned more on average than the typical American.
"With the recession, that had fallen down," Hardcastle said. "But I think as the economy diversifies, we may see that happen at some point again."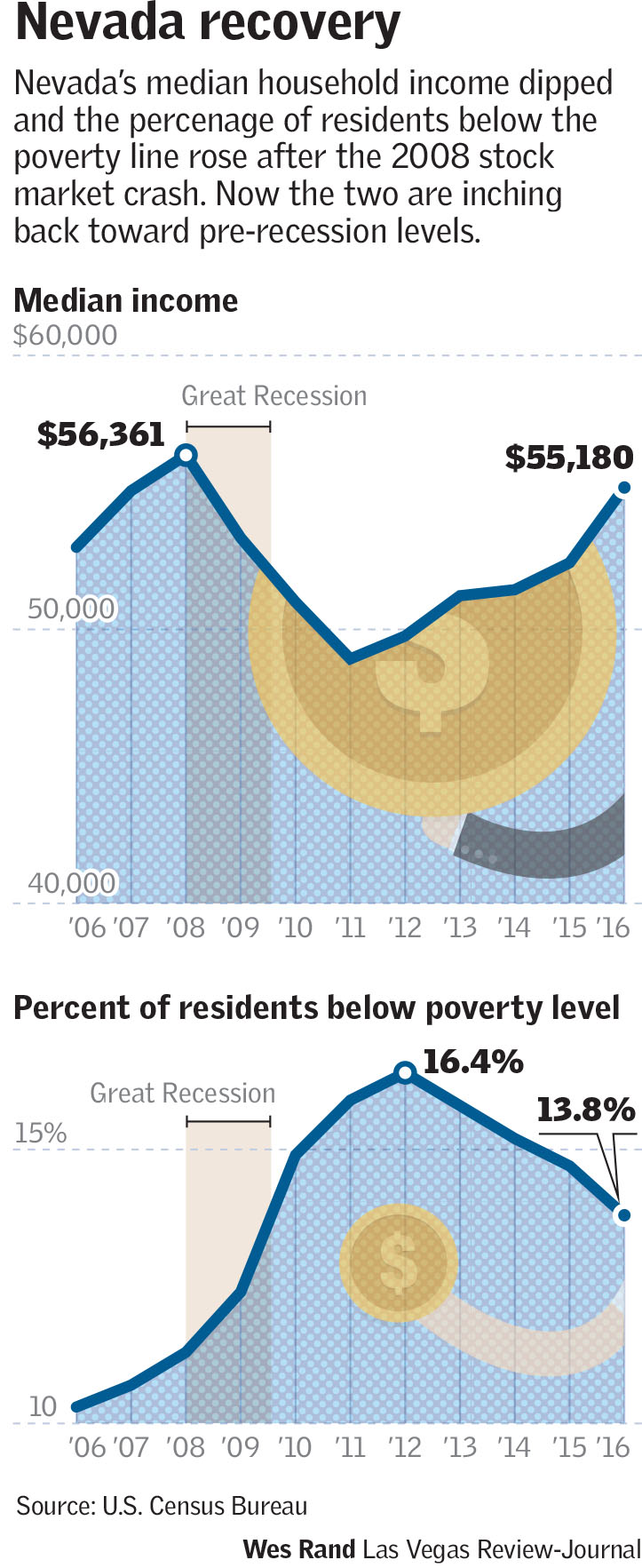 Whereas housing-related jobs drove the state's economy pre-recession, an increase in higher-wage jobs, like in the health care market, have helped Nevada's economy stabilize over time.
"Construction is coming back as a larger share of the economy, but it's not as large of a share as it was during that bubble period," Hardcastle said. "As we continue to diversify, you'll continue to see household income continue to go up."
Nevada's unemployment rate also fell, from 7.9 percent in 2015, to 6.7 percent in 2016. Nationwide, the unemployment rate is 5.8 percent, according to census data.
The number of people making $100,000 to $149,000 increased 1 percentage point from 2015 to 13.5 percent in 2016.
Contact Jessie Bekker at jbekker@reviewjournal.com or 702-380-4563. Follow @jessiebekks on Twitter.