Kimmie Candy represents Nevada at Made in America showcase
Updated July 17, 2017 - 10:29 pm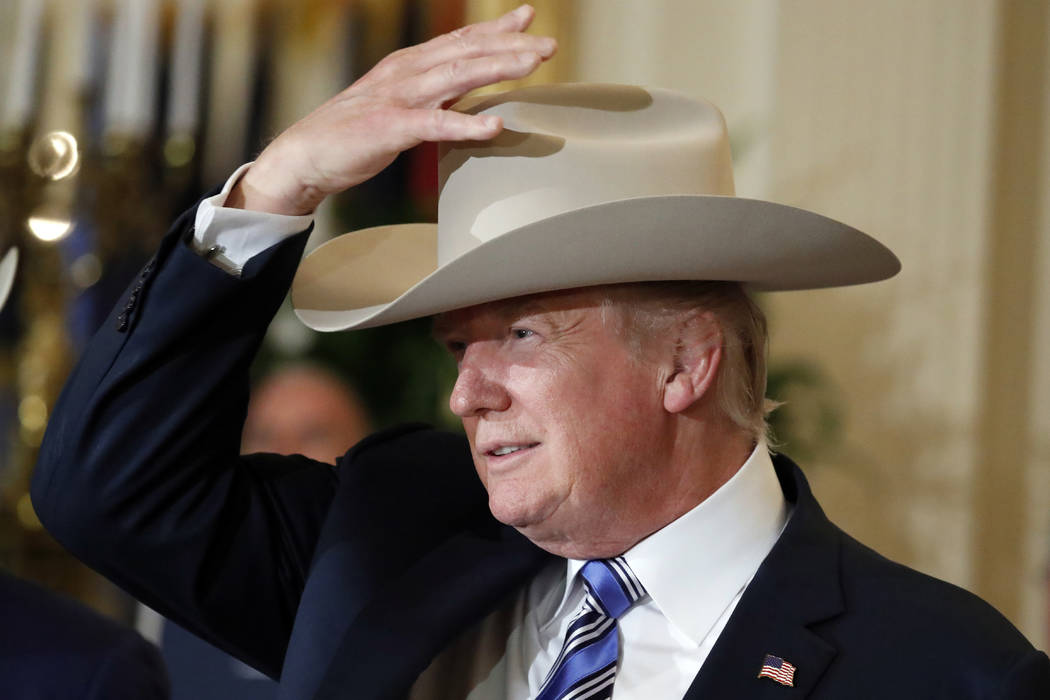 WASHINGTON — Texas touted its Stetson Hats, Tennessee trumpeted its Gibson Guitars, and New York showcased Steinway pianos.
It was "Made in America" day Monday at the White House, and President Donald Trump celebrated the occasion by festooning the South Lawn with American-made products from all 50 states. The goal, Trump announced, was to celebrate American "craftsmen, producers and innovators."
Connecticut, for example, showed off a Sikorsky helicopter, the model for Marine One. And Nevada?
There is no neon in the White House pick for Nevada. Expect no trademark product with a historic place in the Silver State, such as the slot machine. Do not anticipate a nod to Las Vegas, inspiration for one of advertising's choicest slogans, "What happens in Vegas, stays in Vegas." Forget about hangover movies. Other states hogged all the alcohol: California claimed wine, Rhode Island ballyhooed its beer, Hawaii has its rum.
If the Reno-based Kimmie Candy, maker of Sunbursts and ChocoRocks, is associated with a sin, it would be gluttony.
Nothing wrong with candy, it's just not the first or 10th thing that people associate with Nevada.
Asked how the administration picked states' locally made products, Press Secretary Sean Spicer said the administration sought input from governors and members of Congress, "then working within the different offices here, an ultimate selection was made."
That perhaps explains why Nevada's born-in-the-USA product was not an electric car battery — mass produced in Tesla's new gigafactory located outside Sparks, Nevada. An electric car battery would put Nevada at the forefront of the new energy economy. But in June, Tesla CEO Elon Musk resigned from two Trump advisory boards in protest of the president's oppositin to the Paris climate-change accord.
It is not unusual for CEOs at such events to have ties with local politicians. Kimmie Candy owner Joe Dutra went on a trade mission to China with Nevada Gov. Brian Sandoval in 2012 and another trade mission to Canada in 2014.
To its credit, Kimmie Candy proudly walks the "made in America" talk. White House media affairs director Helen Aguirre Ferre explained, "We were looking for products made in USA from every state, and Kimmie is a well known American made candy company from Nevada. They were being manufactured abroad and decided to come back home. We hope that many companies return, stay and grow manufacturing within the USA."
That's more that can be said for Trump Inc., including goods made under the label of daughter Ivanka, now an unpaid White House adviser. During Monday's press briefing, reporters asked Spicer if, in keeping with the "Made in America" spirit, the Trump organization or Ivanka Trump brands would commit to stop manufacturing their products — high-end ties, flashy heels and trendy purses — abroad.
Spicer replied that it was "inappropriate" to discuss a specific Trump enterprise. "First, I think what's really important is the president's agenda, regulatory relief and tax relief are focused on trying to make sure that all companies can hire here, can expand here, can manufacture here," Spicer said.
Trump found a more playful way to respond to press questions. Later, as the president chatted with purveyors of featured products, he test-swung a maple bat from Louisiana and chatted up a Massachusetts horseshoe manufacturer. "There's nothing like the real deal," Trump marveled as he learned St. Pierre Manufacturing's most expensive horseshoe, "The Eagle," has bigger tips, more weight and hence more accuracy.
"Beautiful, we'll put them in the White House," Trump responded. "We'll play horseshoes tonight with the press."
Contact Debra J. Saunders at dsaunders@reviewjournal.com or at 202-662-7391. Follow @DebraJSaunders on Twitter.
| State | Company | Product |
| --- | --- | --- |
| Alabama | Altec | Bucket trucks |
| Alaska | Alaska Bowl Company | Bowls |
| Arizona | PING Golf | Golf clubs |
| Arkansas | Hytrol | Conveyer belt |
| California | The California Wine Institute | Wine |
| Colorado | Gordon Signs | Neon signs |
| Connecticut | Sikorsky | Model helicopters |
| Delaware | ILC Dover LP | NASA space suit |
| Florida | Tervis | Tumblers |
| Georgia | Chick Fil A | Food |
| Hawaii | Koloa Rum Co. | Rum |
| Idaho | Boise Cascade Company | Engineered wood floors |
| Illinois | Caterpillar | Farm equipment |
| Indiana | Broomcorn Johnnys | Brooms |
| Iowa | RMA Armament | Body armor, dummies |
| Kansas | Grasshopper Company | Lawnmower |
| Kentucky | Campbellsville Apparel | Apparel |
| Louisiana | Marucci Sports | Baseball bats |
| Maine | Hinckley Yachts | Yacht |
| Maryland | Health Crab Pots | Crab pot manufacturer |
| Massachusetts | St. Pierre Manufacturing | Horseshoes |
| Michigan | Milton Manufacturing | Fabric |
| Minnesota | Faribault Woolen Mill | Wool blankets |
| Mississippi | Taylor Machine Works | Forklift |
| Missouri | Beehler Corporation | Door hinges |
| Montana | Simms Fishing | Fishing gear |
| Nebraska | Greater Omaha Packing | Beef |
| Nevada | Kimmie Candy | Candy |
| New Hampshire | Cider Belly Doughnuts | Doughnut company |
| New Jersey | Campbells Soup | Soup |
| New Mexico | Desert Plastics | Plastic Manufacturer |
| New York | Steinway | Piano |
| North Carolina | Cheerwine | Soda |
| North Dakota | Dakota Outerwear Co. | Military outerwear manufacturer |
| Ohio | Bully Tools | Shovels, rakes, hoes etc. |
| Oklahoma | DitchWitch | Trencher/excavator |
| Oregon | Leupold and Stevens | Sights and scopes |
| Pennsylvania | Ames | Wheel barrows |
| Rhode Island | Narragansett Brewing Company | Beer |
| South Carolina | Casual Cushion Company | Cushions |
| South Dakota | K Bar J Leather | Shotgun chaps |
| Tennessee | Gibson Guitars | Guitars |
| Texas | Stetson Hats | Cowboy hats |
| Utah | Colonial Flag Company | Flags |
| Vermont | Dubie Family Maple | Maple syrup |
| Virginia | National Capital Flag Company | Flags |
| Washington | Liberty Bottleworks | Water bottles |
| West Virginia | Homer Laughlin China Company | Iconic fiesta line of china |
| Wisconsin | Pierce Manufacturing | Two firetrucks |
| Wyoming | Aviat Aircraft | Model aircraft |