Nevada highway to close for supercar's attempt at speed record
November 3, 2017 - 4:41 pm
Updated November 4, 2017 - 10:55 pm
A stretch of highway between Las Vegas and Pahrump will be closed Saturday and Sunday for some extremely reckless driving.
Under a special permit from the Nevada Department of Transportation, Swedish super-carmaker Koenigsegg plans to use a straight, 11-mile section of state Route 160 to try to set a speed record for production cars.
To do that, the company's ultra-exclusive, 1,360-horsepower Agera sports car will have to top the 268 mph mark set in 2010 by a Bugatti Veyron Super Sport.
In the process the team, also hopes to set a record for speed on an open public highway.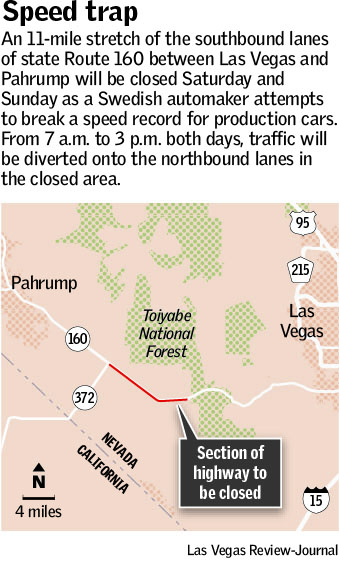 Spring Mountain Motor Resort and Country Club at the southern edge of Pahrump is hosting the run. Joel Oscarson, strategic development coordinator for the driving school and club for racing enthusiasts, wasn't available for comment Friday, but he previously told the Pahrump Valley Times that this weekend's attempt has been in the works for about a year.
Oscarson called it "one of the most exciting events ever attempted on Nevada's highways."
The southbound lanes of Route 160 will be closed and traffic shifted onto the northbound lanes between Tecopa and Sandy Valley roads from 7 a.m. to 3 p.m. Saturday and Sunday to accommodate the speed trial.
NDOT spokesman Tony Illia said the Nevada Highway Patrol will provide traffic controls and escorts during the closure and detour. Motorists in the area should expect delays of up to 20 minutes, Illia said.
No parking, walking or bicycling will be allowed along the 11-mile stretch of road during the closed, private event.
Guinness World Records, the arbiter of such things, defines a production car as a vehicle in its original condition, with no modifications or adjustments other than those offered as factory options by the manufacturer.
There are no stipulations on how many of the cars must be produced, which is why only a handful of hyper-specialized and expensive sports cars are usually in competition for the record.
You won't find machines like this at the auto mall or a used car lot. They are custom built for individual buyers and often sell for well over $1 million.
In 2015, Las Vegas boxing champion Floyd Mayweather Jr. posed with his silver Koenigsegg CCXR Trevita in an Instagram post that read, "My new 4.8 Million dollar car."
Mayweather said it was one of only two Trevitas ever built and the only one made for use in the United States.
News reports this year indicated Mayweather planned to offer the car for sale at an exclusive auto auction in Monterey, California. It's unclear if anyone bought the boxer's used wheels.
Contact Henry Brean at hbrean@reviewjournal.com or 702-383-0350. Follow @RefriedBrean on Twitter.