North Las Vegas constable sues to keep his job
Updated July 12, 2017 - 10:58 pm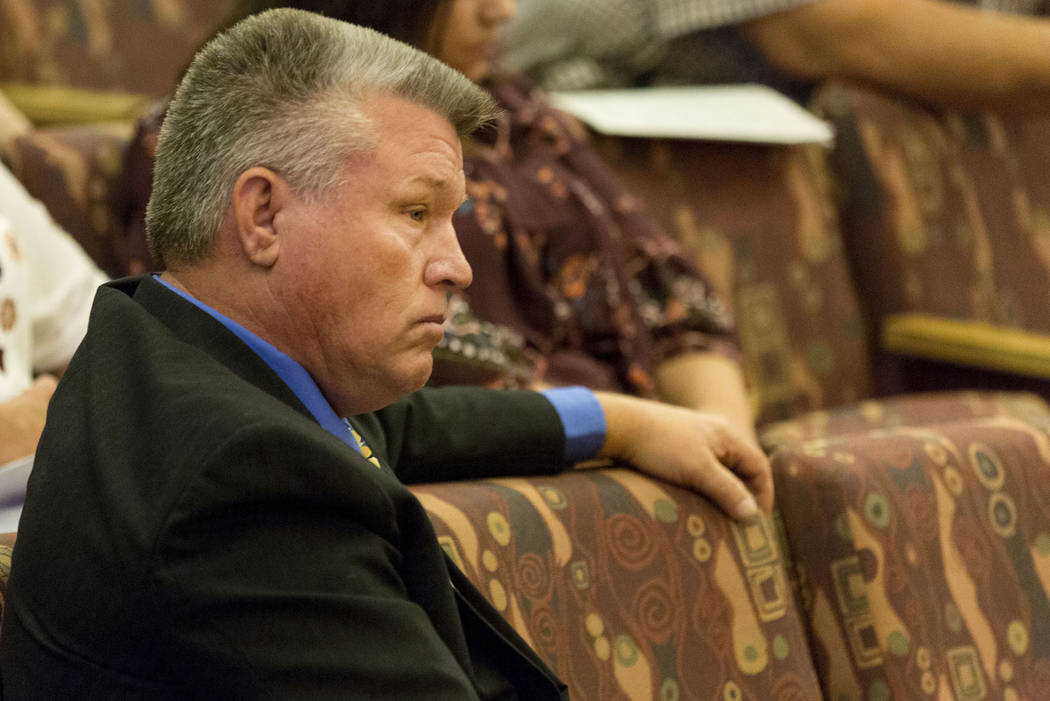 North Las Vegas Constable Robert Eliason is suing Clark County and the executive director of Nevada's police standards and training board in an attempt to keep his elected office.
"It's not just Robert Eliason's job that's at stake here," Jeffrey Barr, attorney for Eliason, said Wednesday. "It's the potential disenfranchisement of 220,000 people in the North Las Vegas township."
Eliason, a former North Las Vegas city councilman, was elected constable in 2014. But he has been on the job more than two and a half years without getting the required Peace Officer Standards and Training (POST) certification. Eliason made about $103,000 in salary last year, according to county records.
Nevada law requires the constables of North Las Vegas and Henderson to become certified in 18 months or forfeit their office. In that event, the County Commission would fill the vacant seat.
County commissioners considered declaring Eliason's office vacant during their regular commission meeting last week, but voted to delay a decision for two weeks.
Eliason's lawsuit asks the Clark County District Court to determine the county does not have authority to declare the constable's office forfeited.
Commission caught off guard
Commissioner Chris Giunchigliani, who advocated for waiting to remove Eliason, was stunned to learn of the lawsuit Wednesday.
"That's not what I was anticipating. I was hoping the gentleman had actually asserted his (Americans with Disabilities Act) rights when he should have," she said, referring to a medical condition Eliason has claimed keeps him from passing the sit-ups test required for POST certification.
Eliason's lawsuit claims he should have been allowed to seek a waiver from the physical requirements for certification due to a "documented neurological condition." POST executive director Mike Sherlock, a a co-defendant in the lawsuit, refused to grant such a waiver.
An exhibit in the suit indicates Eliason requested a workplace accommodation from the county pursuant to the Americans with Disabilities Act sometime on or before March 6. The lawsuit states the county never made a decision regarding his request.
A county commission agenda for next week's commission meeting includes an item to consider removing Eliason. Giunchigliani said she wants to hear the item, regardless of the lawsuit.
"My mind is made up. I know how I'll be voting," she said. "I think we've given him ample opportunity to comply with the law, and we have to do what's called for under the law."
Commission Chairman Steve Sisolak, the lone commissioner to vote against giving Eliason the two-week extension, said he is not sure the county can take action against the constable now.
"We'll have to see what (county legal counsel) Mary-Anne Miller tells us we can do," he said. "If we had taken action last week he would have been removed right after, but that's not what happened."
Conflict of interest
County Manager Yolanda King said Wednesday she expects the civil division of the District Attorney's office will represent the county in court.
But a letter from Barr asserts the District Attorney's office has a conflict of interest in the case because it represents both the commission and the constable's office.
"When faced with a direct conflict of interest a prudent lawyer will withdraw and seek independent counsel for each of his or her clients," Barr said Wednesday. "Part of the reason we have two law firms involved is to avoid the potential direct conflict of interest that the Clark County District Attorney's Office faces."
While Eliason is being represented by Barr, his office is represented by Chad Fears and Kelly Evans of Evans Fears and Schuttert LLP.
Contact Michael Scott Davidson at sdavidson@reviewjournal.com or 702-477-3861. Follow @davidsonlvrj on Twitter.
Related
NLV constable fiasco a stain on the Clark County Commission
County commissioners working to keep North Las Vegas constable