Search continues for California teen Karlie Gusé
November 5, 2018 - 5:31 pm
Updated November 6, 2018 - 1:46 pm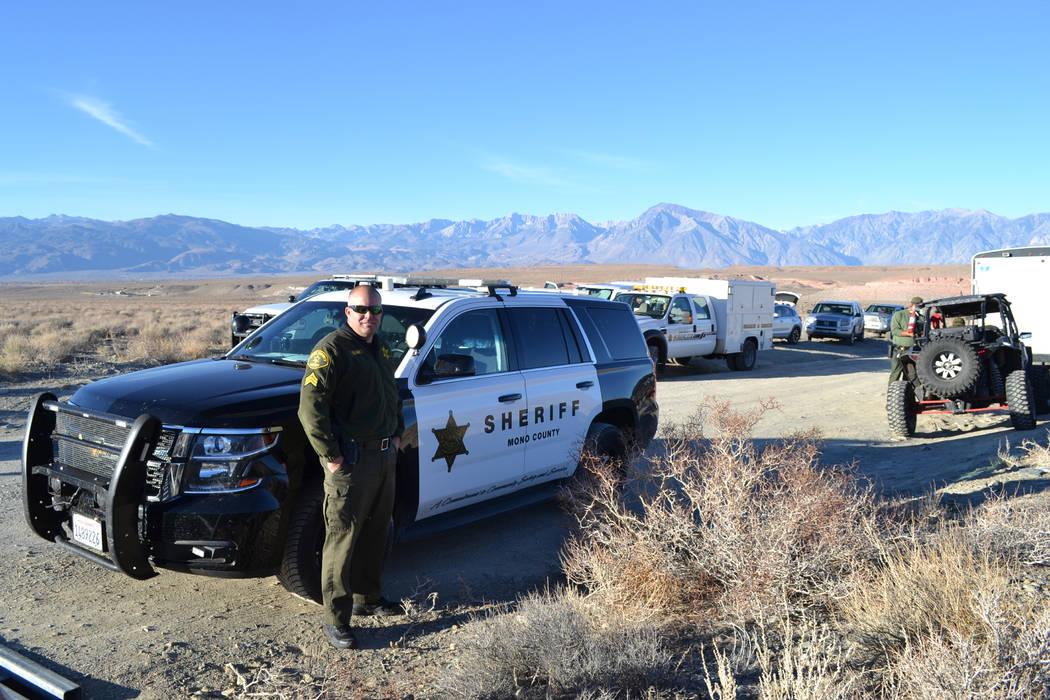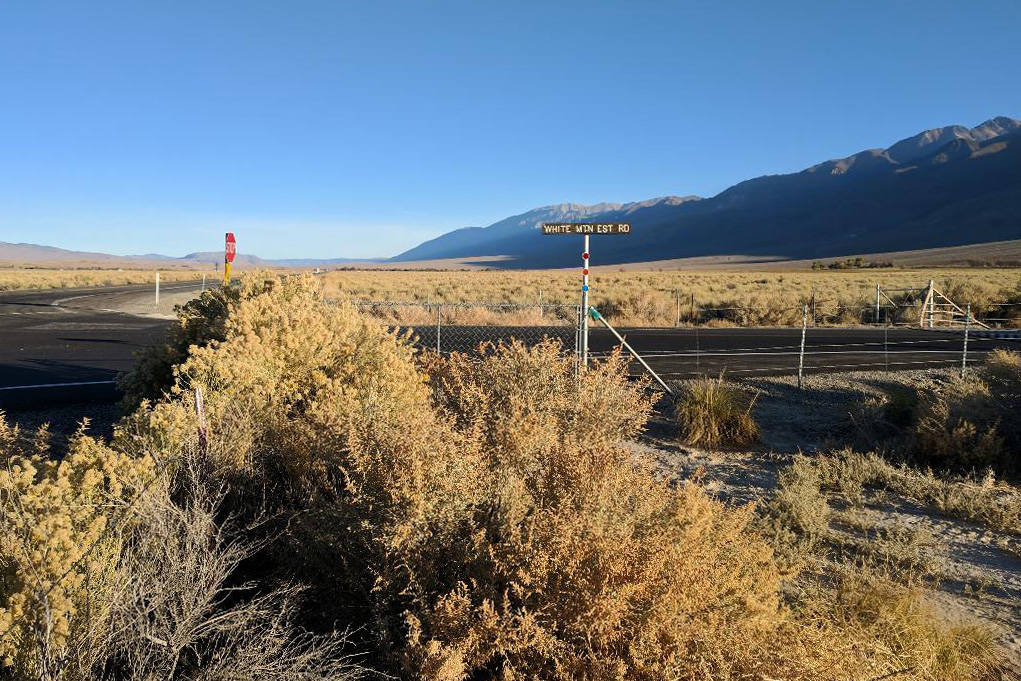 Shortly after dawn on Saturday, Oct. 13, neighbors in the eastern California community of Chalfant Valley spotted 16-year-old Karlie Lain Gusé walking by herself near the highway that leads toward Nevada. She hasn't been seen since.
Despite an extensive air and ground search, an investigation by local law enforcement and the FBI, and nationwide publicity, no clues have surfaced in the mysterious case.
Last weekend the sheriff's office in Mono County, California, which is leading the investigation, searched the desert with cadaver-sniffing dogs.
"The biggest clue in this case is that there's no clue," Sgt. Seth Clark said. "We think Karlie may still be out there."
The sheriff's office is treating the incident as a missing person case and said in a Facebook posting that there's "no evidence of an abduction or any other crime." But Karlie's family suspects otherwise.
"Just the thought of her going to the highway," said Melissa Gusé, 34, Karlie's stepmother for the past nine years. "It makes me feel like somebody just happened to be driving by and grabbed her."
On the night before she dis­appeared, Karlie told her family and boyfriend she feared for her own safety.
Dream turns to nightmare
A tall and slender girl with long hair and blue eyes, Karlie lives with her family in White Mountain Estates, a rural neighborhood along U.S. Highway 6, close to Boundary Peak, Nevada's tallest mountain.
Many people who reside in the neighborhood have jobs or attend school in Bishop, California, 10 miles south on U.S. 6. Karlie is a junior at Bishop Union High School.
Melissa is an escrow assistant at a title company, and Karlie works there part-time. Karlie's father Zachary Gusé, 43, works in construction. Zac and Melissa have two sons, ages 10 and 9, who live with the family.
In August, Zac and Melissa bought their dream house, a three-bedroom modular in Sierra View Estates.
But starting on Friday night Oct. 12, their life became a nightmare.
'She got scared of me'
After school that Friday, Karlie told Melissa she was going to a high school football game.
Instead Karlie went to a house party with her boyfriend, 17, whose name is being withheld because he's a minor.
The boyfriend told the Las Vegas Review-Journal that while they were at the party, Karlie smoked marijuana and started to panic. "She got scared of the music," he said. "She got scared of me."
Around 8 p.m., Karlie used her iPhone to call Melissa. "She was frantic," Melissa said. "She wanted me to pick her up."
When Melissa got to Bishop, she found Karlie running down the street. "She was really pale, looked like a ghost. Her pupils were really dilated."
Karlie admitted to Melissa that she was high. It wasn't her first time.
'I really messed up today'
Earlier in the year, Karlie's grades plummeted, and she got in trouble for coming to class while high on marijuana.
Zac and Melissa told Karlie the misbehavior needed to stop, and that seemed to have the desired effect. "Her grades were getting better, she was getting better," Zac told the Review-Journal.
Then came the events of Oct. 12. After Melissa brought Karlie home, Zac could see his daughter was agitated. "She was scared of something," he said. "I was trying to talk to her."
At last Karlie headed to bed, and she asked Melissa to stay with her. But the restless teen couldn't sleep. "She wanted to paint toenails," Melissa said. "She wanted to read the Bible."
Melissa decided to make a recording on her phone, so later she could replay it for Karlie as a teaching moment about drug use.
At one point in the eight-minute audio, Karlie says, "I really messed up today," and Melissa tries to soothe her by saying, "We all do things in life that we regret, drugs especially."
A tearful Karlie thanks Melissa and says, "I love you." But when Melissa gives Karlie a salad, the teen blurts out, "This the devil's lettuce!"
After Melissa urges Karlie to get some sleep, the troubled girl responds, "No, I don't want to go to sleep. You're going to kill me." Melissa tries to reason with her. "Why would I kill you? That's preposterous."
"I'm just thinking all this demonic stuff," Karlie sobs. "I can't help it."
Marijuana or LSD?
Zac believes Karlie ingested something stronger than marijuana. "It could've been laced with something else," he said.
Karlie's boyfriend insists marijuana was the culprit. "She hadn't smoked in a while," he said. "It could've triggered something."
But Karlie's birth mom Lindsay Fairley, 39, of Yerington, Nevada, said she suspects her daughter was high on LSD. Karlie had recently asked about the drug, and Lindsay warned that it was dangerous.
In the predawn hours of Oct. 13, Melissa fell asleep while lying beside Karlie. At about 5:45 a.m., Melissa woke up, looked over at Karlie and fell back asleep.
When Melissa awoke again around 7:15-7:30 a.m., Karlie was gone.
Three witnesses
Richard Eddy, 78, a retiree who used to work for the Los Angeles County sheriff's office, lives down the street from the Gusé home.
At daybreak Oct. 13, Eddy was sipping coffee while relaxing in his Jacuzzi, which sits in an enclosed room facing the street.
Eddy said that sometime between 6:30 a.m. and 6:45 a.m., he saw a tall, slender female with long hair walk by. "She was looking up, looking around at the sky," he said.
According to the Mono County sheriff's office, two other witnesses reported seeing Karlie that morning in the vicinity of White Mountain Estates Road and Highway 6.
Karlie took nothing with her when she left home — not even her cellphone or glasses. She was wearing only sneakers, a white T-shirt and gray sweatpants, even though the temperature was in the low 40s.
'Like ground zero'
After Karlie went missing, Zac and Melissa spent two hours driving around White Mountain Estates and the surrounding desert.
"Because of what happened the night before, the thought was she went on a walk to clear her head," said Zac.
But when Zac phoned Lindsay, she urged him to call the police, so he dialed 911. That afternoon the Mono County sheriff's office launched a search and rescue operation.
According to Sgt. Clark, the weeklong effort involved multiple helicopters, half-a-dozen scent dogs and upward of 60 personnel.
Rex Hamilton, a neighbor who watched the search unfold, told the Review-Journal, "This is a quiet little community, but for a few days it was like ground zero up here."
The sheriff's office also enlisted help from the FBI in analyzing cellphone data and pursing leads.
A week after Karlie disappeared, the sheriff's office set up a checkpoint along Highway 6. About 50 people reported that they'd driven through Oct. 13, but none recalled seeing anyone matching Karlie's description.
Even so, because of the sightings by three independent witnesses, the sheriff's office concluded that Karlie walked down to the highway from her house, a distance of under one mile. What happened after that is anyone's guess.
'Your worst nightmare'
This past Saturday and Sunday, personnel from the sheriff's office, assisted by volunteers, searched the desert again using K-9 teams. But they left the field Sunday afternoon without any apparent breakthrough.
Melissa believes Karlie was abducted. Zac concurs but also remarked, "It just doesn't make sense that your worst nightmare would show up at that time."
According to Caltrans, at peak times the section of Highway 6 where Karlie vanished handles about 200 cars per hour. Fewer cars pass by early on a Saturday morning.
Zac acknowledges that, given Karlie's recent troubles, it's possible she ran away. "Maybe's there's things she kept from us. Who knows?"
There's also been speculation Karlie's disappearance might be linked to the case of Madelyn Lingenfelter, 19, who parked her car along Mount Rose Highway near Reno on Sept. 19 and hasn't been seen since. But no evidence has emerged to support this theory.
'It hurts me to be attacked'
Karlie's disappearance has attracted nationwide media coverage. The case has also been generating controversy on social media, especially after Lindsay spoke to Nancy Grace's "Crime Online" and questioned Zac and Melissa's account.
The Mono County sheriff's office admonished in a Facebook posting that "hurtful comments directed to Karlie's mother, stepmother and/or father just add to their suffering."
Melissa was also accused of being a publicity seeker, after she launched a Facebook group called "Bring Karlie Home!" that now has more than 12,000 members.
"It hurts me to be attacked when I'm out here looking for her," said Melissa.
Zac has been criticized for not being more visible. "People wonder why I haven't been heard from, but I don't do social media," he explained.
Zac and Melissa said they're cooperating with law enforcement and are willing to take polygraph exams.
They're asking anyone with knowledge about Karlie's whereabouts to contact the Mono County Sheriff's Office at 760-932-7549, option 7.
Doug Kari is an attorney and writer in Lone Pine, California.