Supreme Court asked to reopen case in 1994 Las Vegas slaying
November 13, 2015 - 3:40 pm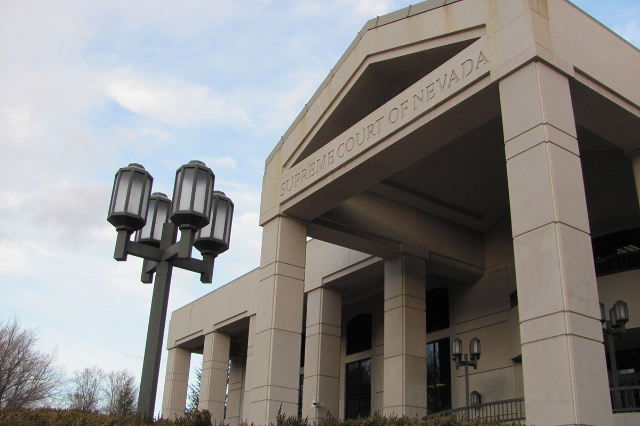 CARSON CITY — Lawyers for a Las Vegas man serving a life sentence for a 1994 murder he says he didn't commit urged the Nevada Supreme Court on Friday to reopen the case based on new evidence they say exonerates their client.
DeMarlo Berry was convicted of killing Charles Burkes, a Carl's Jr. restaurant manager, during a robbery.
Assisted by the Rocky Mountain Innocence Center, defense lawyers say a gang member, Steven "Sindog" Jackson who is serving life prison sentence in California, confessed to being the real killer in a written affidavit.
They also argue that the recanted trial testimony of a jailhouse snitch, allegations of prosecutorial misconduct, a lack of evidence linking Berry to the crime scene and questionable police photo lineups support granting a hearing to evaluate the evidence.
Taken in total, the new evidence "simply cries out the wrong man is in prison," attorney Lynn Davies said during oral arguments before a three-justice panel.
But Clark County Deputy District Attorney Chris Burton countered that Jackson's confession omits details from the evening of April 24, 1994, and he disagreed that the new evidence, if true, would change the outcome of the case.
"It's their burden to prove a reasonable jury would come back with a different verdict," Burton said, arguing that at least four eyewitnesses identified Berry as the shooter.
Burton said other facts presented at trial contradict the defense claims that new evidence supports a new hearing.
Berry claims he was with a friend that night when he decided to get something to eat at the Carl's Jr. As he approached the door, he saw "Sindog," described in court documents as a "feared leader of the Crips" gang, inside next to an employee and the cash register.
Berry maintained he was outside in the parking lot when two employees fled the restaurant. He and other witnesses said they saw the shooter scale an adjacent wall between the parking lot and a motel before the shooter fled in a Cadillac driven by someone else.
An anonymous tip identified Jackson and Berry as two possible suspects. Defense lawyers argue no physical evidence linked Berry to the crime and allege no attempt was made by police to tie evidence to Jackson.
They also argue that four witnesses were shown head-shot photos of possible suspects, but none of the lineups contained a photo of Jackson.
One witness identified Berry as the shooter, though three others said he "resembled" the perpetrator. During trial, all four plus another witness who initially said he didn't get a good look at the suspect identified Berry as the shooter, according to documents.
Defense lawyers claim that a key witness, Richard Iden, was coaxed into testifying that Berry admitted killing the restaurant manager while the two briefly shared a holding cell at the Clark County jail. In court documents, they say Iden, with multiple forgery convictions, was facing four new charges but three of those were dismissed when detectives intervened on his behalf in exchange for his testimony against Berry.
Burton disputed that account, saying a detective at trial testified Iden's charges were negotiated before there was any contact between the two prisoners.
Iden in his recanted statement also claimed the prosecution twice paid for his plane ticket to and from Ohio so he could visit his ailing father, according to court documents.
Clark County District Judge Michael Villani last year denied Berry's petition for a hearing to review the evidence, leading to the Supreme Court appeal. Villani said the new affidavits from Jackson and another witness were "naked allegations" and insufficient to warrant a hearing. He also said the issues raised were procedurally barred by time limits.
After Friday's hearing, Jensie Anderson, legal director of the Rocky Mountain Innocence Center and law professor at the University of Utah, said they spoke with Jackson in May 2013.
"He admitted to the crime. He did a hand-written affidavit," she said, adding that Jackson had "nothing to gain and everything to lose" by coming forward.
"All we want is for all of this evidence to be flushed out," she said.
Justices Nancy Saitta, Kristine Pickering and Mark Gibbons took the case under submission and will rule at a later date.
Contact Sandra Chereb at schereb@reviewjournal.com or 775-687-3901. Find her on Twitter: @SandraChereb.