Take a look at Death Valley damage from record-breaking rainfall — PHOTOS
Updated August 31, 2023 - 9:43 pm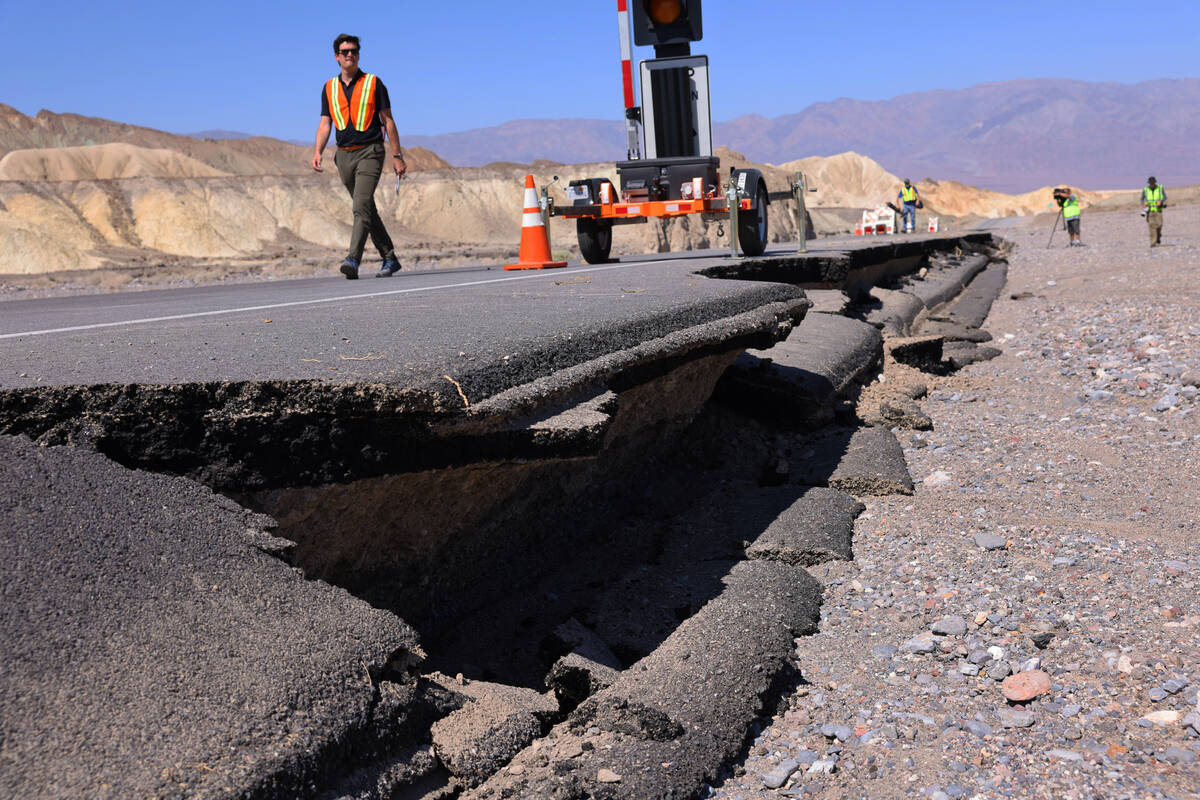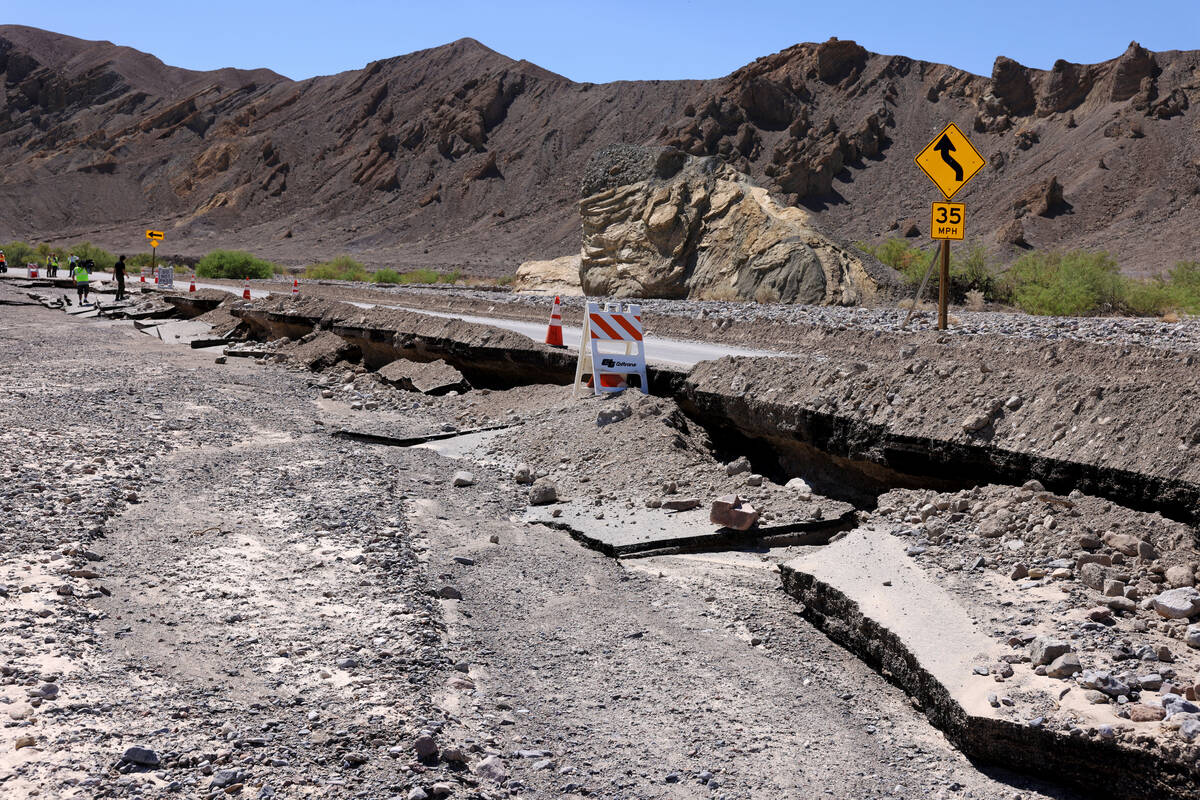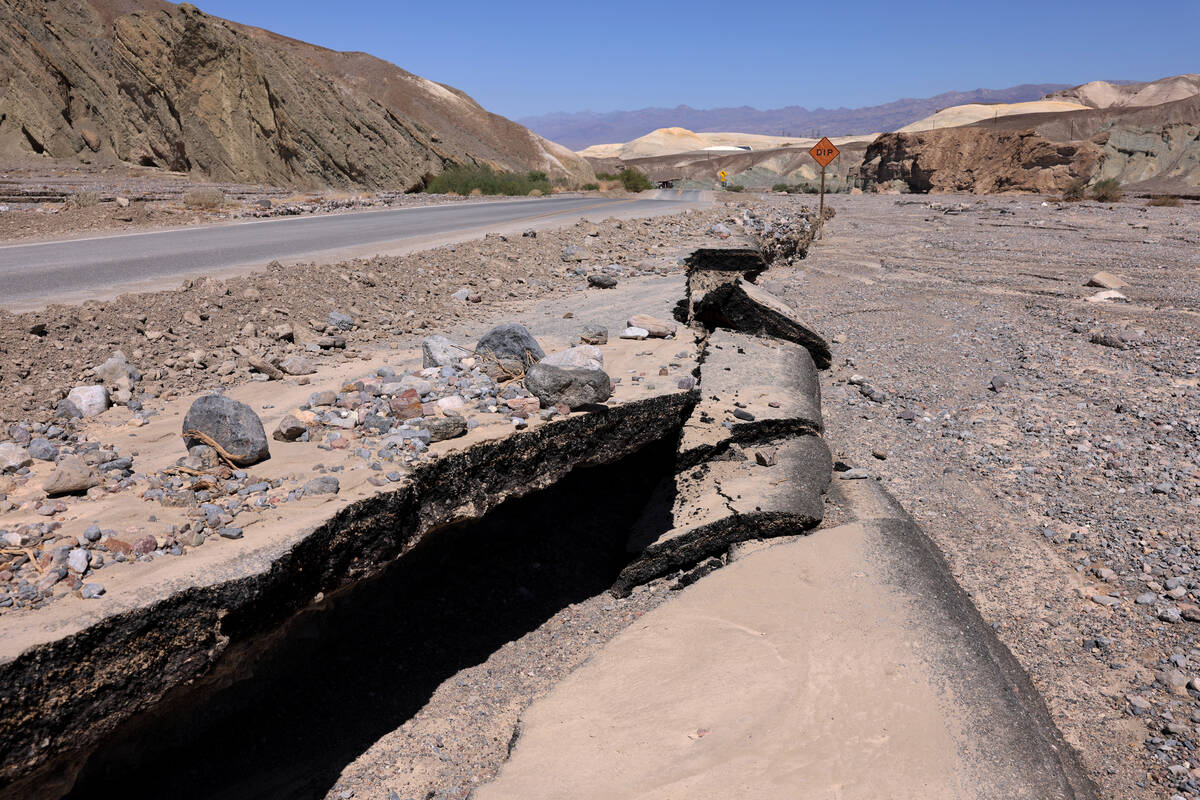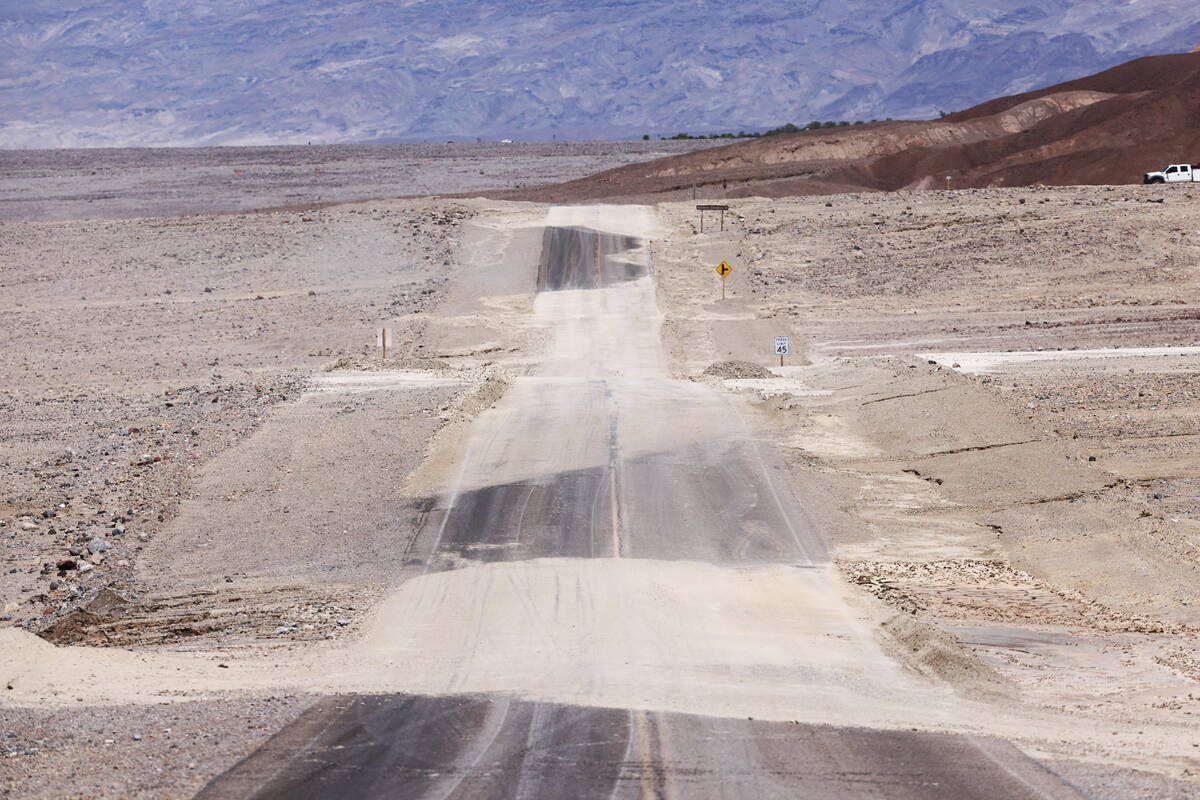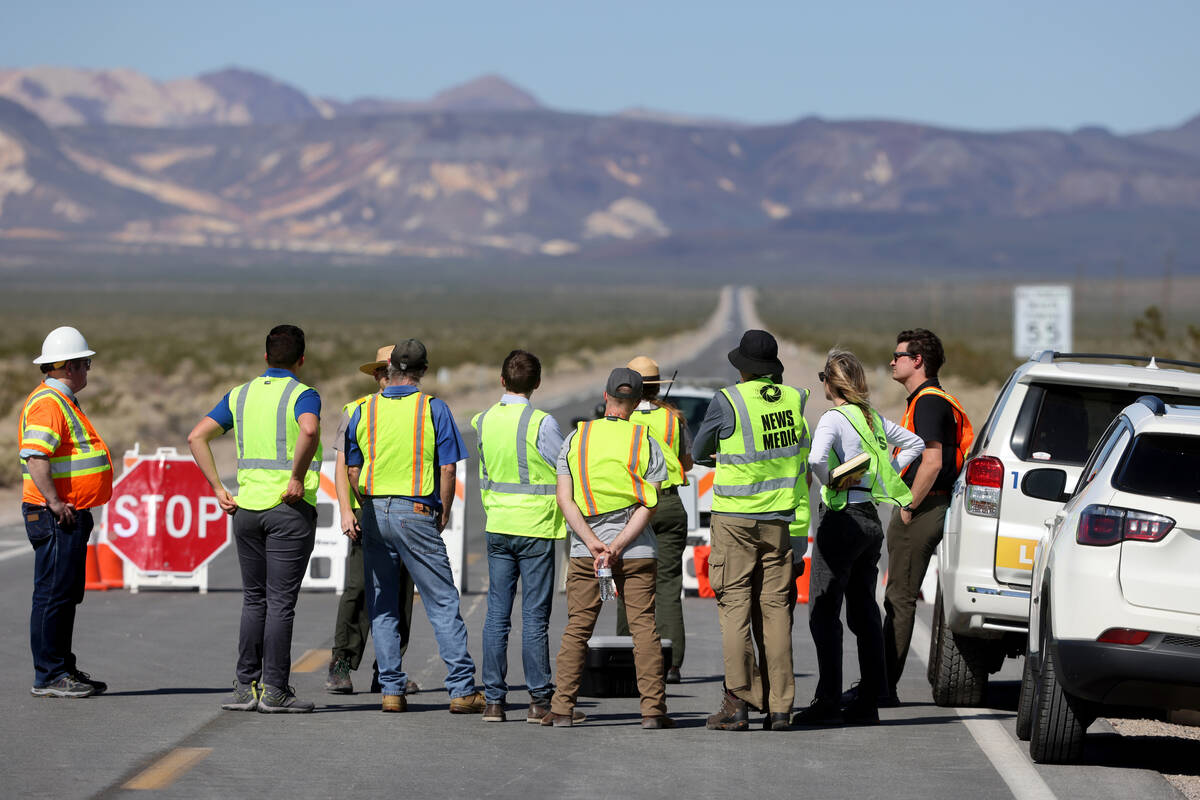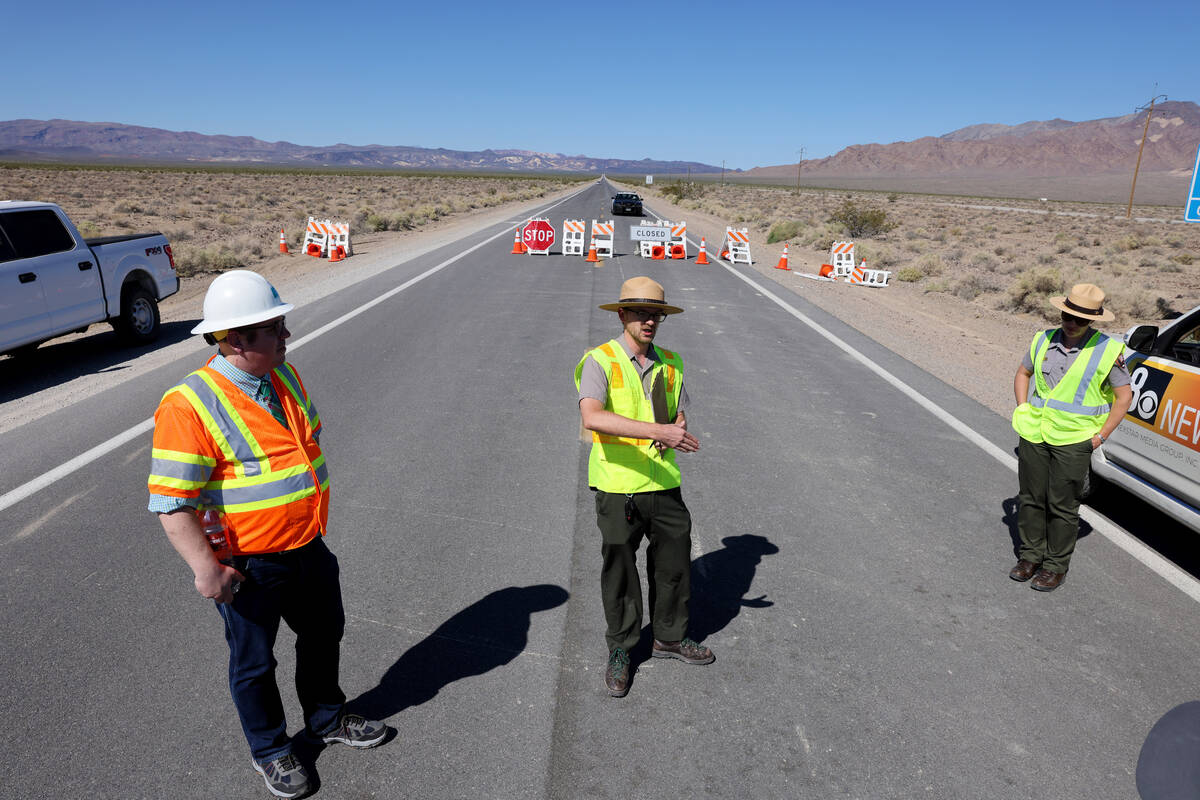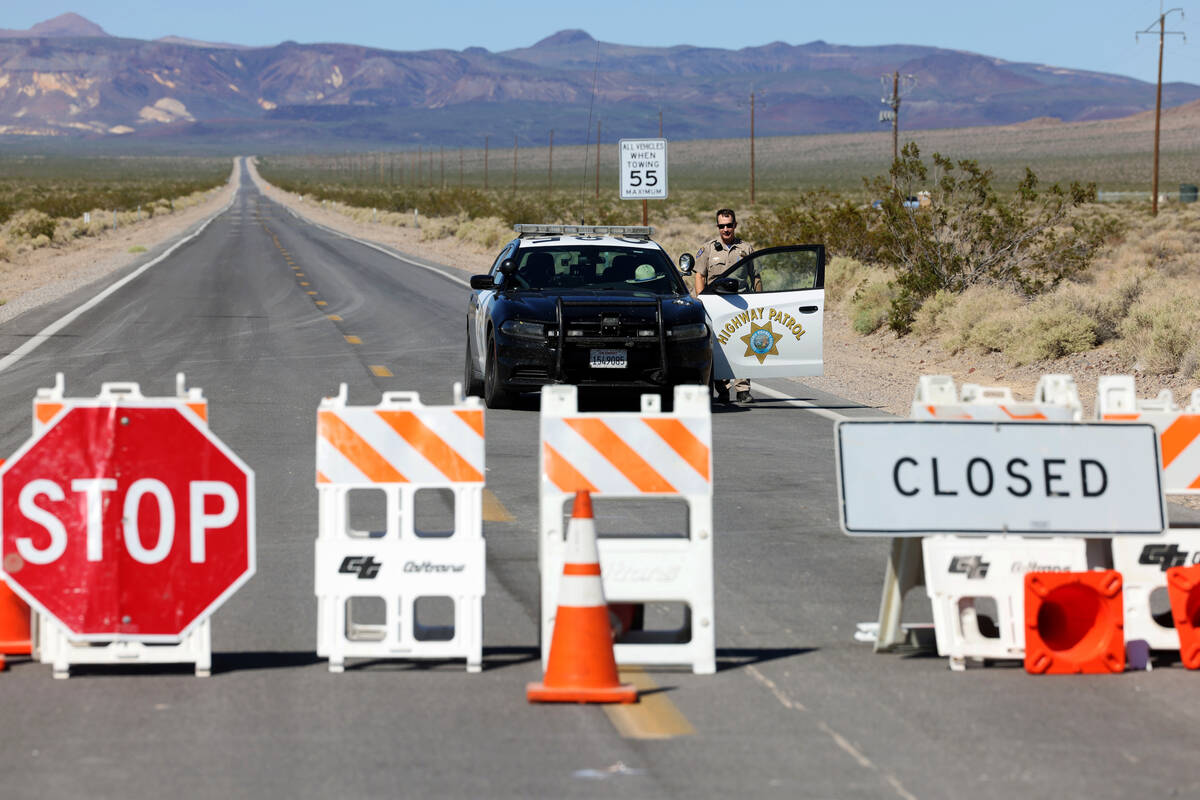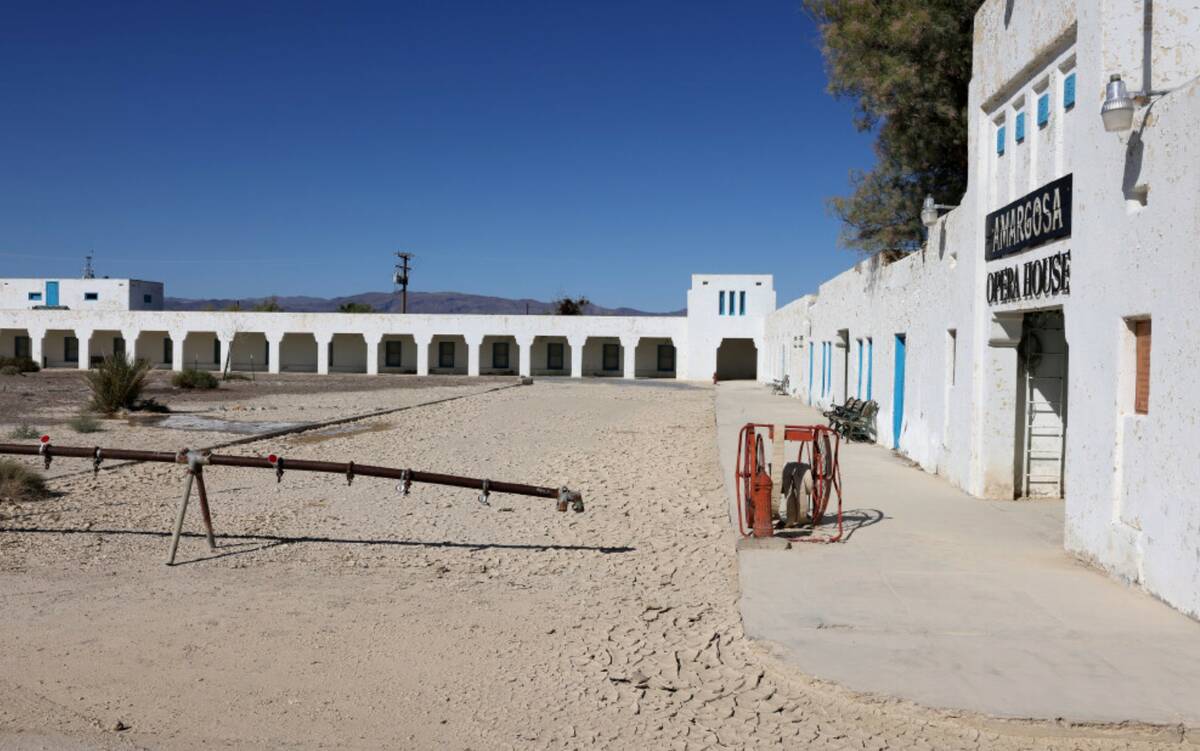 DEATH VALLEY NATIONAL PARK, Calif. — After record-breaking rain brought enough flooding and extensive damage to close down Death Valley National Park last month, it's unclear when visitors will be allowed to return, park officials said Thursday.
As crews worked to repair washed-out roads from the Aug. 20 rainfall, which dumped an all-time daily high rain amount of 2.2 inches at Furnace Creek, officials gave journalists a firsthand look at some of the destruction.
"We are the driest place in North America, and we got a year's worth of rain in 24 hours," Death Valley park ranger Matthew Lamar said.
California state Route 190, the main artery through Death Valley, has too many sections of damage to count, said a spokesperson with the state's Department of Transportation.
For example, the westbound lane of Route 190, west of Towne Pass, has lost about 1,500 feet of pavement, said Caltrans spokesperson Christopher Andriessen. Near Panamint Springs, a roughly 30-foot section of 190 has been washed out. One 25 mph speed limit sign had debris piled up as high as the sign, Lamar said.
The total cost to fix state Route 190, as well as state Route 136, which meets up with Route 190 west of the national park, will be at least $6 million, Andriessen said.
"Right now we are aiming for three months to restore service fully to state Route 190," Andriessen said. "It will open in parts. As we complete work, we will open up sections of it."
"We do see it as a phased reopening," Lamar said.
About 600 miles of the park's total 1,400 miles of paved and unpaved backcountry roads were still being checked for damage, Lamar said.
So far, about 200 miles' worth of roads have shown signs of being significantly affected by the storm, Lamar said, but he said that number was continually changing.
There are varying degrees of damage, officials said. In many stretches, chunks of asphalt are broken off from the floodwaters having eroded the roadbed. In other spots, layers of debris completely cover the road surface.
None of the park's paved and unpaved roads are open. All entry and exit points are closed, as are all campgrounds.
National Park Service staff said that they were still assessing the damage on Thursday, as well as clearing debris from the roads, and that there is no timeline for when the national park might reopen.
About 100 employees based at Death Valley were being assisted by about 50 other National Park Service workers who have come from other parks to help, Lamar said.
The record rain came as Tropical Storm Hilary, a rare southwest U.S. named storm, soaked parts of California and Nevada, including Mount Charleston, where damage was also extensive, according to the National Weather Service's Las Vegas office.
It may not sound like a lot, but on average, Furnace Creek — where the Aug. 20 rainfall record was measured — gets 2.15 inches in an entire year, said Death Valley park ranger Elyscia Letterman.
Higher amounts fell in the mountains in the park. At Hunter Mountain, 5.6 inches of rain was measured, Lamar said.
Rain has always been a part of Death Valley's story, Letterman said.
"The rain has been sculpting the canyons since its existence, long before it was a park," Letterman said. "There used to be a lake here in Death Valley itself."
The Aug. 20 rain also trapped 400 people in the park for about 12 hours, Lamar said. Until crews from Caltrans and the National Park Service were able to clear a lane of floodwater debris from state Route 190, those people sheltered in place.
It's the second time in two years that record rain has closed the 3.4-million-acre national park, which is about a 2½-hour drive from Las Vegas.
Hilary's rainfall broke the previous record of 1.7 inches, which was set just over a year earlier, on Aug. 5, 2022. That rainfall also caused historic damage and stranded about 1,000 people — about 500 visitors and another 500 workers and staffers — inside the park.
Park officials said that some of the roads that were repaired after the 2022 rainfall are again in need of repair.
Outside of the national park, at nearby Death Valley Junction, the Amargosa Opera House and Hotel also suffered damage from flooding, said Fred Conboy, the president of the board of directors of the property.
Conboy said the opera house saw "unprecedented flooding and damage to the floors" but noted that thankfully neither the historic seats nor the murals in the venue were damaged.
At the hotel, Conboy said, eight rooms were badly damaged by flooding.
Anyone wishing to donate to the nonprofit opera house to help with expenses incurred by repair work can visit the opera house's website, Conboy said.
Letterman said there has been some good news. The endangered Devils Hole pupfish seem to be doing well, she said. Plus, the rainfall will be good for vegetation, which will be good for the wildlife in the park.
Death Valley has also seen its share of tragic and unusual occurrences so far this year.
In July, a 71-year-old man who had been hiking in the park died after speaking with an L.A. Times reporter about the extreme heat.
That same month, about 5,000 gallons of emulsified asphalt and 150 gallons of diesel were spilled in the park after a tractor-trailer crashed.
In May, the National Park Service announced that 10,000 marijuana plants worth about $7 million were found at an illegal growing operating in Jail Canyon on the western slope of the Panamint Mountains in the national park.
In late April, a rabid bat bit a woman outside the Stovepipe Wells general store. The woman was treated for rabies exposure.
Asked if the recent rain could be enough to spur a so-called springtime superbloom, which happens when colorful, eye-popping landscapes of wildflowers sprout up across the desert, Letterman said the Aug. 20 rain alone wouldn't be enough. Superblooms tend to happen with more steady bouts of rain during the months before the spring, she said.
Contact Brett Clarkson at bclarkson@reviewjournal.com.