Tarkanian real estate company owes $16M
Updated March 12, 2018 - 4:51 pm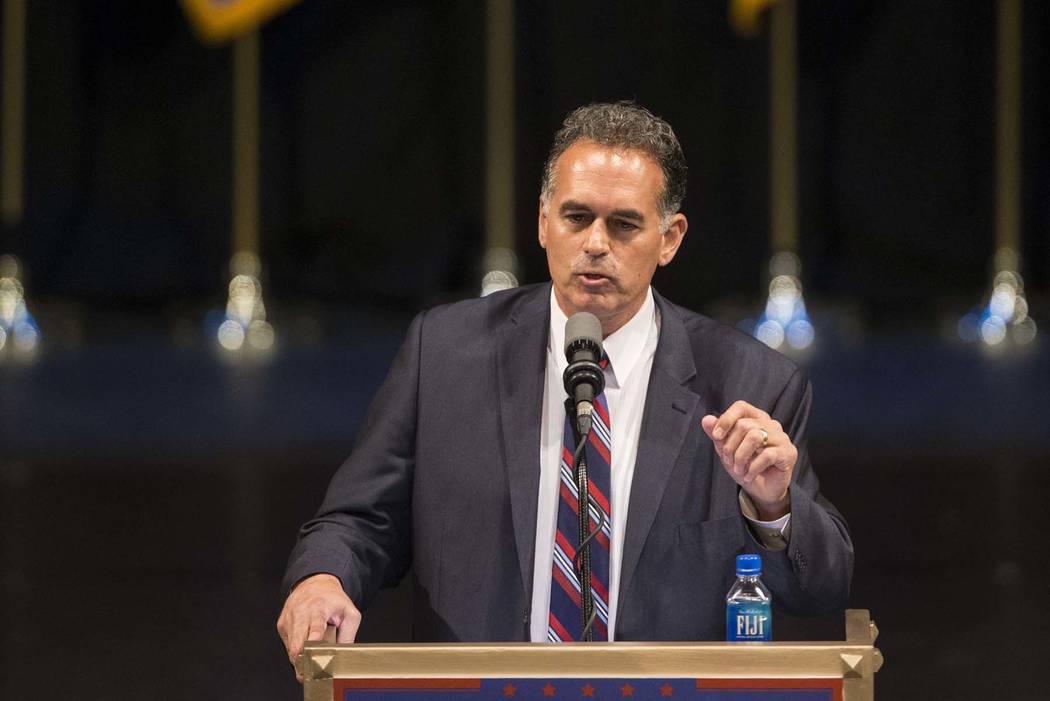 U.S. Senate candidate Danny Tarkanian's real estate firm owes $16 million, newly released court documents show.
Tarkanian last year testified during his sister's divorce trial that his real estate business faces $16 million in debt from a development project — and more than $2.2 million is unsecured, meaning it's not tied to any tangible assets. Tarkanian filed for bankruptcy in late 2012 because of a failed real estate deal.
Tarkanian has announced plans to run for Senate against incumbent Republican U.S. Sen. Dean Heller, but has not filed the paperwork to do so. He said in an interview Monday that his company is profitable and the issue is "false news."
"This is a non-story," Tarkanian said. "Why would anyone write a story about this? Donald Trump owes millions in debt. Whoever gave this to you is misleading you."
According to financial disclosure forms, Tarkanian is the manager of JAMD, LLC and pays himself $16,000 a month from the business. But the real estate company is not repaying its debt, court documents say — including two loans Tarkanian took from his sister.
The company hasn't made payments toward the $2.2 million in unsecured debt because it's "generating insufficient operating income to service its debt," the court filings said.
Tarkanian said the $16 million is tied to a $13.75 million loan for developing two buildings on the Tarkanian Professional Center, a 91,859-square-foot retail and office development on the corner of Cimarron and Warm Springs roads. The remaining $2.2 million owed is from loans given by members of the Tarkanian family. Tarkanian said Monday he is making payments on the $16 million debt.
The property is worth more than $24 million, Tarkanian said, and all the buildings are leased. Tarkanian said he gets $5,000 a month from the company.
"Any time you build a project, you have to borrow money," Tarkanian said. "But we make $20,000 to $30,000 more than what our mortgage payment is — more than what we owe — plus interest. The value of that property is way more than the debt. This is a success story. Our office building is the only one that didn't get foreclosed upon during the recession."
The court documents say Tarkanian's company accepted two loans from his sister and her husband — in 2008 and in 2015 — but that the 2008 loan was "no longer enforceable."
Tarkanian, who's mounting his sixth run for political office, also came under fire last month after he reportedly borrowed money from a children's basketball charity he manages to bolster his congressional campaign in 2012.
Tarkanian's financial troubles began in 2012 when a California bank from which he'd borrowed money was taken over by the Federal Deposit Insurance Corporation. Tarkanian owed the FDIC $17 million, but filed bankruptcy and ended up paying just $525,000.
The unsuccessful real estate deal also caused Tarkanian's brother, George, to also file bankruptcy in 2012. Tarkanian is the son of famed UNLV basketball coach Jerry Tarkanian and Las Vegas Councilwoman Lois Tarkanian.
Contact Ramona Giwargis at rgiwargis@reviewjournal.com or 702-380-4538. Follow w@RamonaGiwargis on Twitter.