Wild horses rounded up in Cold Creek to go up for adoption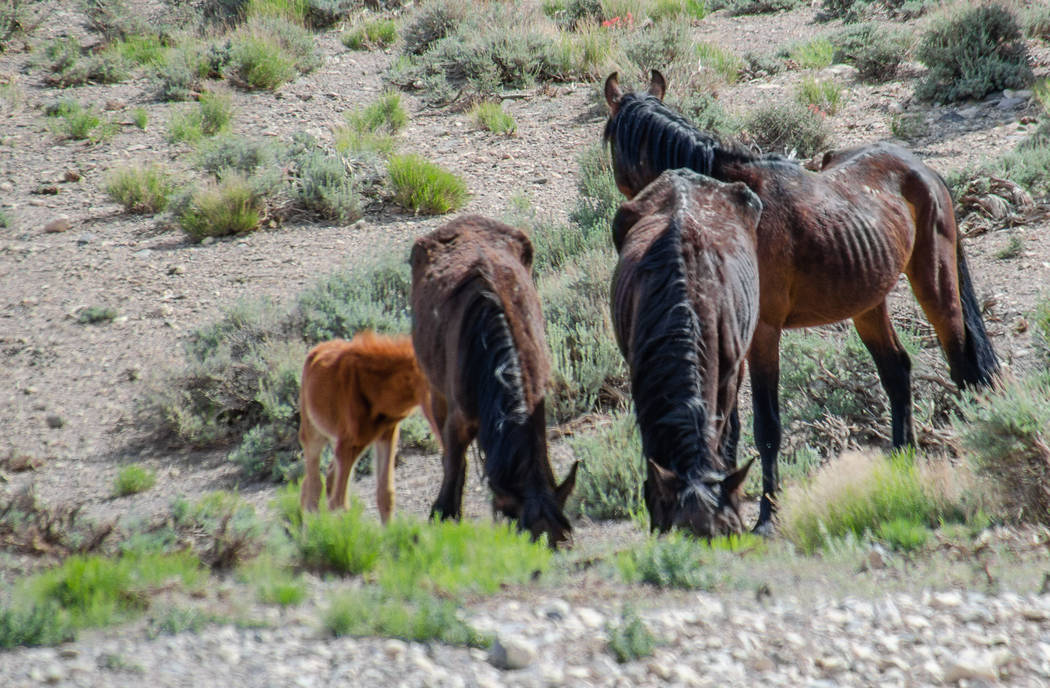 The public will soon get its first chance to adopt wild horses rounded up earlier this year near the Spring Mountain community of Cold Creek.
The Bureau of Land Management plans to offer up 82 mustangs removed from the Cold Creek area at an Aug. 11 auction and adoption event at its regional holding facility in Ridgecrest, California, about 240 miles southwest of Las Vegas.
The horses include 57 geldings ranging from 2 to 20 years old and 25 fillies and geldings under the age of 2.
A total of 148 horses were removed from the northeast side of the Spring Mountains during a 10-day emergency roundup in May organized by U.S. Forest Service officials who said poor range conditions had left the herd on the verge of starvation.
Seventeen horses were euthanized during the operation. One was a foal that broke its leg, and the rest were adult horses deemed too emaciated to be nursed back to health.
The BLM will open the gates of its Ridgecrest Regional Wild Horse and Burro Corrals at 3647 Randsburg Wash Road at 7 a.m. Aug. 11. A live auction will follow at 8 a.m. Any horses unclaimed after that will be offered for adoption on a first-come, first-served basis from 9 a.m. to 2 p.m.
To qualify, adopters must be at least 18 years old with no convictions for inhumane treatment of animals.
Adopted horses must be kept in corrals with at least 400 square feet of space per animal and surrounded by a 6-foot fence built of pipe or boards. There must be shelter available to protect the animals from extreme weather.
The federal government will retain title to the wild horses for one year, after which ownership will be transferred to the adopter assuming the animal has been properly cared for.
Those who buy wild horses outright receive title to their animals immediately, but they are required to sign an affidavit stating they have no intention of giving away or selling the animal for use in commercial products.
Forest Service spokeswoman Erica Hupp said there are no immediate plans to hold an adoption event closer to where the horses were rounded up. She said it might not be worth the extra stress on the horses to transport them to Las Vegas and then ship any unclaimed animals back to Ridgecrest.
Wild Horse Flyer for California event by Las Vegas Review-Journal on Scribd
On the web
More information about adopting wild horses from the Cold Creek area is available on the Bureau of Land Management's website at blm.gov/whb or by calling 1-866-468-7826.