City's graffiti-removal team closes 1,400 cases per week
September 25, 2017 - 2:22 pm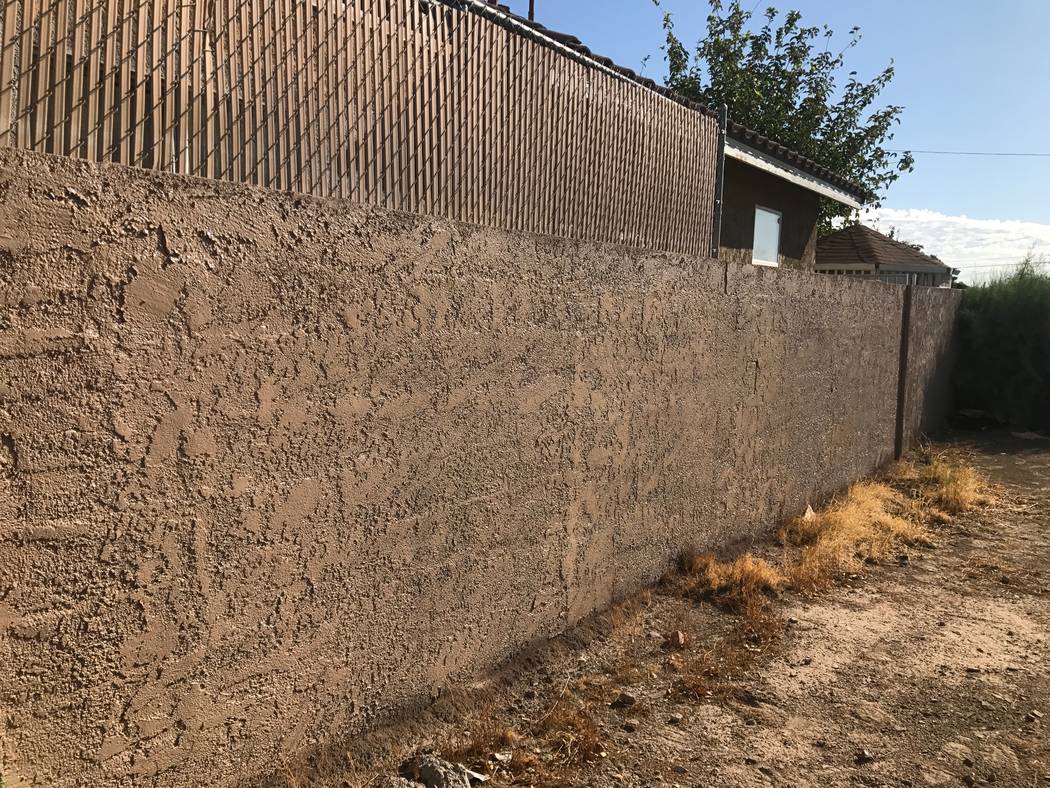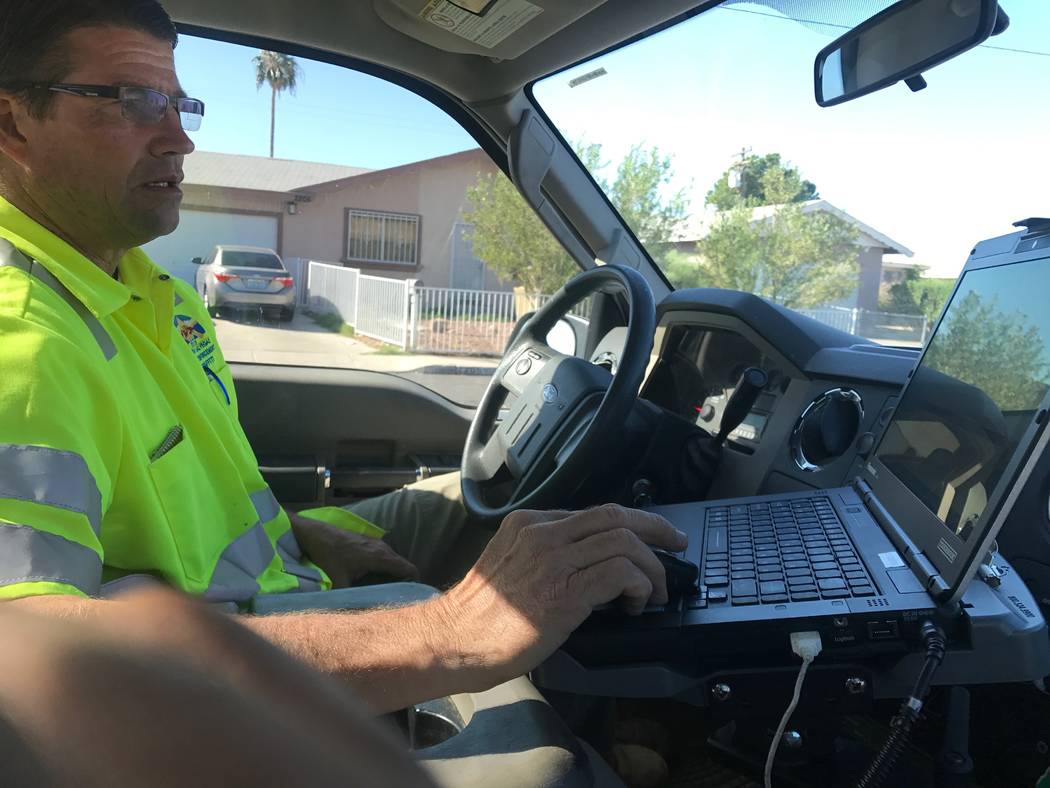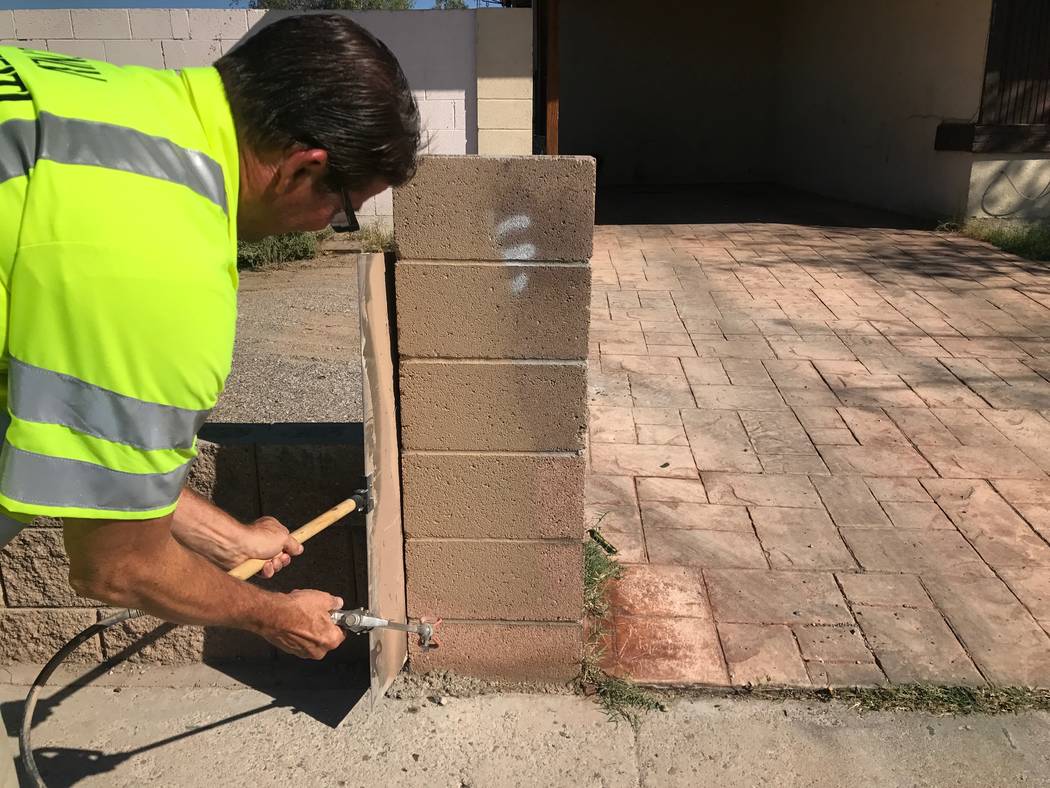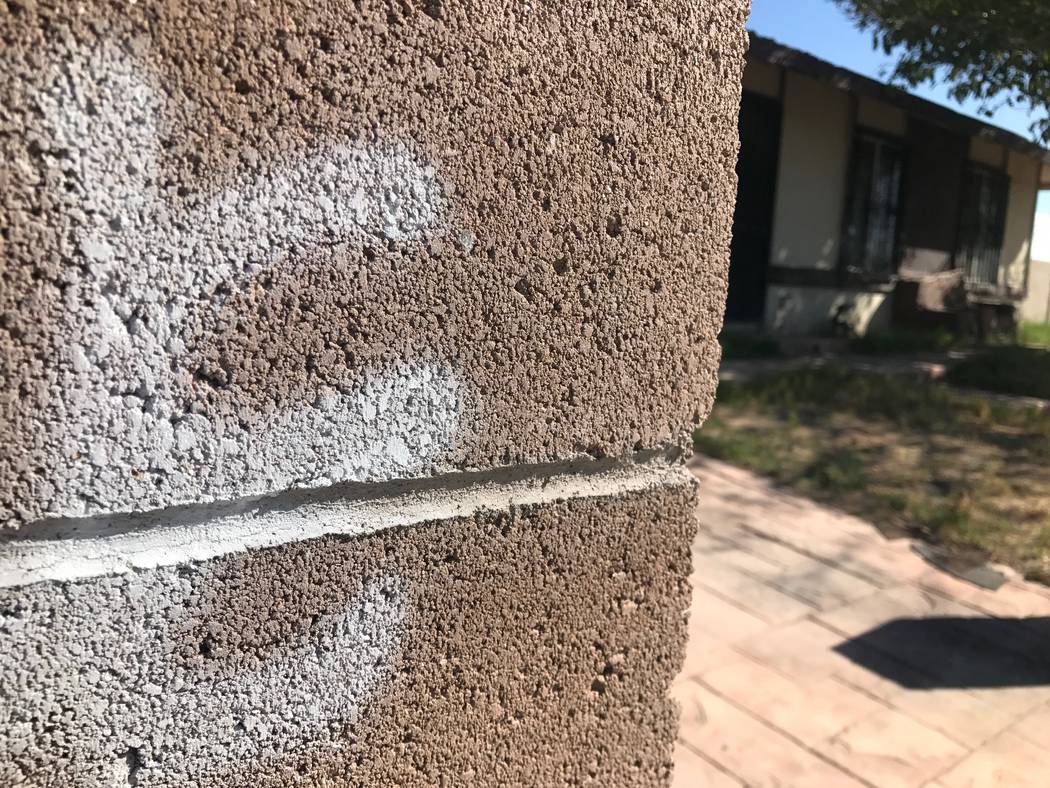 As he drove down a busy corridor near the Silver Nugget in North Las Vegas on a recent Thursday, city graffiti technician Tim Schmidt spots a moniker written in white spray paint. The nearly 400-square-foot signature was written on a brick wall in a dirt lot, in front of a residential area. Someone anonymusly reported it on the city's mobile app that morning.
Schmidt, who has had his job for about two years, was unable to read the lettering but said he knew it was gang-related.
"As long as I've done it, there's a lot of these that makes no sense," he said.
Schmidt photographed the wall, took a long hose from the truck that contained paint — usually brown or gray — and sprayed the entire wall. Although it is not required in every jurisdiction, the city of North Las Vegas's graffiti division's policy is to not only cover up graffiti, but to make the fresh paint blend in, he said.
It costs more to do this, but it cleans and beautifies the area at the same time, lead code enforcement manager Tom Martens said. And it doesn't come out of the city's general fund; the graffiti division's expenses are covered by fees and fines, he said. The division spent $606,500 in 2016 on salaries, benefits and supplies, Martens said.
"We make it look like the graffiti was never even there," Steven Evers, another graffiti technician, said. He was spray-painting a utility pole that had been tagged a few feet away.
Schmidt said that the area south of Cheyenne Avenue, from Martin Luther King Boulevard to Owens Avenue, is the busiest region for graffiti abatements. However, areas that are viewed as "nicer" also get graffiti, he said.
Schmidt averages about 40 abatements a day but has had as many as 100, he said.
The city of North Las Vegas closes about 1,400 graffiti cases a week, Martens said. The department was created about 13 years ago and started with one employee; today it has four, and a fifth is expected to be added in October, he said.
The photos taken by the technicians are uploaded to a server and used for tracking and prosecution purposes. The city has improved response times and efficiency through its mobile app, which was created about two years ago. Prior to this, residents had to call, email or submit a complaint through a web browser. The mobile app uses GPS and doesn't require technicians to go back to the office to get reports.
From July 1, 2016, to June 30, the graffiti division had 57,095 abatements covering 5.8 million square feet, Martens said. From July 1, 2015, to June 30, 2016, there were 44,160 abatements covering 3.9 million square feet; during the 2014-15 fiscal year, there were 14,110 abatements covering 1.3 million square feet.
This fiscal year, which began July 1, the division has completed 14,075 graffiti abatements covering 387,000 square feet, Martens said.
Graffiti, which includes writing with a sharpie, posting a flyer or sticker or spray-painting on the city's property, often happens at night, Schmidt said. When school is in session, abatements increase as well.
"I don't understand (why people tag)," he said. "I think it's addicting to some people. They get a thrill out of it."
Martens said the city's goal is to become "graffiti free." Schmidt hasn't witnessed someone tagging, but if a graffiti technican does, they are asked to get as much information as they can about the subject and report to police. The mobile app also allows the department to track repeat offenders. The city has had about seven prosecutions this year, Martens said.
Martens said he's seen a 20 percent reduction in the size of tags in the past two years. He credits this to the efficiency of the department in getting rid of new graffiti quickly, as well as the expansion of legal street art, such as utility boxes that have been decorated around North Las Vegas and other areas.
"You have to be a real (jerk) to ruin someone's artwork," said Adam Rellah, mural artist and owner of art company Pretty Done. "For the most part, if someone is trying to put some art in the community and they put a lot of hard work into that piece, then it usually gets respect."
Rellah was commisioned to paint murals in downtown Las Vegas for the Life is Beautiful music festival. He doesn't think that people who vandalize property give artists like himself a bad rep.
"It's just ego stuff," he said. "People want to get their name up and have some type of ego boost, but you can tell when something is more artistic and has meaning behind it."
Schmidt has seen graffiti that he considers to be artistic, but that doesn't matter; his team is required to abate it.
The city encourages residents to assist with keeping North Las Vegas neighborhoods graffiti-free by reporting vandalism. For more information, visit tinyurl.com/NLVgraffiti.
Contact Kailyn Brown at kbrown@viewnews.com or 702-387-5233. Follow @kailynhype on Twitter.
What's considered graffiti
Graffiti includes drawings, writings, street art, flyers and stickers placed on public property such as sidewalks, utility poles, walls and public buildings . Graffiti is viewed as a sign of urban decay, according to the city.
How to report it
The removal of graffiti on property owned by the city of North Las Vegas can be reported by calling 702-633-1871, by filling out the online request form at tinyurl.com/NLVgraffiti or by using call the city's mobile app to report graffiti.
Removal of graffiti on private property is the responsibility of the owner.
If you witness graffiti vandalism in progress, North Las Vegas police can be reached at 702-633-9111.