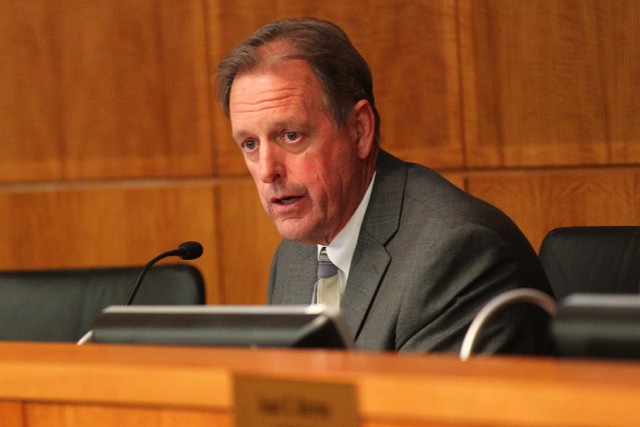 North Las Vegas will keep its current, off-year springtime election schedule into the foreseeable future.
Four members of the City Council said they did not like Mayor John Lee's suggestion to move municipal elections to an even-year cycle that would have aligned with national and statewide races.
Councilwoman Anita Wood raised concerns that the city's races would be placed near the bottom of a crowded ballot, below higher profile races and judge's seats.
"That top of the ballot is real simple, and then you get to the judges and they have no idea," Wood said. "We're concerned that they might not continue on the ballot and remember their city officials down below."
The City Council agreed to ask state lawmakers during the next legislative session, set to begin in February, to approve a bill that would allow municipal races to be placed higher on the ballot — at least before the long list of judicial races.
The council agreed to discuss the matter further after the state legislative session ends next summer.
Lee was the only one who supported the change, saying it would have decreased costs and increased voter participation in North Las Vegas.
"I like it. I think it's a great idea, but it's a personal decision," Lee said. "I don't think there's an appetite right now to vote on this issue."
Clark County would not have charged the city if North Las Vegas moved its municipal elections to even-numbered years, largely because ballots would already need to be printed for county supervisor, state and federal races.
North Las Vegas is projected to pay $325,914 to Clark County to run the 2017 primary election in April and the general election in June, according to the City Clerk's Office.
Last month, the council agreed to end the practice of operating more than 20 polling places, and instead offer a yet-to-be-determined number of voting centers. The move is expected to cut payment to the county by 21.4 percent to $256,179.
Mesquite has already changed to even-year elections, while a similar move is under consideration in Las Vegas. Henderson city officials are studying whether to change its election schedule or have voters cast their ballots by mail as a way to save money.
"Having our elections separate from the other elections, I think, is a good thing at times because we take ourselves seriously about what we do and we're identified individually rather than to be put in a pool of state, county, other cities, ballot issues and judges," Councilman Richard Cherchio said.
Contact Art Marroquin at amarroquin@reviewjournal.com or 702-383-0336. Find @AMarroquin_LV on Twitter.