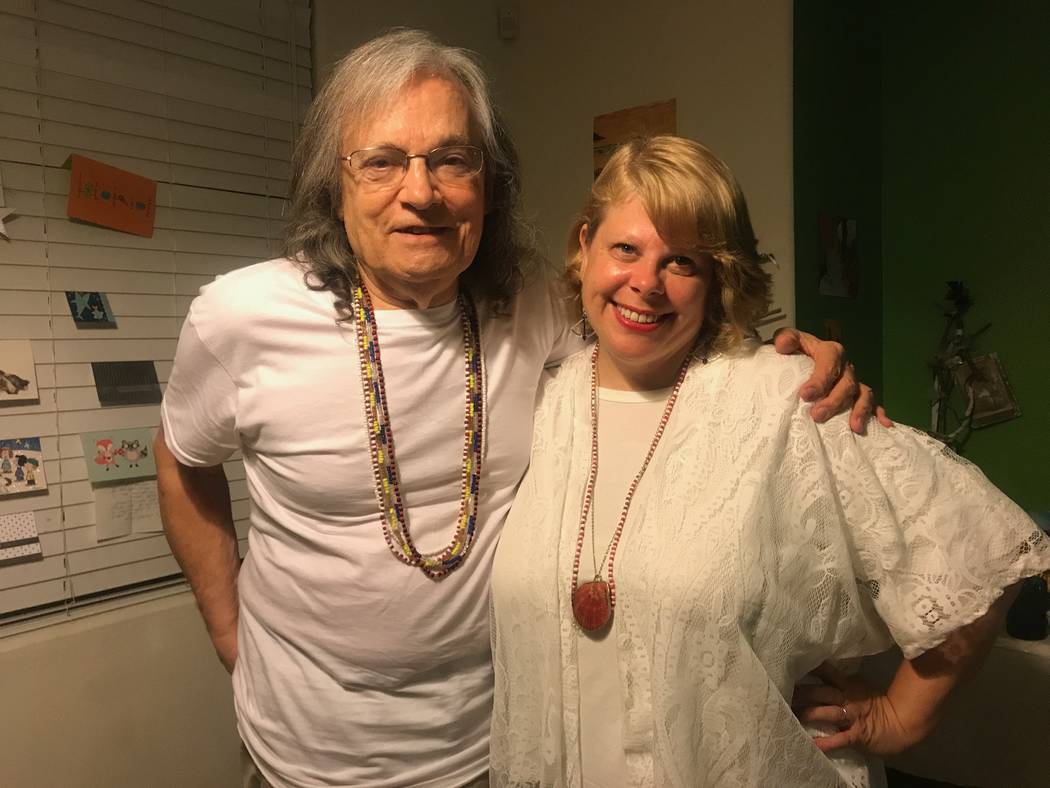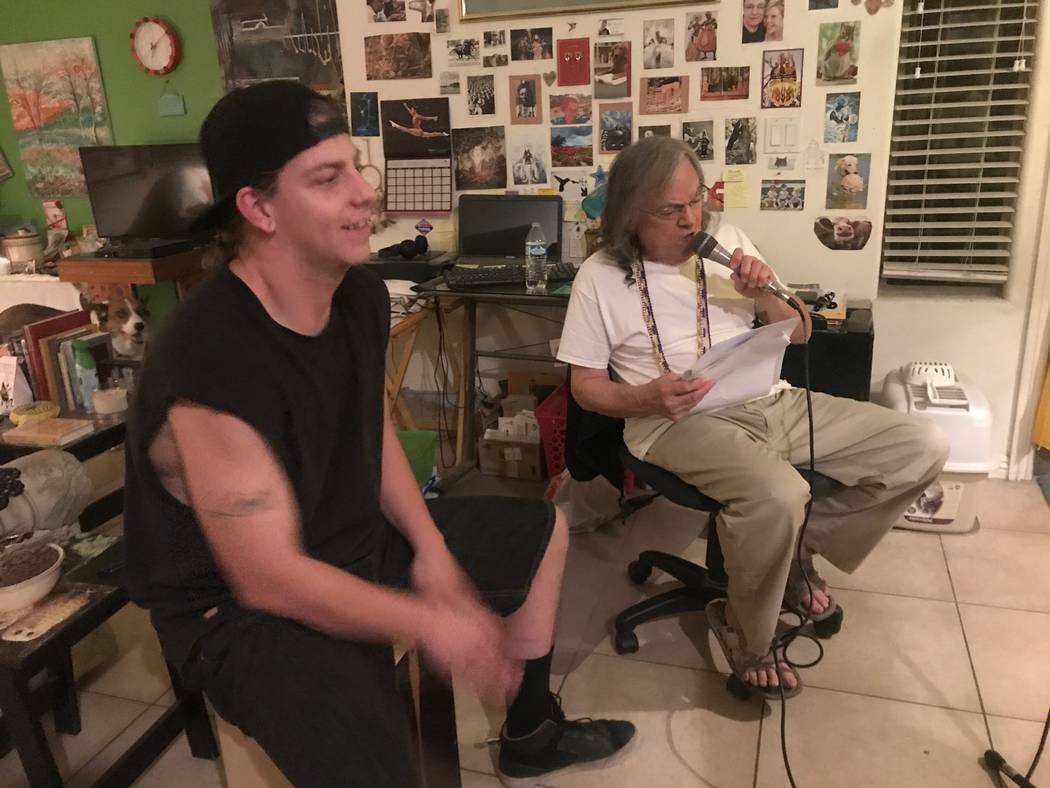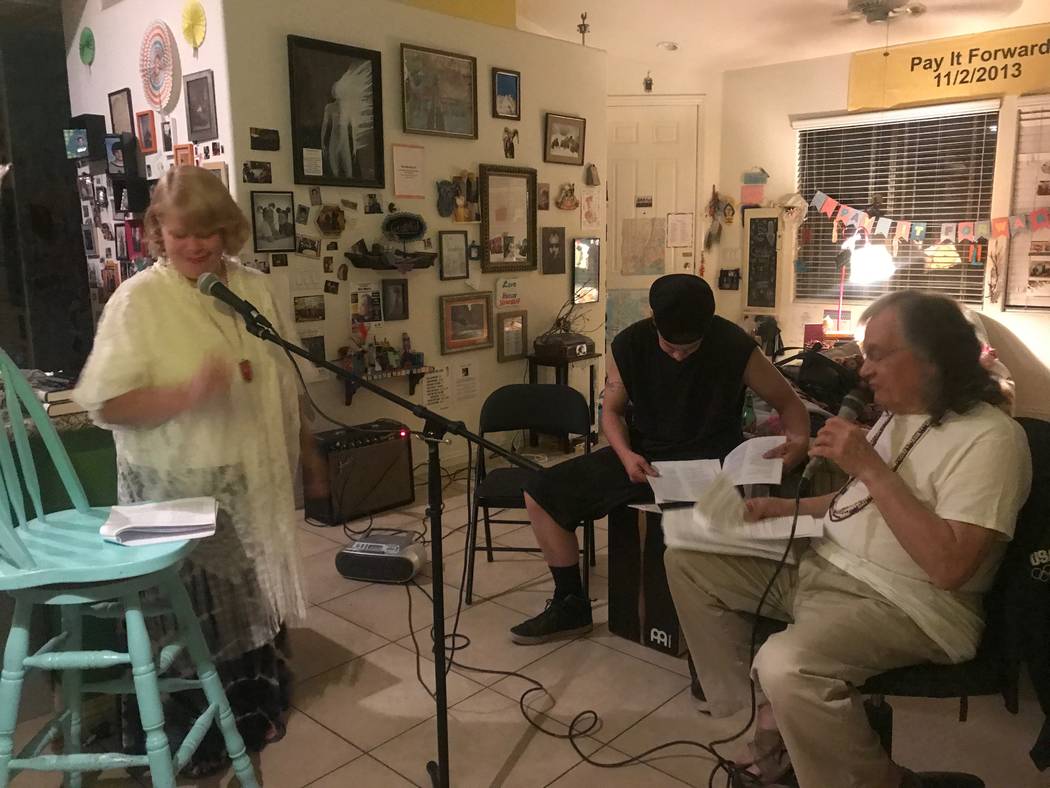 Neither Nick Marco, 74, nor 46-year-old Lana Hanson was looking for a relationship when they met about seven years ago at a poetry slam. Marco was in a relationship, while Hanson was married with two children.
The North Las Vegas couple said they came together through their love of poetry and married a few years later at the Left of Center Art Gallery, where they asked guests to donate money to their favorite charities. They raised more than $1,200, Marco said.
Now they are celebrating their four-year wedding anniversary at the gallery, only this time they will share original poems, songs and jazz improv exploring their journey with the show "Old Broke Goat, Hawt Young Chick." The show, backed by tunes performed by the Boundless Brothers band, explores the messages their separations, sickness, bankruptcy and age difference, they said.
The couple, both longtime poets, have co-led open mics and poetry workshops together. However, this narrative concert will be the couple's first co-feature.
"I think our story is interesting because usually when you have a 28-year age difference between two people, somebody's got money," Marco said. "It's like the old guy with a trophy wife (idea), but that's not the case (with us)."
The show is set for 7 p.m. Nov. 3 at Left of Center. They request a $5 donation or more to benefit the gallery's nonprofit work.
The gallery's president, Vicki Richardson, said Marco and Hanson are the only couple to get married at the gallery. She said she welcomed them back because they have been supportive of the gallery.
Marco has a master's degree in writing and was a teaching fellow at Johns Hopkins University. He also has written 17 books. Hanson's work has appeared in publications including Desert Companion and Helen magazines.
Marco and Hanson met at a weekly music and poetry event called "Word Up!" When Marco noticed that Hanson — whom he had only had brief conversations with — appeared to be sad, he dedicated Bette Midler's song "The Rose" to her and gave her a hug.
"He did that without knowing," Hanson said. "It was a really touching moment between strangers."
They became friends, before separating from their former relationships and getting married Nov. 2, 2013, they said. They acknowledged that their relationship was somewhat messy in the beginning and said they'll detail that experience at the show.
"They are not afraid to bare their souls and their hearts," show producer Lee Mallory said. "Not many couples who write poetry together do it in a confessional way. They look down on themselves as a couple, and you have to be brave to do that."
Mallory, who calls himself the "Love Poet," said their narrative concert will show "some of the beauties in contrast" with their age difference and their levels of experience with poetry.
Hanson said she hopes attendees will leave the show knowing that "there's love enough for everyone. You just have to be open to finding it in unusual places."
Contact Kailyn Brown at kbrown@viewnews.com or 702-387-5233. Follow @kailynhype on Twitter.
Left of Center Gallery
Where: 2207 W. Gowan Road
Contact: 702-647-7378 or leftofcenterart.org