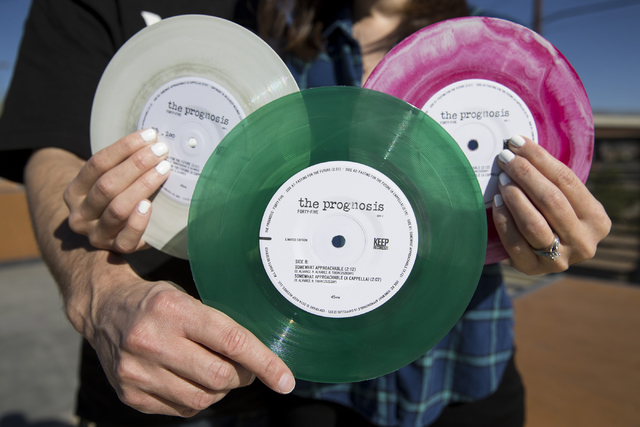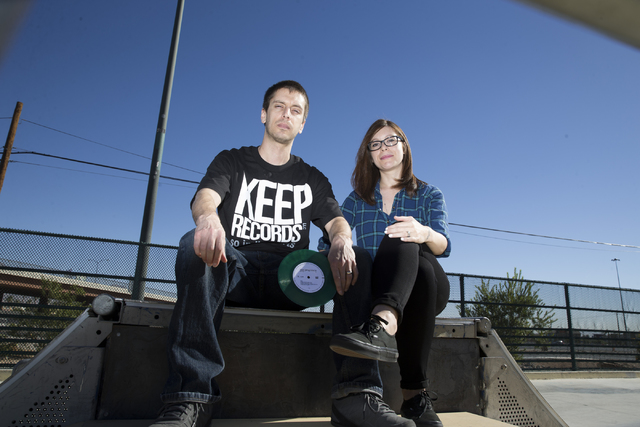 Keep Records, LLC is "so indie it hurts."
The record label wasn't started out of greed. It was made to lend a hand to musicians starting out in the music business.
"We really started the company to help other up-and-coming artists, rhymers or those who've recorded an awesome song on SoundCloud with more than 200 plays but don't know what to do next," said Roger Tiborczszeghy, co-owner of the company. "We can help those people get their music on iTunes and get them booked on tours. We want to help make people's dreams come true."
Tiborczszeghy, 33, and his wife, Julia Pasillas, 27, are the owners of Keep Records, based in Centennial Hills.
The company started as a result of Tiborczszeghy's experiences as an emcee.
As a teenager, Tiborczszeghy was a competitive skateboarder. A head-on collision with a vehicle left him seriously injured. The engine of his car pierced through his left shin and shattered his toes. He also split his right eyebrow. His sponsors dropped him and he was forced to unite with his only other passion — music.
He started recording freestyles and eventually became known as Syntax Vernac of the popular Orange County hip-hop group Speach Impediments.
At the peak of their game, the group took home back-to-back OC Music Awards for "Best Hip-Hop" in 2013 and 2014.
They even opened for Wu-Tang Clan in 2014.
When Japanese boutique label Swamp Records took interest in 2007 and proposed doing a record to be sold in Japan, Tiborczszeghy said he was excited about the possibility of touring and selling their record overseas.
The group sent its tracks to Swamp with a signed contract. They received an eight-month late paycheck (short of what was owed) and 10 copies of the album.
After that, they never heard back from the label.
That inspired Tiborczszeghy to start Keep Records.
It really grew from the desire to maintain the rights to the group's 16-track album "Cobwebs," Tiborczszeghy said.
Having a record label also made it easier for Tiborczszeghy to book tours and distribute music, Pasillas said.
In true indie fashion, Keep Records has only two other people besides Tiborczszeghy and Pasillas working with them. The husband-wife duo looks for people who rap about reality as opposed to "money, (expletive) and (expletive)."
"I'm an emcee who hates the genre I'm in because of what people think when you say hip-hop or rap," Tiborczszeghy said. "I'm all about honesty rap. You will never hear me mention (a) freaking Range Rover in my lyrics because I don't have one and I don't need one. I won't talk about popping $400 champagne in the club because I would never do that even if I could afford it. I try to make more timeless and poetic-based material."
To ensure the survival of Keep Records, Tiborczszeghy works as a blackjack dealer at a local casino, while Pasillas takes care of the day-to-day operations.
Together, they try to book their artists at book stores, coffee shops, clothing stores or other intimate venues that are open to all ages. They look for artists who can work with other musicians to create a fun performance environment.
"The challenge is really finding the right artists who can share a stage together," Pasillas said. "When it comes to freestyle, you have to have a strong sense of confidence, but there's definitely a fine line between confidence and arrogance."
"If we smell ego, we'll cover our noses and run away," Tiborczszeghy added.
There are four artists on the Keep Records roster. Collectively, they have released roughly 10 records including solo work, compilations and vinyl.
Tiborczszeghy released the documentary "So Indie — Honolulu" in August, highlighting the hip-hop and skateboarding culture in Hawaii. The duo has plans to tour Australia in November.
They hope to gravitate toward vinyl in the future and plan to reach out to youths who, like Tiborczszeghy, found a calling in music.
"This is for the kids who record inside their garage after a night of skateboarding," Tiborczszeghy said. "That's the sound we love — the sound of honest and authentic people who are passionate and just want to make music because they love it."
Visit keeprecordsllc.com or keeprecordsmerch.bandcamp.com/merch, or email keeprecordsllc@gmail.com.
To reach North View reporter Sandy Lopez, email slopez@viewnews.com or call 702-383-4686. Find her on Twitter: @JournalismSandy.
Keep Records, LLC
Visit keeprecordsllc.com or keeprecordsmerch.bandcamp.com/merch, or email keeprecordsllc@gmail.com.