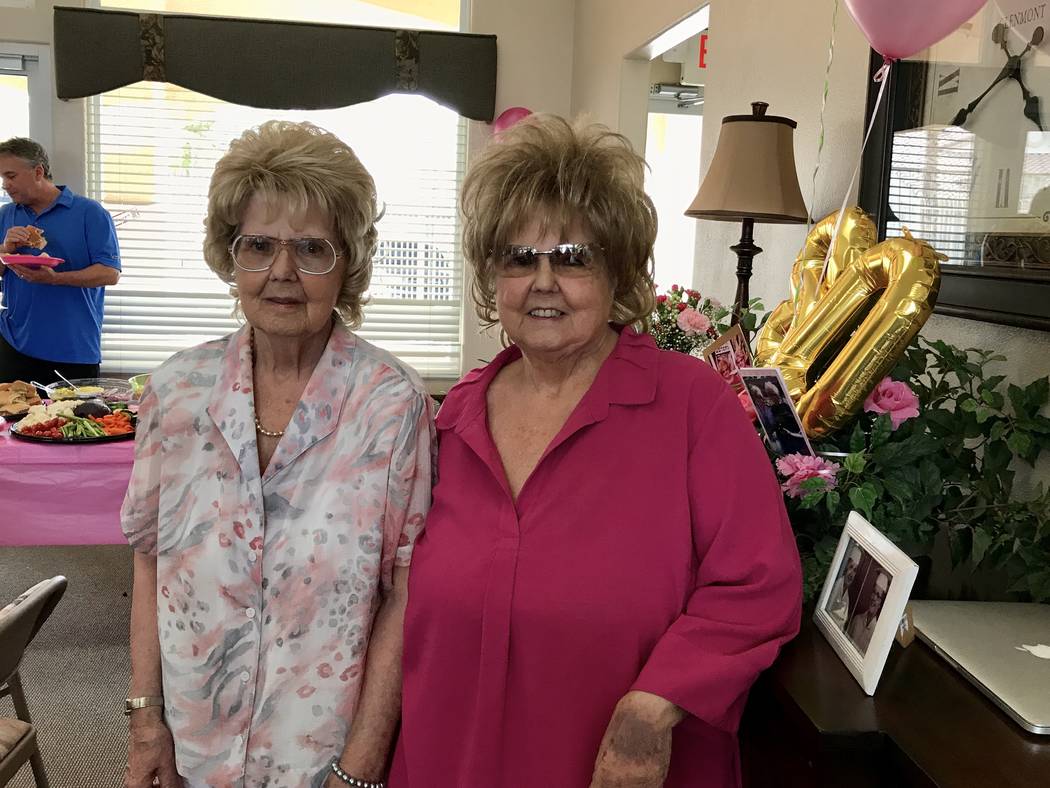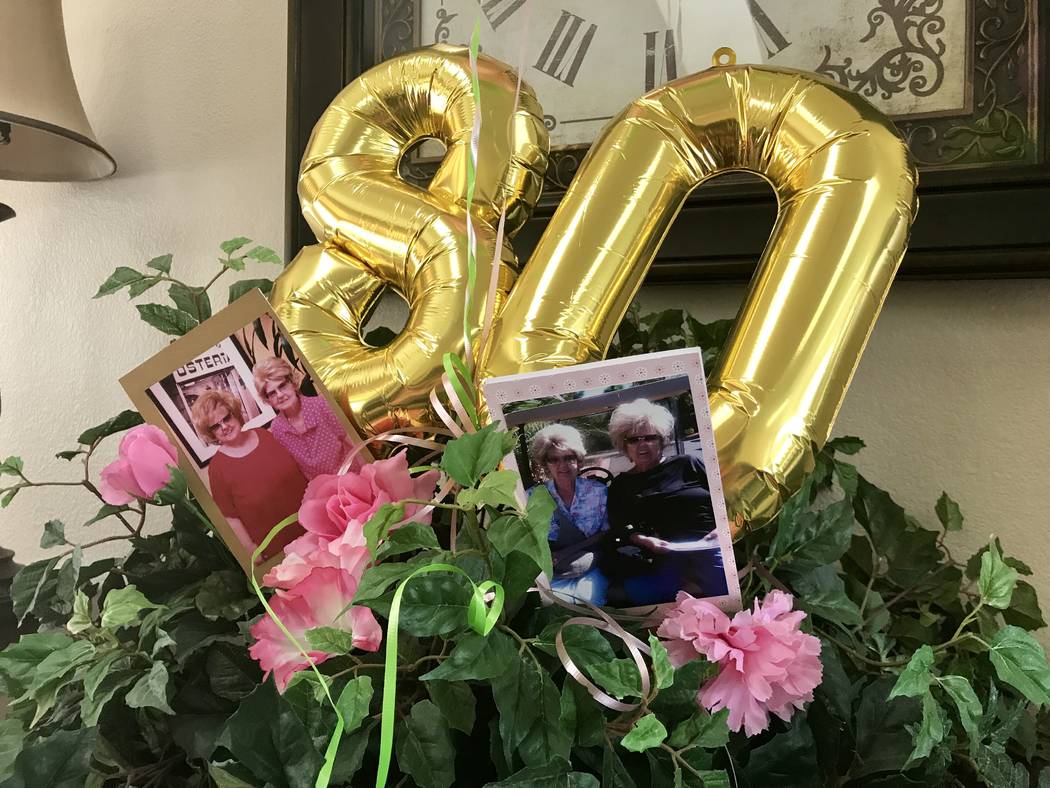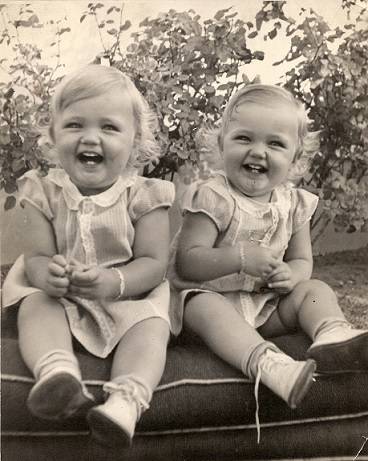 On June 11, 1937, the old Las Vegas Hospital at Eighth Street and Ogden Avenue welcomed the first twins born in its maternity ward: Madelyn and Carolyn Hardy.
The sisters, now Madelyn Schneider and Carolyn Holland, celebrated their 80th birthday in the company of family members and friends at the Galleria Villas in Henderson. While both lived elsewhere for a few years, they eventually returned to the city they always called home. Schneider now lives near the McNeil Estates neighborhood in southwest Las Vegas, while Holland resides in Henderson.
When they were born, Las Vegas' population was about 6,000, most of the roads were unpaved and there were only five doctors in the city. The Hardy sisters' father, Stanley, was one of them.
A general practitioner, Dr. Stanley Hardy was recruited from Salt Lake City, at that time a much-larger city of nearly 140,000 people. He moved to the valley with his wife, Nola, in 1935 and began practicing at Las Vegas Hospital, which was built in 1933 and closed in 1976.
"For the first 14 years of our life, we lived across the street from the hospital," Schneider said. "So my dad would go out the back door and across the street to work every day."
Following the twins, the Hardy family soon welcomed sons Tom and Bill and another daughter, Mary Alice.
Schneider and Holland attended Las Vegas Grammar School, now known as the Historic Fifth Street School. Built in 1936, the building is on the National Register of Historic Places and is home to the Las Vegas Office of Cultural Affairs.
The twins then moved on to Las Vegas High School and graduated in 1955, in the same class as former Gov. Richard Bryan and former Clark County School Superintendent Brian Cram.
It was after graduating high school that the twins finally spent some time apart. Holland attended Brigham Young University and moved to Southern California after one year. Schneider stayed in Las Vegas, married radio disc jockey Sam Salerno in September 1955 and had three children.
"We went to a show almost every other night and had comped dinners," Schneider said.
She worked several years at the Nevada Test Site before moving with her husband and children to Livermore, California, in the San Francisco Bay Area, where she worked in real estate. Meanwhile, Holland worked in the printing business.
Both returned to Las Vegas more than two decades ago to be closer to family and retire.
Memories of early Las Vegas
The sisters' siblings, including Tom and Mary Alice, recall when Las Vegas was a frontier town.
"When we grew up downtown, everybody knew everybody and everybody knew the Hardy twins," said Mary Alice Greenhalgh. "Everybody knew Dr. Hardy because he delivered most everybody."
Tom Hardy, 73, said that he's amazed at the city's constant change.
"… Now we have football coming in, we have ice hockey," he said. "Who would have ever thought in a million years that Vegas would become what it is today?"
Schneider said she isn't fazed.
"I go down the same streets I've always gone down. I shop at the same places I've always shopped," she said. "I don't get out in the hubbub of everything. There's too many tourists."
But some of their old hangouts are no longer there. Schneider recalled weekend visits to the Wildcat Lair, a teen hangout with food and sodapop where entertainers might stop by for a quick set before heading to the Strip. On summer afternoons when their chores were done, Tom Hardy recalled, the siblings would head to El Portal theater on Fremont Street to watch the latest movie.
The Hardy family lived only one block over from Fremont, across the street from the hospital.
"We used to enjoy Fremont Street, driving up and down in our cars," Tom Hardy said. In their senior year of high school, the twins got their own cherry-red 1954 Chevrolet Bel Air.
Other traditions the siblings enjoyed persist.
"Helldorado was a big time in this town," Schneider said. "We would live for the parade, and that was a big moment here in that time. So all of us kids would migrate down to the Helldorado festivities. That was the best time of the year."
The rodeo, parade and carnival began in 1934, when Clyde Zerby founded the event to draw in workers from the Boulder Dam site, according to the festival's website.
"You had a great city spirit back then," Tom Hardy added. "I don't know who didn't come to Helldorado."
"That was a great time of the year," Schneider said. "The best days of our lives."
Contact Madelyn Reese at mreese@viewnews.com or 702-477-3834. Follow @MadelynGReese on Twitter.
Population of Las Vegas by decade
1900: 25
1910: 800
1920: 2,304
1930: 5,165
1940: 8,422
1950: 24,624
1960: 64,405
1970: 125,787
1980: 164,674
1990: 258,295
2000: 478,434
2010: 583,756
July 2016: 632,912
Source: U.S. Census Bureau