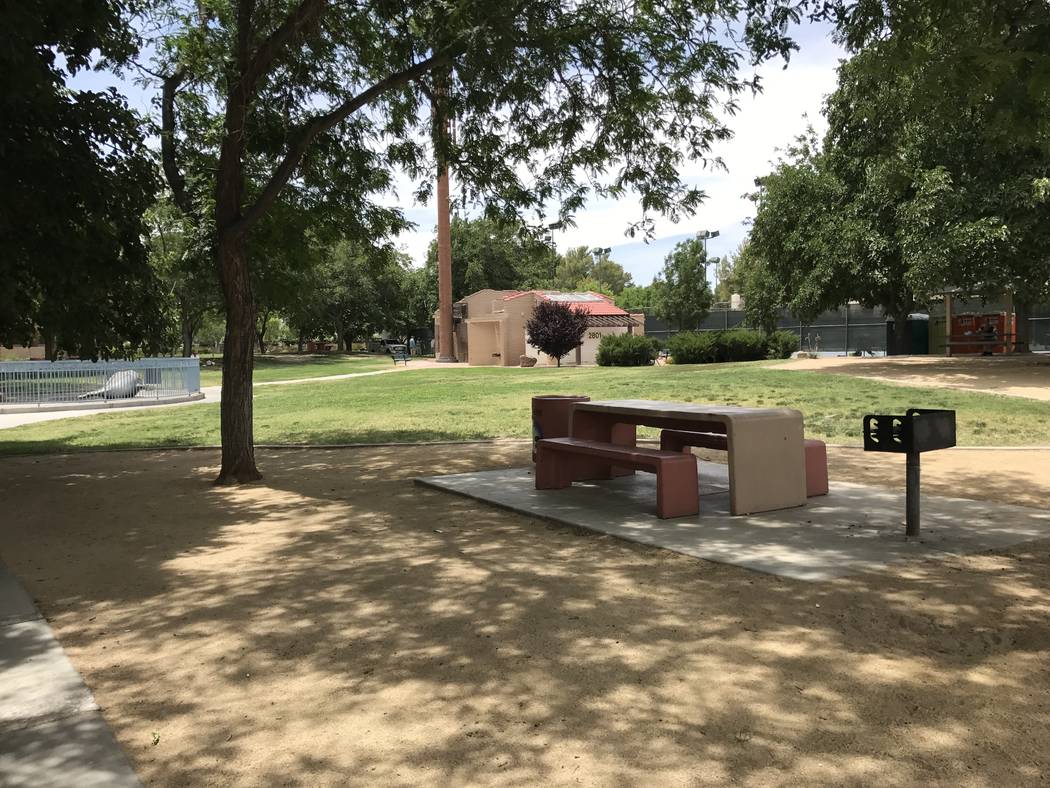 Several city parks in southwest Las Vegas are either under construction or are set to see improvements in the next few months.
Remodeling at Gary Dexter Park, 800 Upland Blvd., is expected to be completed in August. Nearly the entire park is torn up, save for the bathrooms and some playground equipment.
By August, about $3.2 million worth of work is set to be complete, paid for out of the city's general fund. Upgrades cover lighting, a splash pad, two basketball courts, three shade shelters, a dog park with dog runs, walking paths with fitness stations, a parking lot, landscaping, baseball field perimeter fencing and irrigation.
The southwest has some of the oldest parks in the city, said Ward 1 Councilwoman Lois Tarkanian. Gary Dexter Park turned 52 this year.
"We would like to do more to improve our parks, but we are limited by the funds we have available," Tarkanian said. "So, we monitor conditions at all the parks and make emergency repairs. We select the next park we think is most in need; then we consult with neighbors, plan, save, budget, and finally we get to do a park makeover that provides what the residents would really like to have and use."
Nearly $220,000 worth of improvements and additions have been completed at West Charleston Lions/Essex Circle Park, 600 Essex East Drive, including a splash pad, a resurfaced walking pad, street parking and park and flagpole lighting.
The next big southwest project is $3.1 million in improvements at Bob Baskin Park, 2801 W. Oakey Blvd. They cover park lighting, splash pads, the jogging path and fitness station, restroom building, the parking lot, covered tables and a new children's play area.
Construction is projected to begin in December and continue until June 2018.
On a breezy, warm day at Bob Baskin Park, people sat at picnic tables and chatted, while others practiced their swing on the tennis courts. Several others looped around the park on the rubber-covered walking track.
"I've been coming here for about two and a half years," said Daryl Wallace. "Every day with my dogs."
Wallace said the combination of the expansive grassy area and tall trees is a major draw.
Roger Allen said he visits often to use the park's tennis courts and take walks in the shade.
"I live about four miles away. There's a park within 200 feet of my house, but I come over here," Allen said.
Allen and Wallace said that as long as the trees and grass stay, any city improvements are fine by them.
"It's very serene when you come out here and relax," Wallace said.
Contact Madelyn Reese at mreese@viewnews.com or 702-477-3834. Follow @MadelynGReese on Twitter.
EVENTS
For a list of planned events at parks throughout Clark County, click here.
Gary Dexter Park, 5866 Trent Ave, Las Vegas, NV 89107 Bob Baskin Park, 2801 W Oakey Blvd, Las Vegas, NV 89102 West Charleston Lions/Essex Circle Park, 600 Essex East Drive, Las Vegas, NV 89107