La Cabaña finds new life at West Sahara business center
September 26, 2017 - 2:17 pm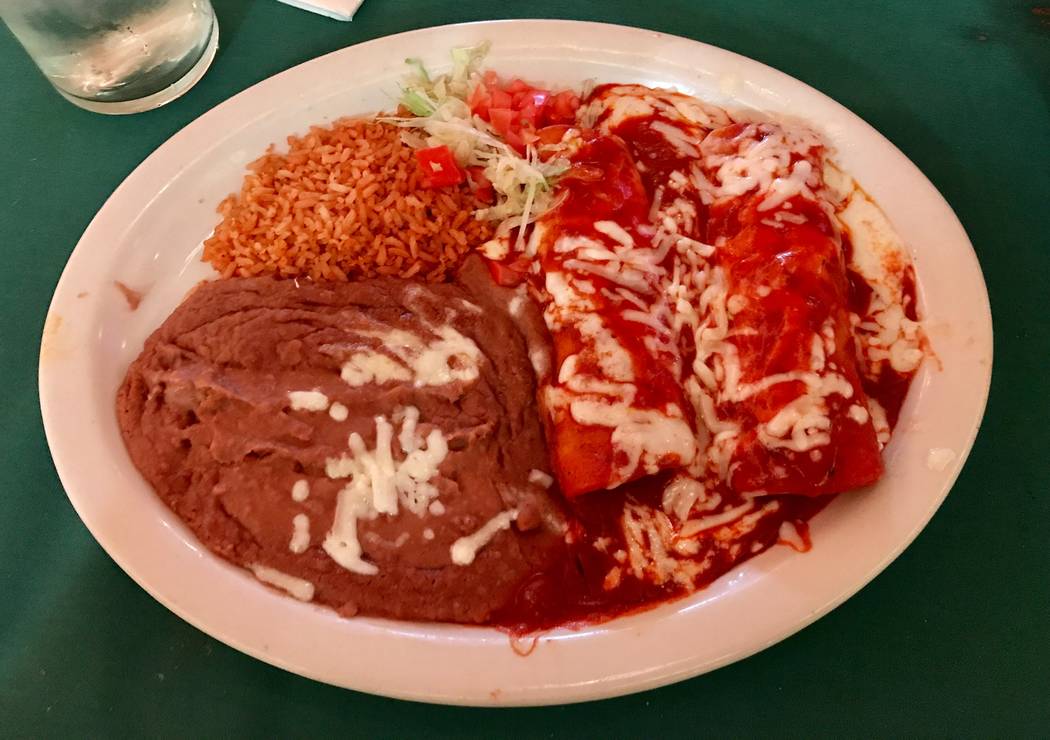 After 25 years of serving up tacos and burritos on South Martin Luther King Boulevard, La Cabaña Mexican Restaurant shut its doors in November, another refugee of the Nevada Department of Transportation's Project Neon.
The lunchtime favorite has been reincarnated 2½ miles south on West Sahara Avenue in The Plazas business center. Owner William Jacobs, who bought the business in 2006, oversaw the lengthy transition.
"It's a great feeling (to be open again)," Jacobs said. "We actually had the choice of retiring … but I'm a chef; it's in my blood." Jacobs has worked in the culinary industry for 34 years and served as the executive chef at the Sands Expo Convention Center until 2001.
La Cabaña celebrated its grand reopening Aug. 14 in a larger space.
The old restaurant didn't have ovens, was less than 1,000 square feet and was staffed with seven employees (including Jacobs and his wife). The new location has 16 ovens, is over 7,000 square feet, with a tortilla-factory space that can pump out 3,000 tortillas an hour, and has 32 employees.
Jacobs has kept many of the lunch specials that made the original location a favorite with Medical District and downtown Las Vegas workers. Combinations of enchiladas, chimichangas, tacos, burritos and tostadas are available for $10-$12.
For dinner, Mexican classics abound: enchiladas($11-16), fajitas ($15-17), burritos ($8-9) and tacos all make an appearance.
Tortas (sandwiches) include shredded beef, carne asada, chicken and chile relleno ($8-9), while sopas (soups) include beef albondigas ($10.50), menudo ($11), pezole ($11) and a seafood soup with jumbo shrimp, octopus, clams and crab legs ($20).
The restaurant opens for breakfast at 9 a.m., serving chilaquiles with red or green sauce and two fried eggs on top ($10), breakfast burritos, omelettes and steak and huevos ($15).
Jacobs said he's in the process of designing a seasonal patio with air conditioning and heating that will seat 70 people. There's also an expanded bar area separate from the dining room that serves beer, wine and liquor. The business will continue to offer catering services like it did at the previous location.
After negotiating with NDOT for the better part of three years and navigating eight months of paperwork for the new building, Jacobs is ecstatic to be back.
"There's a message here," Jacobs said. "Just because you're displaced doesn't mean you're going to fail."
Contact Madelyn Reese at mreese@viewnews.com or 702-383-0497. Follow @MadelynGReese on Twitter.
La Cabaña Mexican Restaurant
Where: 2800 W. Sahara Ave., Suite 5A
Hours: 9 a.m.-9 p.m. Sundays-Thursdays; 9 a.m.-10 p.m. Fridays-Saturdays
Phone: 702-998-7593
Website: lacabanalv.com
Social media: facebook.com/lacabanalv