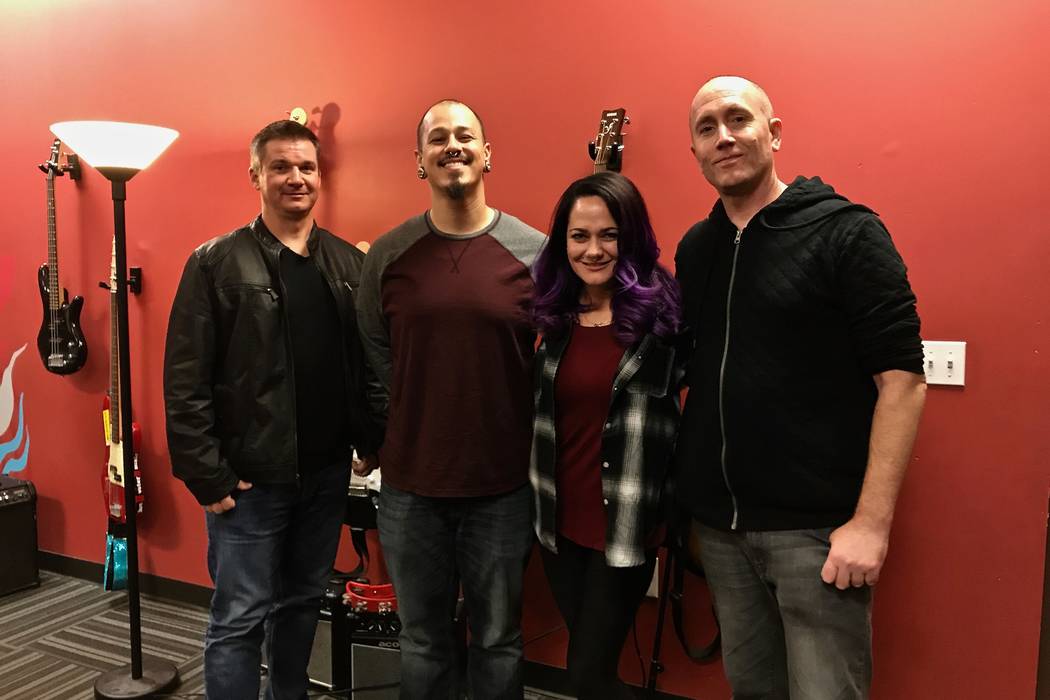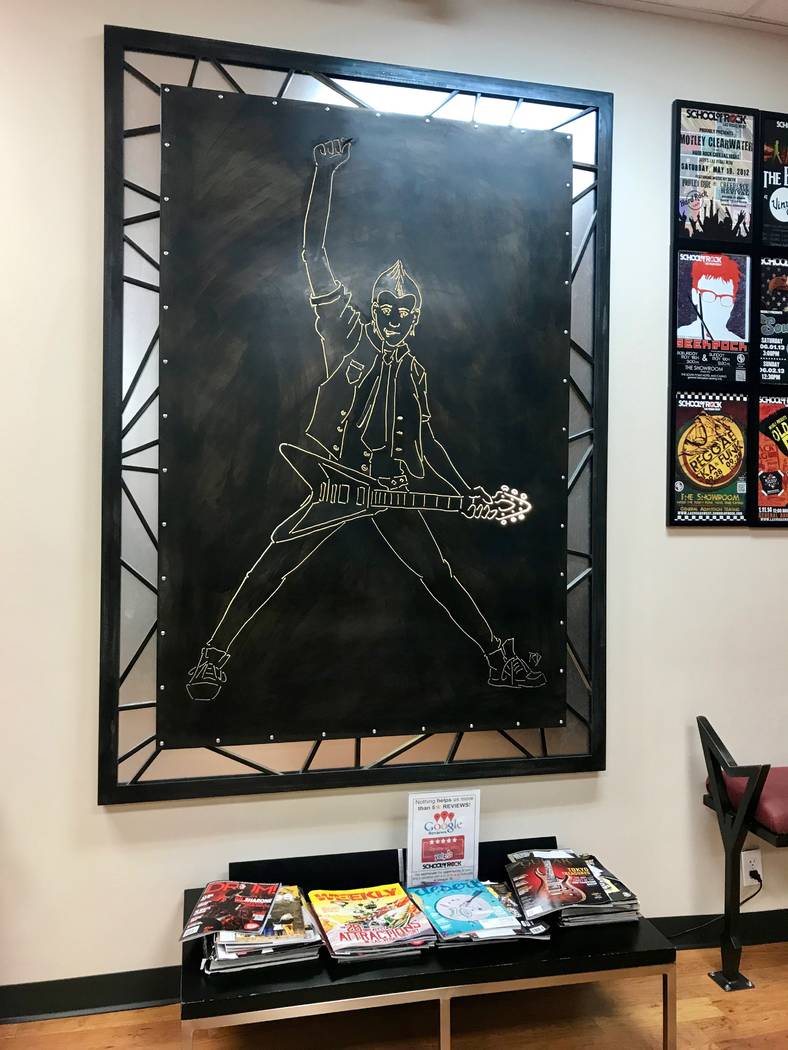 At the end of a long day spent teaching music, the four members of Teddi and the Northern Lights still look forward to rehearsal.
They work at School of Rock, a music school where students learn to play and perform by exploring the work of famous rock artists. The four teachers are based at the school's West Flamingo location. There is another location in Green Valley.
The band, made up of lead vocalist Teddi Tarnoff, guitarist Erik Carlsson, bassist Will McLean and drummer Jeremy Strawn, released its second extended play album, "Mother Mercury," this summer. The four have been navigating the local music scene while working as instructors for 260-plus students and balancing other teaching and performance gigs.
The band's debut EP, "Northern Lights," was released in 2012. Though the band is often labeled as indie rock, both EPs feature blues, folk and rock elements.
"Please classify us," Tarnoff said, jokingly. "It's just the question of all questions, it feels like."
The band is a creative outlet for the four musicians, who spend their days practicing and arranging cover songs with students.
"I think we all come to music as students of music," Tarnoff, 32, said. "So I don't think there's any kind of music anyone in this room doesn't like. I think you could put anything of value and quality in front of us, whatever genre it might be, and we'd all find something in it where we're all like, 'For sure, that's awesome.'"
Las Vegas's music scene has been dominated by cover bands in the past, band members said, but that's starting to change. More venues are opening in downtown Las Vegas, and more bands are forming to write original music, they said.
Tarnoff, the school's regional director, has been playing music since she was 2. She began studying classical violin at the Curtis Institute of Music in Philadelphia when she was 11. She joined the original School of Rock in Philadelphia in her early teens, when "it was just this guy that was teaching out of his apartment."
By 16, Tarnoff began teaching voice at the school. She later managed the Philadelphia location and helped open several other branches in Pennsylvania and New York.
The company has over 200 schools in the United States, Canada, Mexico, Panama, South Africa, Brazil, Chile, Australia and the Philippines.
Bassist McLean, 29, is the band's only born-and-raised Las Vegan. He began playing bass in seventh grade and studied at Musicians Institute in Los Angeles before returning home.
Strawn, 40, the drummer, also attended Musicians Institute, where he graduated with a bachelor's degree in music performance. Strawn has taught percussion and directed drum lines in California, Indiana and for the Clark County School District. He has toured with cover bands as well as rock and country bands.
Guitarist Carlsson, 42, has been playing in bands since he was in high school, inspired by the likes of Metallica, Megadeth and Slayer. After touring with a series of bands and owning a recording studio in Southern California, he moved to Las Vegas in 2011. Carlsson recorded and mixed most of "Mother Mercury" at his home studio.
The band doesn't plan to release a full-length long-playing album anytime soon. That has become a trend for lesser-known bands that aren't signed to recording labels, Carlsson said. Releasing smaller EPs allows a band to inexpensively release polished material more often.
"So now that we have ("Mother Mercury"), it's really trying to build a little bit of a name for ourselves," Tarnoff said. Her goal is to have Teddi and the Northern Lights be a name that everyone's familiar with, at least in Las Vegas, she said.
Even though they spend their whole days before rehearsal teaching and playing music, none of the band members find it exhausting.
"It's not fatiguing to me in the way it would be as if we were meeting up and then rehearsing for our teacher cover band," Carlsson said. Being able to write and perform their own music, even after a long day of teaching, is "kind of a relief, in a way."
Contact Madelyn Reese at mreese@viewnews.com or 702-383-0497. Follow @MadelynGReese on Twitter.
Teddi and the Northern Lights
Upcoming show: The band is set to close out a benefit show for the Serving Our Kids Foundation at 6:15 p.m. Dec. 16 at House of Blues, 3950 Las Vegas Blvd. South. School of Rock Las Vegas West students are set to perform at 4:30 p.m. For more information, visit servingourkids.org.
Website: teddiandthenorthernlights.com
Social media: twitter.com/Teddi_Mercury; facebook.com/teddiandthenorthernlights; instagram.com/teddi_mercury