Las Vegas gymnast, 12, has eyes on U.S. junior national team
September 11, 2017 - 10:23 am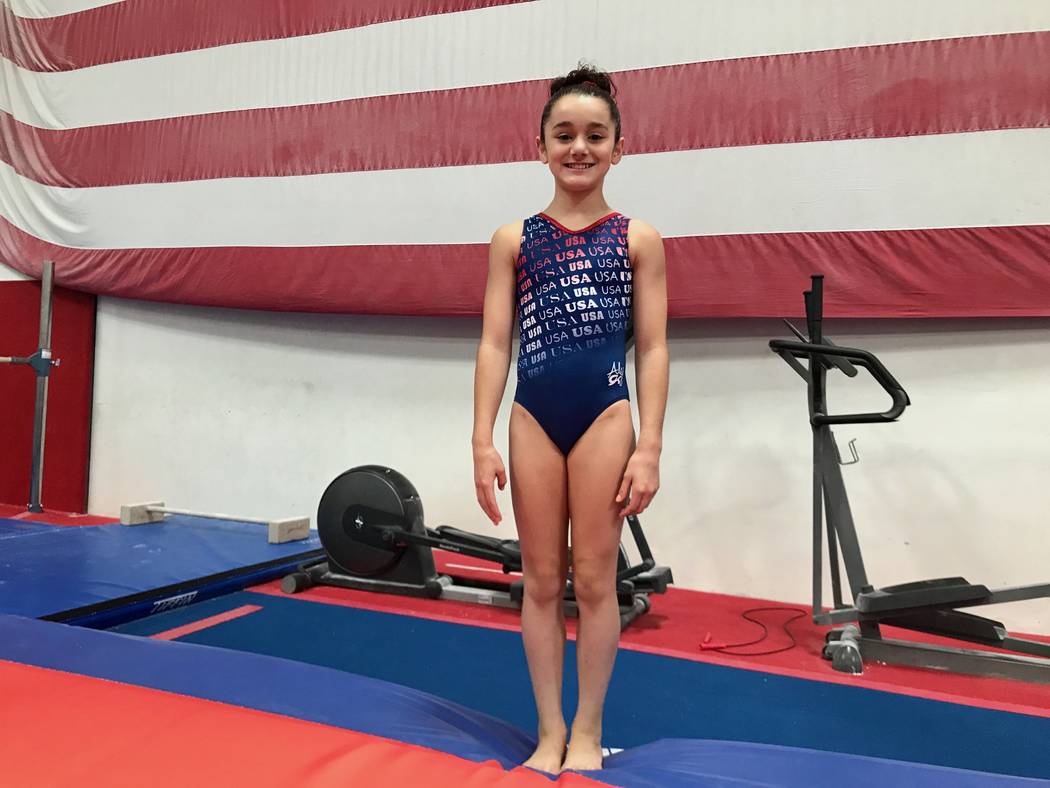 Sienna Robinson loves cooking and baking. The 12-year-old from the southeast valley also dislikes English class, enjoys math and loves spending time with her cat, Boo Boo.
Like many preteens, she has an iPhone and an Instagram account, which she uses to share photos of herself and her family, including her two brothers, Mason, 6, and Riley, 13.
Sienna also spends nearly 40 hours a week at Brown's Gymnastics on Cameron Street, where she prepared to compete in the USA Gymnastics National Championships held Aug. 17-20 in Anaheim, California. Sienna, then 11, was one of 30 junior elite participants and the second-youngest in the competition.
Sienna placed 18th overall after competing in four events. She received the third-highest score on bars, despite injuring a hamstring one week prior.
Competing at an elite level at the ripe age of 11 "felt pretty cool," Sienna said on a Friday afternoon at Brown's. She sat on a practice pad, wearing a leotard with "USA" printed in varied fonts in red, white and blue. Her black, curly hair was slicked back in a red scrunchie.
Sienna started doing gymnastics when she was 5, and she began competing a year later. Earning high scores early on allowed her to advance through several competition levels more quickly than her peers.
Practice and training have been key to her success, Sienna said. In the weeks leading up to competitions, she practices five to eight hours a day, six days a week.
"In the morning we work on basics and try to clean everything up," Sienna said. "And then when I come to the second workout I do all of my routines, all my hard skills and all that stuff."
"… And I have a little bit of talent," she added, shyly.
Coach Wendy McGee called Sienna a "workhorse," citing Sienna's will to compete with a hamstring injury that might have sidelined other athletes.
"So we watered down her routines a lot," McGee said. "We were trying to make them a bit easier where we were trying to get her to still compete but not where she was in horrible, horrible pain."
After making it through three routines that put stress on her legs, Sienna was looking forward to finishing the championships on the uneven bars and giving her injured muscles a break. But as she warmed up, she pulled in on a standard release move and hit her face on the bar.
She didn't think it was that bad in the first few moments, she said. Then the pain came. Moments later her face went numb as blood streamed down from her nose.
"I started freaking out," Sienna said, who was set to compete in a few minutes. The doctor on staff took a quick look and decided her nose wasn't broken.
"Then, before I was waiting to go (compete), I'm like 'OK, it's just my nose. I don't use my nose for bars… Just go through it. This is your last (event),'" Sienna said.
Sienna then went on to earn the third-highest score on bars out of all juniors.
"It was a great moment, and it really showed off her character as an athlete," McGee said. The coach said she admires Sienna's always-on smile and her "positive outlook," whether a workout is going well or not.
"You can truly tell she wants to be good," McGee said.
Sienna has set goals for herself every year for the next several years to stay on track.
By 2018 she wants to make the USA Gymnastics Junior National Team, she said. She thinks it "would be cool to make it" when she's 12, because team members are usually a few years older.
After that, she wants to be junior national champion. Then, she wants to go to the World Gymnastic Championships. Then, of course, the 2024 Olympics in Paris.
Her Instagram account name is already "siennarobinson2024."
As for a short-term goal? She'd like to hit 10,000 Instagram followers; she's only a few hundred short.
Contact Madelyn Reese at mreese@viewnews.com or 702-383-0497. Follow @MadelynGReese on Twitter.
Brown's Gymnastics
Where: 5277 Cameron St., Suite 160
Phone: 702-257-9009
Website: brownslv.com
Facebook: bit.ly/2eDevYe