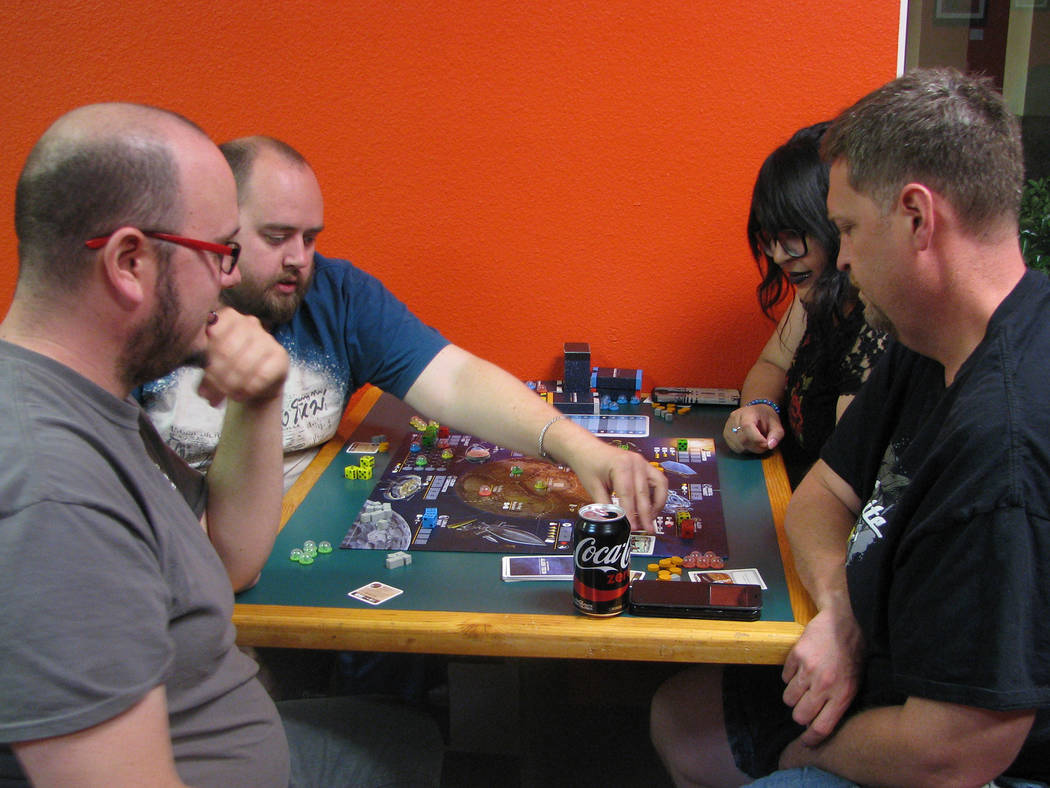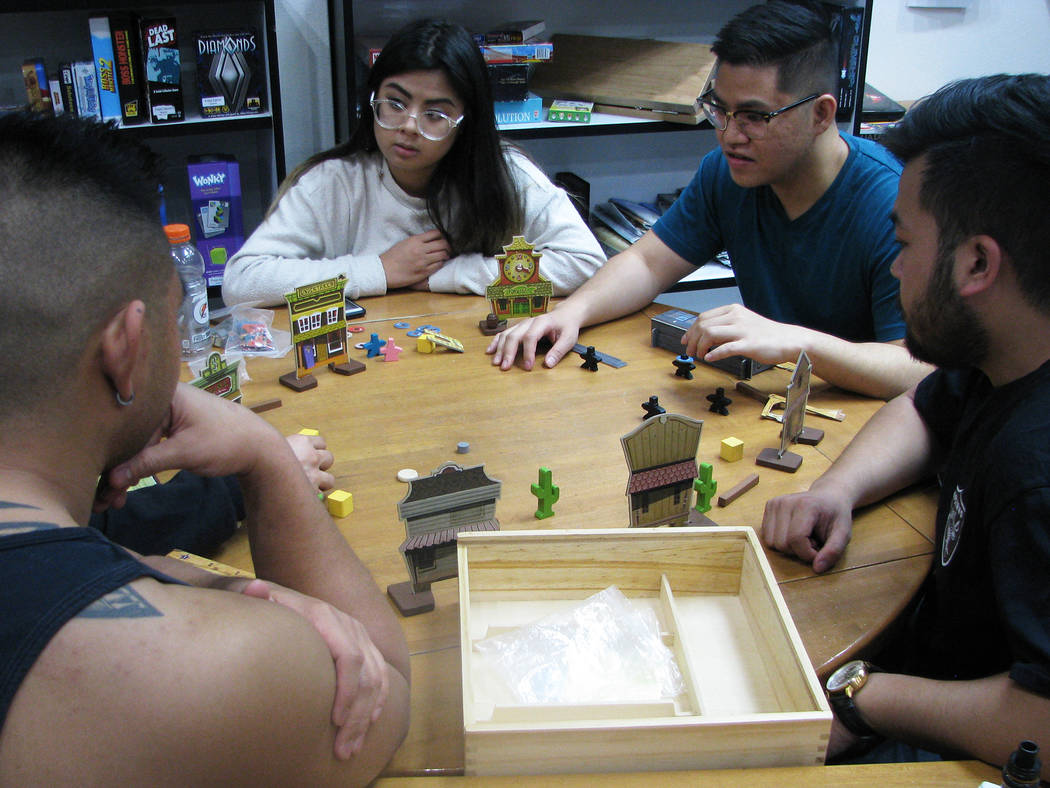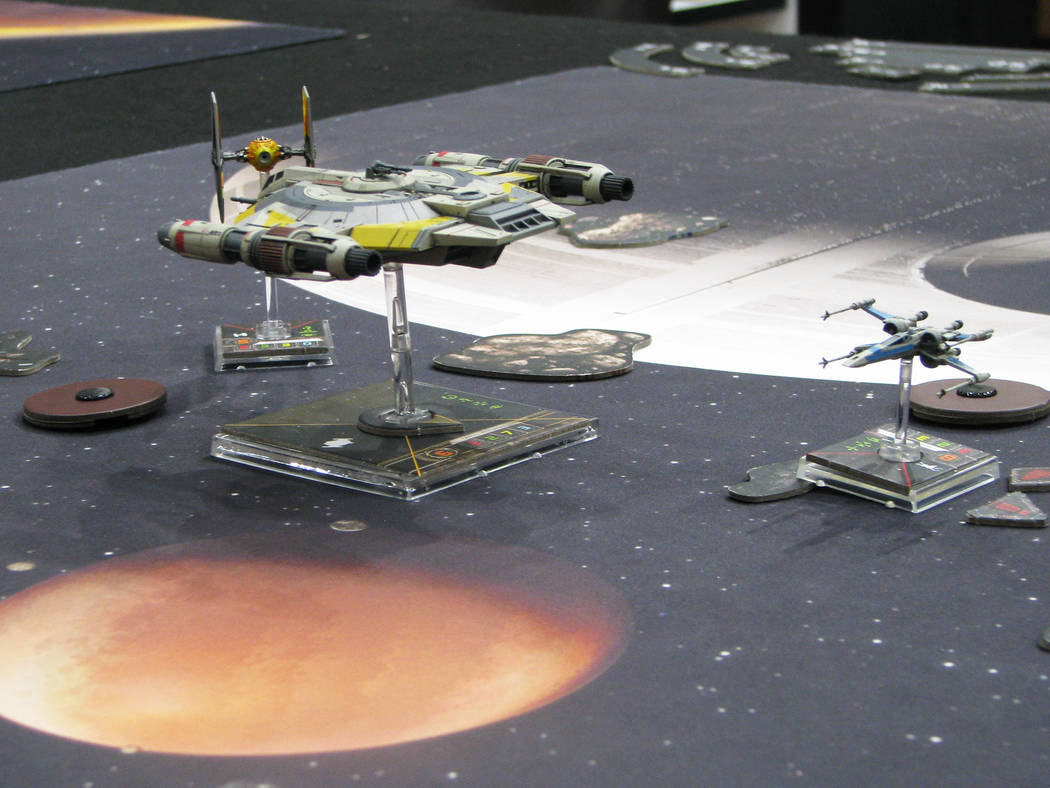 Meepleville is unusual in that most of its space is dedicated to letting people play any of its 1,500 board games.
Owner Timm Metivier was inspired to create the business, at 4704 W. Sahara Ave., after working at Dave & Buster's, which mixes dining with video games, pool and bowling.
"I always thought it would be cool to have the same concept with board games," Metivier said. "One like that opened in Toronto in 2010, and I've been following it ever since."
The name comes from the word "meeple," a portmanteau blending "my" or "me" and "people." The term is used for the playing pieces representing the player.
There's a small retail area in the front of the store that sells board games and other tabletop games; there is a fee, usually $5, for access for the day to the games library, tables and cafe.
"We have classics like chess, backgammon, cribbage, Sorry! and Monopoly," Metivier said. "And we have modern games like Ticket to Ride and Settlers of Catan."
A relatively simple game like Hive, a two-person game that has rules that can be learned in a minute but offers complex strategies, may take 10 to 20 minutes to play. A more complex game like Eldritch Horror may include hundreds of playing elements and take up to four hours to play. Some games, depending on how well the players are matched, could last most of the store's business day.
"People are usually blown away when they come in here the first time," Metivier said. "A lot of people don't realize there are that many games out there."
Metivier liked cribbage and backgammon in his youth but later discovered his favorite type of games while on a cruise ship.
"I personally like Eurostyle games, which are sometimes worker-placement or resource-management games," he said. "Settlers of Catan is like a gateway into Eurostyle games."
In Settlers of Catan, players trade resources to build roads, towns and cities in an attempt to be the first player to score 10 points.
The store includes games based on movie and television programs and popular tropes and characters. There are games in which players are starship captains, zombie fighters, giant city-destroying monsters, railroad tycoons or roller-coaster engineers.
The store also hosts tournaments and special events based on the night of the week. Wednesdays, for example, are meet-up nights, when people are encouraged to meet new people to play games with. Other nights have admission deals for groups or college students. Metivier changes up themed nights every few months to keep things fresh.
Metivier said his store has a pretty good crowd weeknights between 7 and 11, and the weekends are always busy. But the store has tables and seating for 108 people, so there's almost always room for another player or game.
Many of the games in the library also are sold in the store.
""We've played three different games since we've been here," said first-time customer Erin Brown. "The staff came over and suggested we try another game that was similar to the first one we tried, and it turned out we liked that one better. … I can see I'll be coming back here a lot."
Contact F. Andrew Taylor at ataylor@viewnews.com or 702-380-4532. Follow @FAndrewTPress on Twitter.
Meepleville Board Game Cafe
Where: 4704 W. Sahara Ave.
Contact: meepleville.com or 702-444-4540