Las Vegas Valley group helps ensure parrots' long lives are fulfilling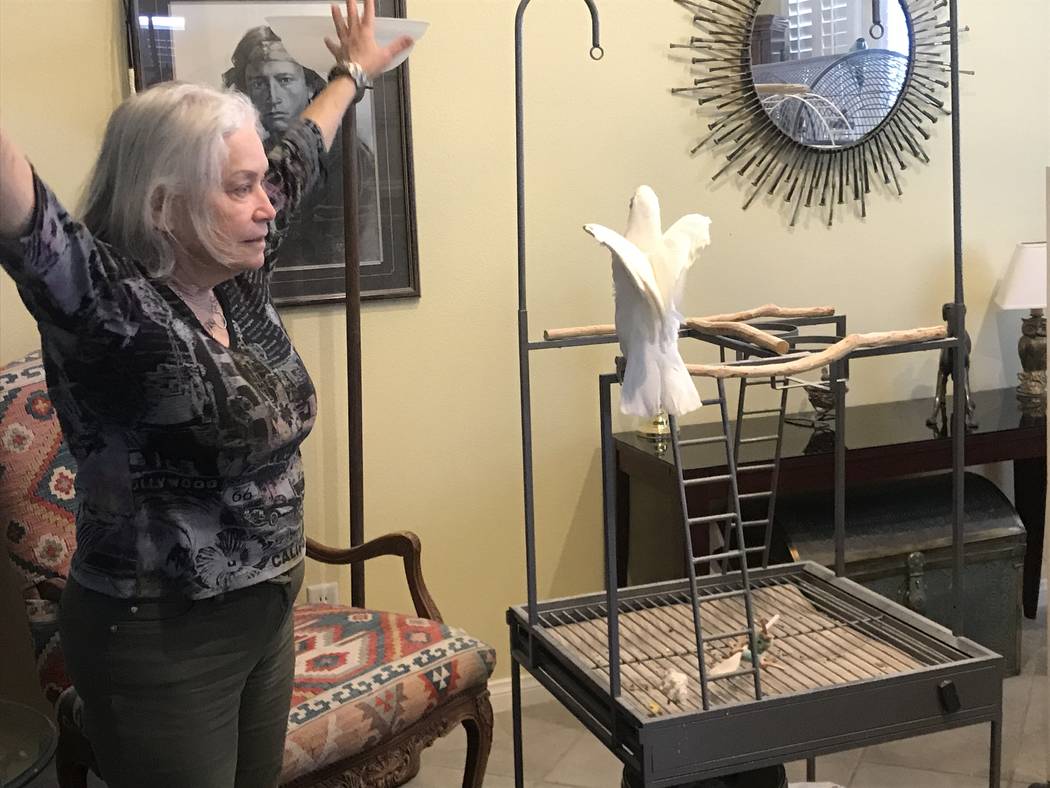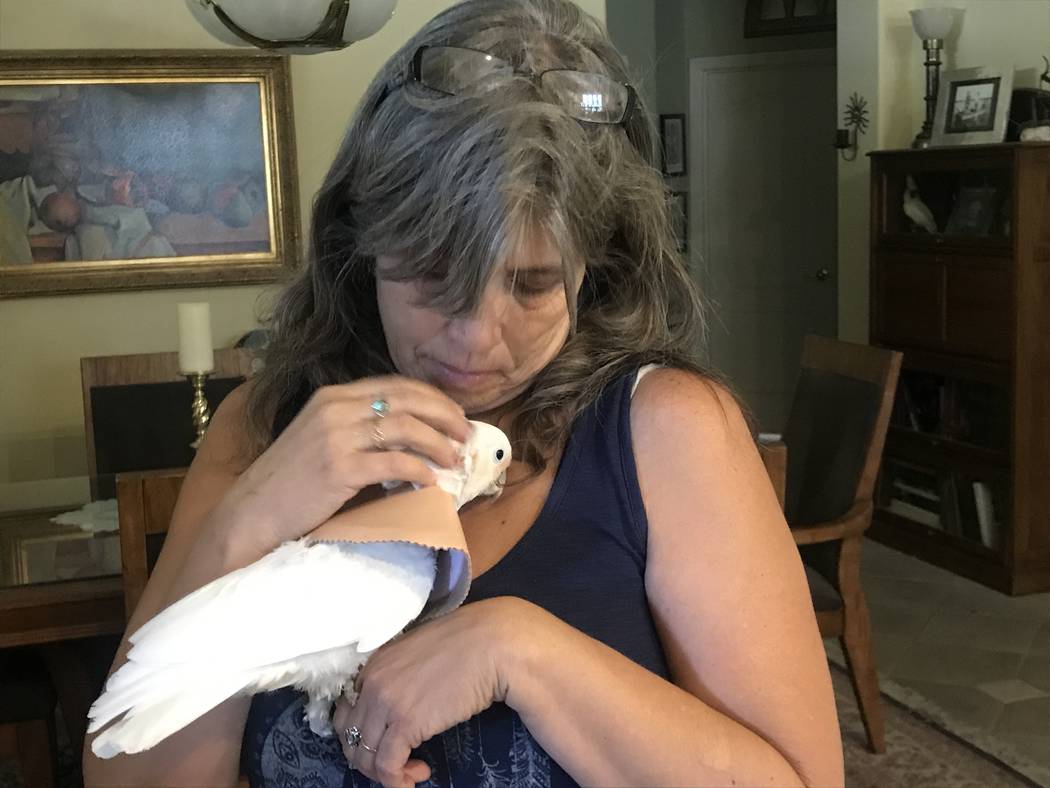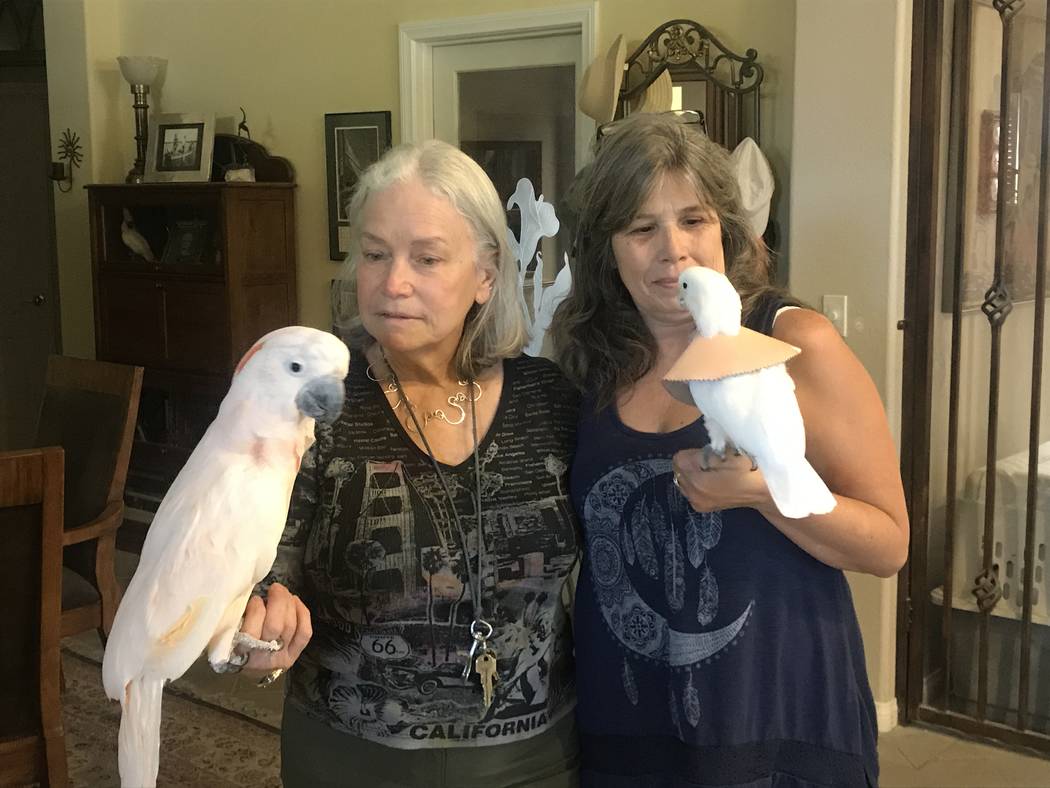 Some parrots can live 60-80 years, outliving their owners and leaving them needing a new home. A bird club started the Southern Nevada Parrot Education Rescue & Rehoming Society, or SNPERRS, more than 10 years ago in an effort to help.
SNPERRS founder and President Madeleine Franco, along with six other members, started the nonprofit organization after branching off from the Las Vegas Bird Club in 2006, she said.
Franco said she began caring for birds while living along the Jordan River in Utah, which was a flyaway area for migratory waterfowl. She took care of birds that got injured or simply tired and ended up on her property, she said.
Franco soon got a rehabilitation permit with the U.S. Fish & Wildlife Service to take care of waterfowl. She was involved with a bird club in Salt Lake City and moved to Las Vegas in 1996 with the desire to continue assisting birds.
SNPERRS, which is operated by volunteers, works exclusively with parrots, according to the organization's website. Since the organization's inception in 2007, volunteers have rescued hundreds of parrots, according to the group.
Franco said that she wanted to focus on parrots because of her love for the animals and their lengthy lives.
The organization focuses on finding new homes for birds, taking them from owners who often cannot care for them any longer.
People are often sad to part ways with their parrots, Franco said.
"Most of the birds we get are previously loved birds, and people are devastated that they've had a life change and they have to give up their animal," she said.
Like humans, older birds can suffer illnesses such as arthritis, heart disease and kidney problems.
"There's beginning to be an aging-bird population," she said. "They're still funny and great companions; they just need another home because their home has changed drastically or their owner is aging."
After a potential client contacts SNPERRS, Franco checks if anyone has shown interest in adopting. If no one has, she looks to foster owners. She and re-homing director Belinda Hutchings have kept several parrots at their home as the birds await adoption.
Franco said that although she appreciates monetary and other donations, the organization needs foster owners and adopters most. New or foster owners must apply online and pay $50 for the first year. It costs $30 for renewals and for those 55 and older. Once the application process is complete, the adopter or foster owner is required to visit the bird at least three times — at different times of the day — to make sure they're a good match.
Amanda Aversa of the southwest valley adopted an umbrella cockatoo named Angel from SNPERRS in January.
"I love the way they do it," she said of the adoption process. "You can tell they truly care about the birds."
Aversa already had three green-cheeked conures, which she bought from a pet store. She said adopting a parrot was a better experience because she felt she was doing something positive; it was cheaper (about $450); and SNPERRS also provided a bird cage, toys and a bird kit that includes food.
"The rescue was very different because they want to know about you and make sure that you can provide a home for these birds that's appropriate," she said. "(And) they give you everything that you need to get rolling."
Contact Kailyn Brown at kbrown@viewnews.com or 702-387-5233. Follow @kailynhype on Twitter.
About SNPPERS
Information: snperrs.org, 702-856-3300 or SouthernNevadaParrotRescue@gmail.com
Reporter's notebook
After dealing with a feisty parrot that one of my cousins owned and ducking pigeons that would dart toward me as I walked around the UNLV campus, I developed a fear of flying animals.
So when SNPPERS President and founder Madeleine Franco began letting some parrots out of a cage — some large and some small — my stomach dropped. Franco tried to assure me that they wouldn't bite or attack, but their screeching suggested otherwise.
It wasn't until she brought out a small, white parrot named Coral that I was at ease. Belinda Hutchings explained that Coral is often brought along to volunteer events. After a lot of convincing and internal pep talking, I decided to hold the bird on my index finger. I even awkwardly stood and smiled for a photo (which I am not certain I will post). When Hutchings attempted to take the bird back, Coral hesitated as if she wanted to stay with me, which obviously warmed my heart and led me to believe that birds aren't so bad — at least parrots.
Kailyn Brown/View