Sierra Vista High class focuses on business side of music
Updated December 7, 2018 - 1:47 pm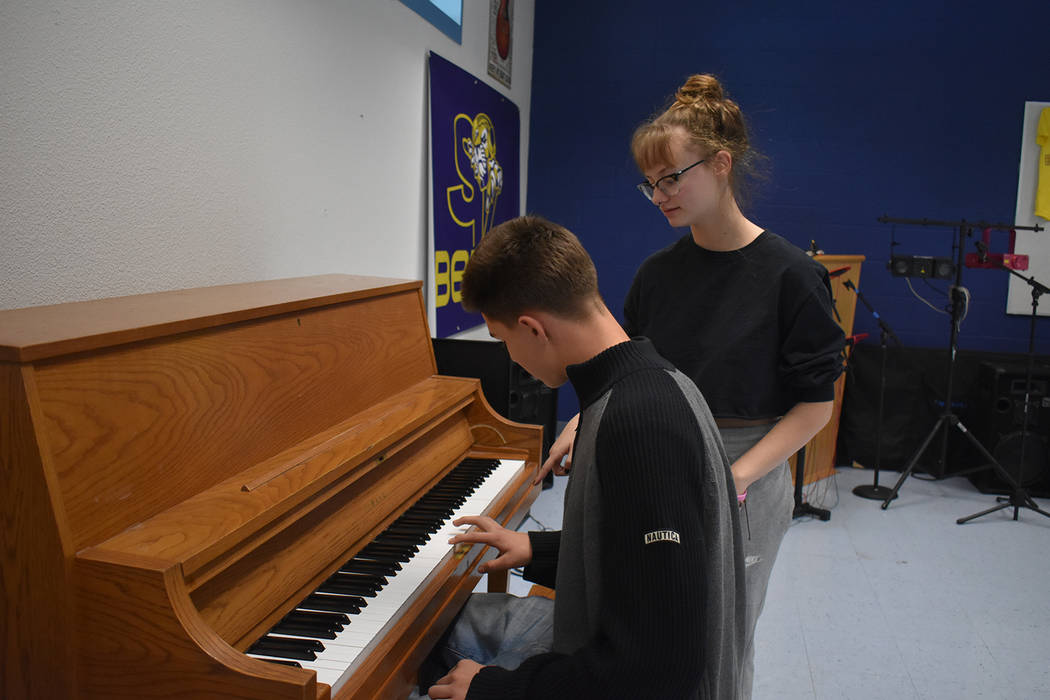 Shane Gibson's Music Business and Technology class began as an after-school club at Sierra Vista last school year. Gibson, a math teacher and former DJ and producer, wanted to teach students not just how to become musicians, but how to succeed in the music business.
"There is a job market for kids who want to go into the music industry; you may not end up being the rock star, but there can be a spot for everybody," said Gibson, whose class is the first of its kind in the Clark County School District.
Students interested in the business side can pursue careers in social media, branding, marketing and merchandising. They also can pursue the financial side, learning how to plan events, write up contracts and book performances.
Gibson said his advanced Music Business and Technology class is structured like a music label: Students work in groups practicing on instruments or singing, or learning how to produce music and plan events. The approximately 30 students in the advanced class are graded on group projects such as producing music for the class's Soundcloud account, SV Beats, which can be accessed by anyone with an internet connection. They are also graded on individual performances and on their roles in planning public shows.
Music Business and Technology students meet in a room that doubles as Gibson's mathematics classroom. Its dual purposes are evident: Math problems are written on a whiteboard, not far from a row of guitars, a piano, a recording booth and digital audio workstations.
Jonathan Harrison, 17, is a senior at Sierra Vista and the president of the Music Business and Technology advanced class. The aspiring professional DJ said the class's collaborative structure allows students with various interests and specialties to teach one another.
Gibson's beginning class, made up of 55 students, is far more structured than his advanced class. Gibson delivers lectures and teaches music theory, music production, stage presence, music writing, and social media and branding.
Sierra Vista junior Cameron Grau, 17, is the vice president of the beginning class and serves as a student teacher, focusing mostly on production. Grau originally wanted to work solely in music production but said the class has taught him the skills to become a musician himself.
Jezelle McNack, 17, said her dream is to work in theater, but that she'd also like to teach a class like Gibson's.
"I'd like to give back after having such a good experience in this class," McNack said.
College of Southern Nevada offers a Certificate of Achievement in Music Business and Technology as part of its audio recording program. Professor John Jacobson, who's in in charge of the program, said the certificate has been offered for 18 years. It consists of three semesters and involves classes on the marketing and management side of the music industry, as well as the technical, recording side.
Jacobson teaches some technical recording classes and said he makes sure the studios have all of the up-to-date equipment used in professional studios, to prepare students to work using the latest technology.
Josh O'Connor, audio professor at CSN, teaches five classes. He said many faculty members who are part of the audio recording program are working musicians or business professionals who work on shows on the Strip.
CSN's audio recording program is part of the Fine Arts department. That department's chairman, Robert Bonora, said Sierra Vista's new classes are a great feeder for the CSN program.
"They'll get their feet wet in that program, and we'll end up with some of those students here who already know how to use some of our equipment and who know the basics," Bonora said.
Contact Rachel Spacek at 702-387-2921 or rspacek@reviewjournal.com. Follow @RachelSpacek on Twitter.
If you go
What: Shane Gibson's production class plans a concert and toy drive to benefit Scott Elementary School
When: 6-8 p.m. Dec. 17
Where: Sierra Vista High School, 8100 W. Robindale Road
Cost: $5